Ex-Compton Mayor Omar Bradley guilty in public corruption case
Former Compton Mayor Omar Bradley was found guilty Friday of two counts of misappropriating public funds, the latest chapter in a high-profile corruption case that has spanned more than a decade.
This is the second time a jury has found Bradley guilty of using taxpayer money for personal purposes. His first conviction, returned in February 2004, was thrown out by a state appellate court panel in 2012.
This time around, Los Angeles County prosecutors again argued that Bradley had understood the rules and that his spending of public funds had no "no public benefit."
The prosecution alleged that between 1999 and 2001, Bradley used a city-issued credit card for personal items and "double dipped" by taking cash advances for city business expenses and then charging the items to his city credit card. He denied the charges.
Before the verdict was read, Judge George Lomeli said he knew Bradley had been a little under the weather and asked him how he was feeling.
"I can't say I feel great," Bradley said before chuckling and beginning to cough profusely.
Then when the jury of four men and eight women handed over the decision, Bradley placed his head in his arms and rocked back and forth in his chair.
Several of his associates sat watching, and one began to cry.
Bradley appeared to think that he would be remanded into custody right then and there. He removed his Apple Watch to give to his friends and loosened his tie in order to take off a gold chain and cross that was around his neck.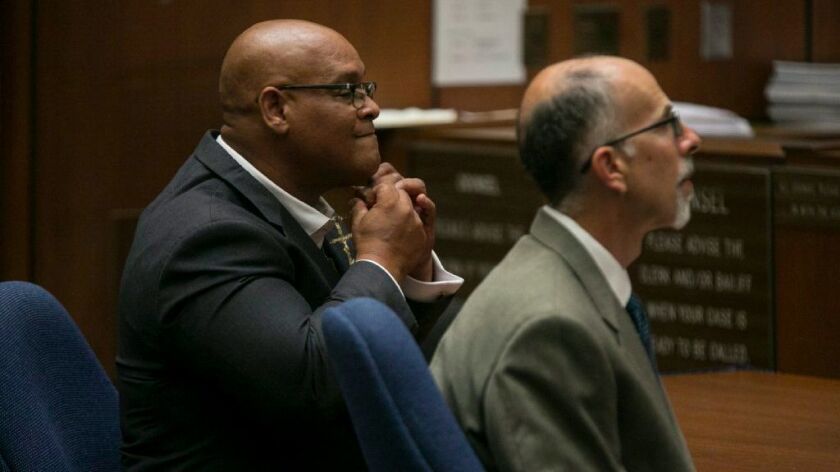 He then asked his attorney, Deputy Public Defender Robert J. Hill, to unhook the clasp on the back of the chain before Lomeli informed him that a sentencing hearing would occur Aug. 30.
In 2004 the former mayor had been sentenced to three years, some of which he served in prison and a halfway house.
This conviction means he can't seek public office again.
The former schoolteacher and football coach is a legendary and highly controversial figure in Compton—a city where he's lived nearly his entire adult life.
He was raised in Compton, was a star football player at Centennial High and from 1993 to 2001 was the city's undisputed political boss.
Some of the same qualities that made him popular — including his brash talk — also made him controversial.
He touted his close relationship with the late Eazy-E of N.W.A and also once attacked rap music's love affair with Compton, claiming it was part of an effort by Jewish record executives to make money off blacks. He later apologized for those comments.
As the popularity of gangster rap exploded and Compton captured the public imagination, Bradley came to be known as the "gangster mayor." It's a moniker he bristles at and denies calling himself.
Still, throughout the 1990s, he played up his street bona fides and touted his relationship with rap mogul Marion "Suge" Knight. That nickname stuck even this year, when he ran and lost a bid to retake the mayor's seat from incumbent Aja Brown, 35. He previously lost to Brown in 2013.
Under Bradley, Compton built new housing and decreased a municipal workforce that had become swollen. He got credit for keeping the streets clean and for disbanding a Compton police force that many residents had come to distrust.
Outside the courthouse, Bradley, who normally has embraced the media megaphone and seemed to relish retelling his life story to reporters, declined to comment.
Omar Bradley Jr. was a constant presence at his father's side during his recent long-shot bid to return to office. In a phone interview, Bradley Jr. said he briefly spoke to his father soon after the verdict came down.
"When he called and told me he was good, he said he wanted to go home and go into prayer…. He's praising God right now," Bradley Jr. said. "It's like a dream state right now for me. It hasn't really sunk in."
---
UPDATES:
3:15 p.m.: This article was updated with comments from Bradley's son.
3:00 p.m.: This article was updated with details on Bradley's reaction to the verdict.
This article was originally published at 2:50 p.m.
---
The stories shaping California
Get up to speed with our Essential California newsletter, sent six days a week.
You may occasionally receive promotional content from the Los Angeles Times.