Government wants to take blighted property neglected after L.A. riots; owner objects
Ever since the 1992 riots, there have been promises but not changes at the corner of Vermont and Manchester avenues.
Property owner Eli Sasson has over the years proposed a shopping center, a housing development and an entertainment complex for a vacant lot the size of three football fields in South Los Angeles.
But his ideas never manifested into brick and mortar.
Citing its blighted conditions, a city redevelopment agency seized the property a decade ago through eminent domain, only to lose it when the state dissolved the department amid a budget shortfall.
Now the government is once again trying to take the land — and Sasson finds himself again trying to hold on.
On Monday, L.A. County will ask a judge for control of Sasson's land, a move that could end 26 years of stagnation at one of the largest plots of undeveloped land in a neighborhood hit hard by the 1992 riots.
To some, the lengthy legal battle illustrates the difficulty of pushing landlords to fill the empty lots that linger in South L.A. amid a development boom sweeping so much of the city. Many on the Southside have been waiting decades to see vacant lots develop, and worry about missing opportunities during a period of so much construction.
Councilman Marqueece Harris-Dawson, whose South L.A. district includes many barren lots, said he fears some property owners simply want to hoard real estate rather than develop it. "And they're wealthy, so nobody will say anything to them."
Sasson's representatives argue that he has a development plan ready to go but has been stymied by other forces. They argue that taking the land would amount to government overreach and would in its own way stifle development.
"Why stop this project that is ready to go, that is going to fulfill every single need that we have heard?" said Jennifer Duenas, chief operations officer of Sassony Group, the company behind Sasson's development plans.
The county argues that the 16 parcels on Vermont Avenue in the two blocks north of Manchester Avenue have the right size, location and vacancy to accommodate affordable housing, a boarding school, a transit plaza and "community-serving" retail, developed with a mix of private and public funds. It has set aside $15.7 million in taxpayer money to obtain the land.
People representing Sasson argue that there are other lots the county could buy from willing owners. They say city and county officials have conspired against Sasson to sabotage his attempts to create his dream development, the Vermont Entertainment Village, which he says could rival L.A. Live.
The Israeli-born Sasson, 77, positions himself as a developer with a philanthropic heart who wants to revive Vermont Knolls, a neighborhood of high crime and low means.
In a 2016 interview with The Times, Sasson said he considers himself "more of a doer guy." The lack of progress on his properties has earned him a less flattering title from critics: "Mr. Flake."
Since the 1980s, Sasson has owned the majority of the stretch of retail property on Vermont. When a mob burned it down after four police officers were acquitted in the beating of black motorist Rodney King, Sasson vowed just months later to rebuild.
As years passed and the properties remained vacant, they became a target for city leaders seeking to revitalize the community.
They all had their own ideas. In 1994, Mark Ridley-Thomas, then a city councilman and now one of the county supervisors pushing for the use of eminent domain, sought affordable housing, senior housing, an alternative high school and a government building. Rep. Maxine Waters (D-Los Angeles) envisioned a pedestrian-friendly commercial thoroughfare like Old Town Pasadena or Santa Monica's Third Street Promenade.
Over the years, the city's Community Redevelopment Agency tried pushing Sasson into developing the site. When that didn't work, the agency moved to seize the land in 2008 using eminent domain, which in certain circumstances allows governments to take private property for public use.
But before the deal was finalized, Gov. Jerry Brown dissolved L.A.'s Community Redevelopment Agency and others like it across the state because of a budgetary shortfall. Sasson paid almost $9.2 million to reclaim the property and later received $5.2 million in legal fees and damages from the city.
In the years since, Sasson's vision for the project has evolved. Once slated for retail, Sasson's plan for a privately funded development has expanded to include an outdoor performance space, a banquet hall, a supermarket, a pharmacy, restaurants and shops. A 2015 groundbreaking brought out politicians and community leaders.
But in 2017, the four acres remained vacant and the county sprang into action, filing its own eminent domain proceedings that cited 37 safety violations on the site.
"The people of the Vermont-Manchester community deserve much better," Ridley-Thomas said. "And they have grown weary of the excuses and nonperformance of this developer."
Sasson declined to speak for this article, but in 2016 he told The Times he blamed the delays on his desire to please various officials and residents, who sent him mixed messages.
Sassony Group's Duenas says the city has contributed to blight on the property, which has been the site of homeless encampments and multiple fires. She points to emails in which the office of Councilman Harris-Dawson demanded the company remove fencing that surrounded the lot, which Duenas said wound up encouraging vagrancy.
Sasson's attorney, Robert Silverstein, has filed two lawsuits against the county alleging misuse of public funds in pursuing its legal battle, violation of Sasson's right to due process and failure to follow state environmental laws.
Duenas says city and county officials are pushing a skewed narrative by faulting Sasson for the blight.
"If you make it look like we don't know what we're doing, and I have all these citations, it justifies your story to the community" to seize the land through eminent domain, Duenas said.
Sasson has supporters in the community who question whether the county's plan is the best use of the land. As of December, he had the backing of Waters, who wrote a letter to the county Board of Supervisors opposing its planned seizure and used her star power to draw 200 South L.A. residents to a February town hall meeting about the project. (She has since said she remains neutral on the subject.)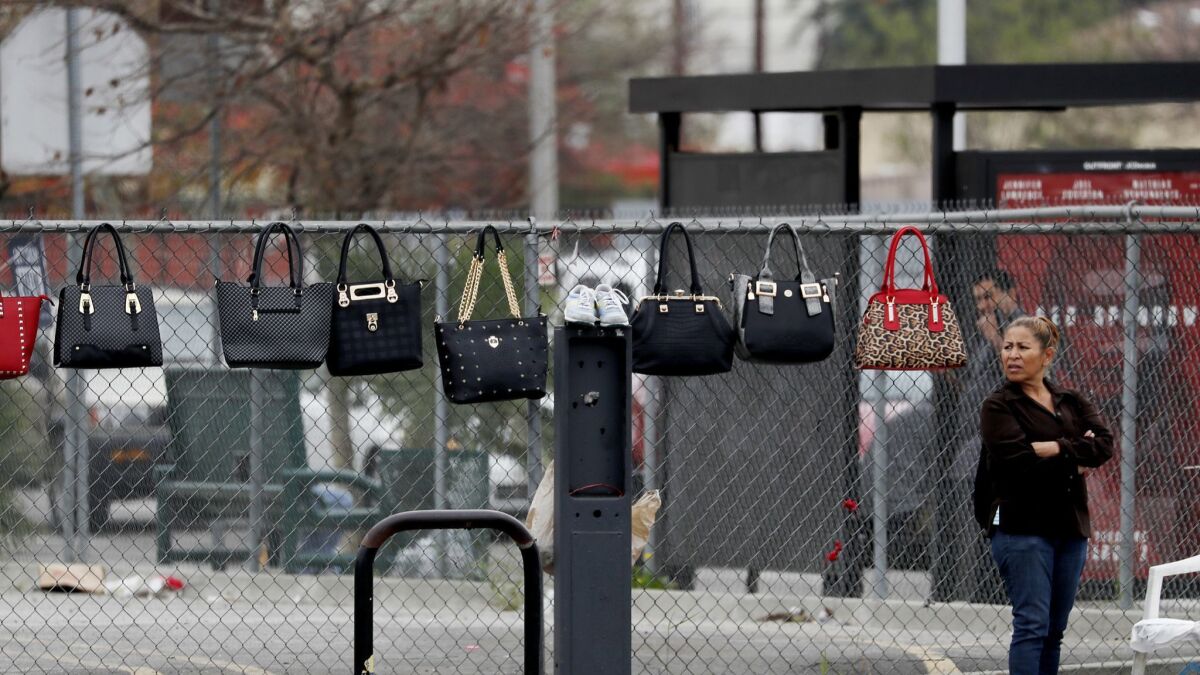 The Vermont Knolls neighborhood is in one of the city's poorest districts. Detectives dub a stretch of it "death alley" because of its high homicide rates.
Empty lots still sit as painful reminders of the area's unequal recovery from the 1992 riots.
But in recent years, the development boom in downtown has stretched south, with plans for a renovated mall, a professional soccer stadium and a museum.
There are more incentives to build than ever before, but also the prospect that property values in the area will keep rising.
Sasson owns several undeveloped properties in the area. Others include several aging strip malls in South L.A. and a boarded-up building on the bustling Broadway corridor in downtown L.A. that was badly damaged in a 2007 fire, which advertises "Store for Lease. Call Eli."
Ridley-Thomas said that officials hope this case will put owners of undeveloped properties on notice — such as the dentist who owns a dozen commercial properties nearby on the corner of Broadway and Manchester Avenue that house abandoned or demolished buildings.
Eminent domain is an inherently controversial tactic opposed by property rights advocates who believe the government should not interfere with an individual's land holdings.
Legal experts said the county has a good chance of winning if it can prove its project is in the public interest and is necessary.
"Challenging the power of eminent domain is rare and difficult," said Gideon Kanner, an eminent domain specialist and professor emeritus at Loyola Law School. "If the owner of the land says: 'This is a lousy way to use this land. I have a better idea' — that goes to the question of public necessity."
At the February town hall meeting, Sasson and Duenas laid out their plan for an entertainment center that would bring jobs, live concerts and education seminars held by NASA.
Longtime resident Joy Enix, 53, walked out. She said she had seen this presentation at least three times before. She no longer believes Sasson will build the shopping center he has promised, but she's not happy with what the county is pitching, either.
"His mall looks like Disneyland to me, and the county project doesn't go far enough," she said.
Pastor Rodney Hilson, 62, interjected to say he supports Sasson's plan. He wants the shops, restaurants and pharmacies he sees in other neighborhoods.
Later, Duenas said Sasson was so "committed to South Los Angeles" that he has purchased more property near the vacant lot at Manchester and Kansas avenues. He plans to tear down an abandoned building there soon and build a strip mall.
A few people in the crowd groaned.
For more California breaking news, follow @AngelJennings. She can also be reached at angel.jennings@latimes.com.
---
The stories shaping California
Get up to speed with our Essential California newsletter, sent six days a week.
You may occasionally receive promotional content from the Los Angeles Times.