Revival of a blighted South L.A. neighborhood is stalled by its onetime dentist, critics say
Dr. Alan Kleinman's former neighbors wonder why he stayed in South Los Angeles after his dental office was destroyed in the 1992 riots.
Some say he was never much connected to the community. When the New Temple Missionary Baptist Church held parking lot barbecues, he never joined other shopkeepers from the street, said Roscoe Baker, longtime deacon of the church.
But not only did Kleinman stay, he added to the real estate investments he had been making since the 1970s.
Today, he owns a dozen commercial parcels on Broadway in the two blocks south of Manchester Avenue. Among them are the still-vacant lot where his office once stood and the building across the street where he reopened his practice.
Kleinman retired a few years ago. He might already have been forgotten by the area's sellers of religious paraphernalia, sewing machines, Spandex pants and marijuana, but for the "Dental Office" sign that remains on one of his buildings, all of which are either abandoned or demolished.
In some circles of business and city politics, however, Kleinman is well known — as an obstacle to revitalizing an area that has languished in blight since the riots.
"He's the bane of my existence," said Councilman Marqueece Harris-Dawson, who can't get Kleinman on the phone.
National retailers are said to be eager to occupy the slice of land between Broadway and the 110 Freeway, if only someone can acquire it.
"Everybody looks at this site, all the big developers," said Curtis Fralin, a real estate investor who wants to develop the area. "The problem with this site is absentee landlords."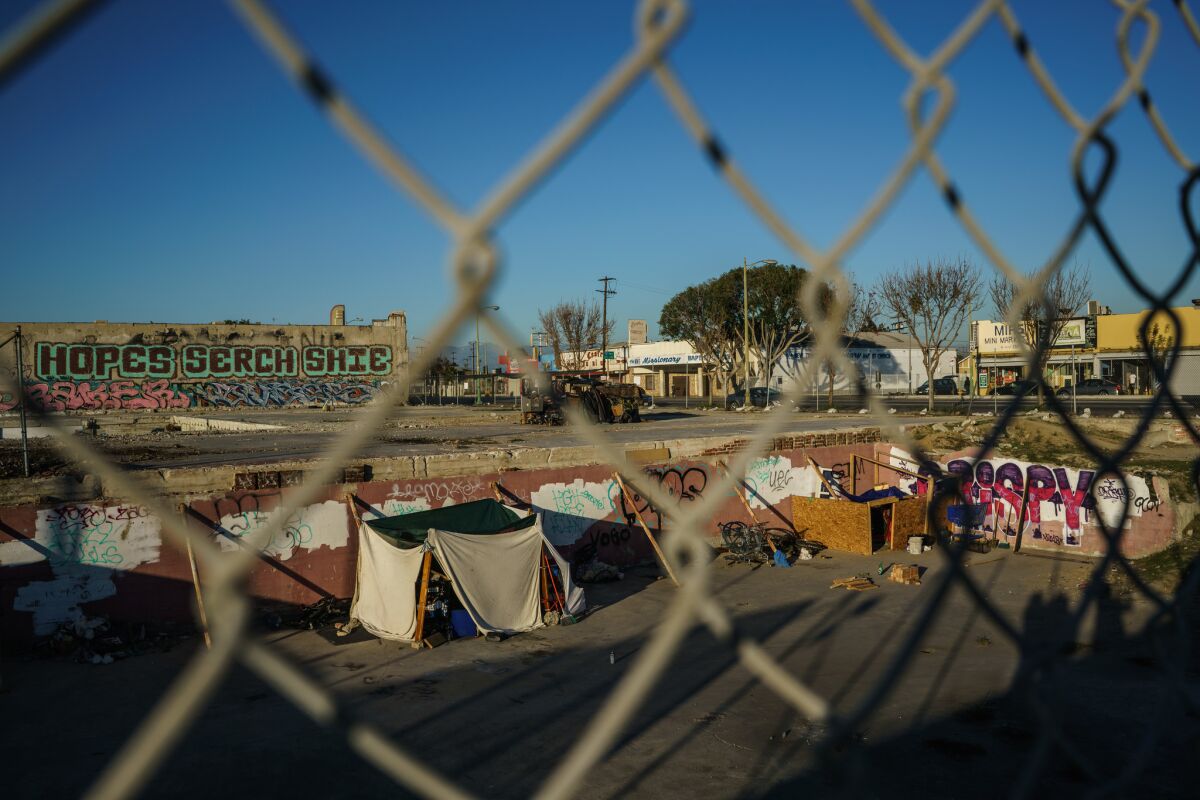 The Broadway/Manchester corridor, the focus of a post-1992 redevelopment project that never got off the ground, offers a vivid example of the obstacles — economic, social and historical —that stymie the best intentions for improving South L.A.
Older shop tenants and churchgoers recall the neighborhood's heyday, when there were three cinemas, banks and a grocery store.
The theaters and grocery store became churches and the Legal Aid Foundation took over the abandoned bank at Broadway and Manchester, said Mary M. Lee, an attorney who worked there during the 1990s.
Lee, now a board member of the Community Coalition of South Los Angeles, sees the decline as a result of a "mixture of the inertia of public process and land-use planning and racialized attitudes toward development."
Fralin, who built a new shopping center with a CVS and a Starbucks not far away at Slauson and Central avenues, has been trying to overcome those forces for more than two decades.
In 2006, he got close. He obtained an exclusive negotiating agreement from the Los Angeles Community Redevelopment Agency to build a shopping center with a Target and major grocery store.
The plan covered two large blocks south of Manchester, including several of Kleinman's properties. But the redevelopment agency's power to assemble land by eminent domain — limited to the first 12 years of the Broadway/Manchester project — had just expired.
In a June 2007 letter to Kleinman's attorney, Fralin expressed frustration dealing with the absentee owner.
"I would suggest that you drive by the site that has looked like a ghetto for over 20 years," he wrote. "I cannot give my community what you have in your community if you and your client are uninterested and do not care."
The appeal failed, and Fralin's exclusive negotiating agreement expired. "We lost all rights to get the land," he said.
Fralin has not given up. He said he could build a shopping center in 18 months if he had the land.
But without the redevelopment agency, which was dissolved by Gov. Jerry Brown in 2012, Fralin has no leverage to acquire it.
Harris-Dawson said he would have used eminent domain to seize the Kleinman properties, but was advised by the city attorney that the city has no power to condemn because of blight.
So Fralin, who still owns a property at the corner of Broadway and Manchester, would have to make deals with Kleinman and three other property owners on the block. If he could get Kleinman to sell, the others would follow, Fralin said, but Kleinman is ignoring him.
"I write them an offer every three or four months," he said.
Kleinman did not respond to a written message left at the Venice address listed on his property records, or to a letter from The Times. A lawyer who has represented him did not return several calls.
Changing social needs are now impinging on Fralin's vision. The city is facing a housing crisis, and vacant or unused buildings like those on Broadway are being targeted for affordable housing, especially for chronically homeless people.
The southern half of the land Fralin once eyed for a shopping center — the part where the Target would have been — has been sold to Neighborhood Housing Services.
The nonprofit housing developer has leveled everything, leaving a network of concrete foundations that host a homeless village.
A swap meet and the vacant storefronts of a Kleinman building occupy the remainder of the block. Lori Gay, the president and chief executive of Neighborhood Housing Services, said her acquisition team is seeking to buy both properties.
The group hopes to begin construction on 108 affordable housing units this year, Gay said.
Circumstances have made Gay and Fralin friendly competitors, each pursuing an agenda that would block the other, but both aligned against a common obstacle — Kleinman.
Gay hopes to expand her holdings north to a large city-owned parking lot that Fralin would need to realize his plans.
Both have asked Harris-Dawson to let them to buy the lot.
Harris-Dawson said he wants the property developed, and doesn't favor one over the other.
"I have two people who are prepared to do a development except for Kleinman," he said.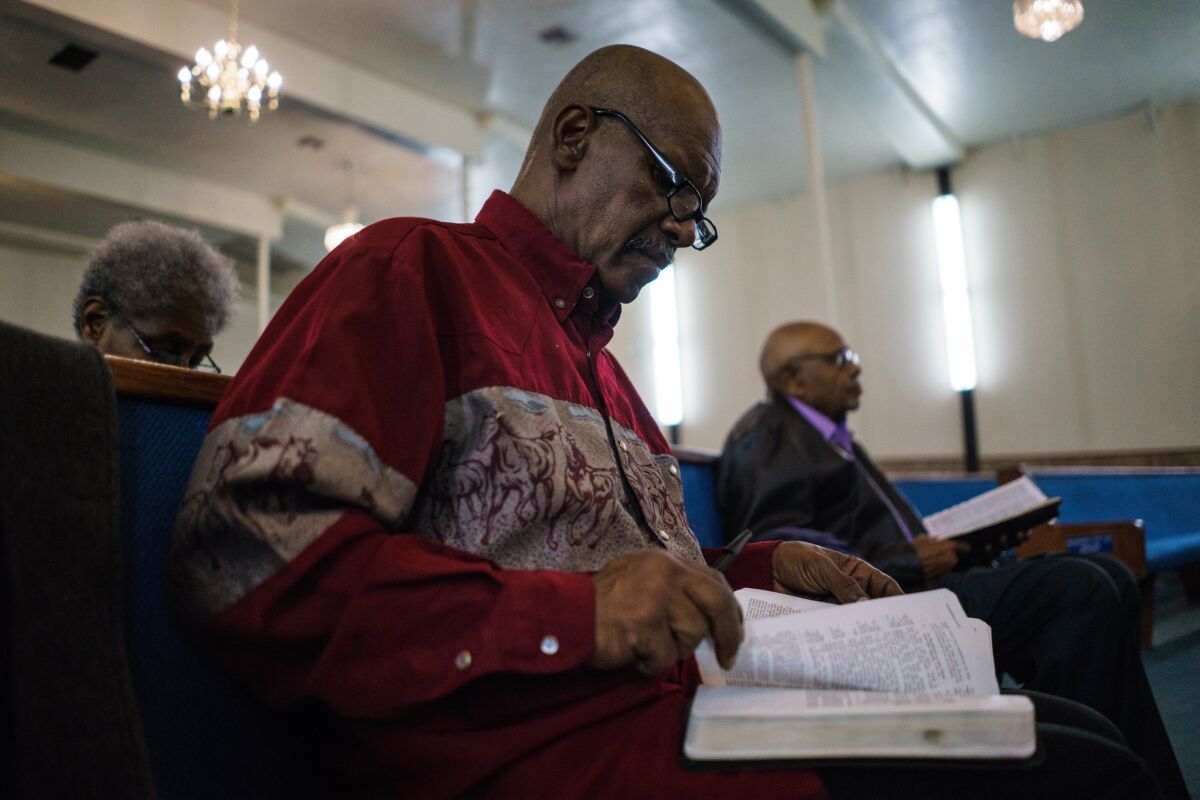 In the meantime, Gay may have the advantage because she could build housing on the city lot, which is behind a Kleinman property, without buying him out.
Fralin contends that allowing housing on the city lot would spoil one of the few South Los Angeles locations that can accommodate a large shopping center.
"This is a shopping center site," Fralin said. "You don't want to put more apartments right next to a freeway. You have a major signalized intersection, incredible traffic counts, visibility from the freeway. I don't see that happening."
An obstacle to redevelopment of most commercial thoroughfares, he said, is the historical zoning pattern of narrow commercial strips backed up by single-family housing, a pattern evident on the east side of Broadway.
But because of the freeway, the west side of Broadway is deep enough to accommodate a retail project if a developer could consolidate ownership of the parcels.
Gay said she is sympathetic to Fralin's dream, but can't wait.
"He's been talking for 24 years for all of this," Gay said. "Getting it done is another thing. We're planted there now, so we're just going to keep building outward."
Whichever developer prevails, Broadway will remain in distress until Kleinman decides to sell or do something with his property.
One way way out of the impasse could arise from Kleinman's own disengagement.
Los Angeles County Treasurer and Tax Collector records show that 2015-16 property taxes on his properties are in default and the first installment on this year's taxes of $18,251.84 has not been paid. If the default is not cleared by July 1, 2019, the tax collector would initiate a process to sell the properties within four years.
Meanwhile, as long as he refuses to talk, people can only guess about his thinking.
"I don't understand how someone could work there and have the ability to be a part of the change and could not," said Lee, the former legal aid attorney.
Not long ago, Rhodell Glasco, pastor of the New Temple church, handed his business card to some workers he spotted on Kleinman's property and asked them to pass it on.
Glasco was only hoping to get approval to use the vacant lot for parking.
"It's hard to explain why would a person withdraw like that," Glasco said. "We can only speculate."
Twitter: @LATDoug
The stories shaping California
Get up to speed with our Essential California newsletter, sent six days a week.
You may occasionally receive promotional content from the Los Angeles Times.