In South L.A., there are more groundbreakings than ribbon-cuttings as commercial development lags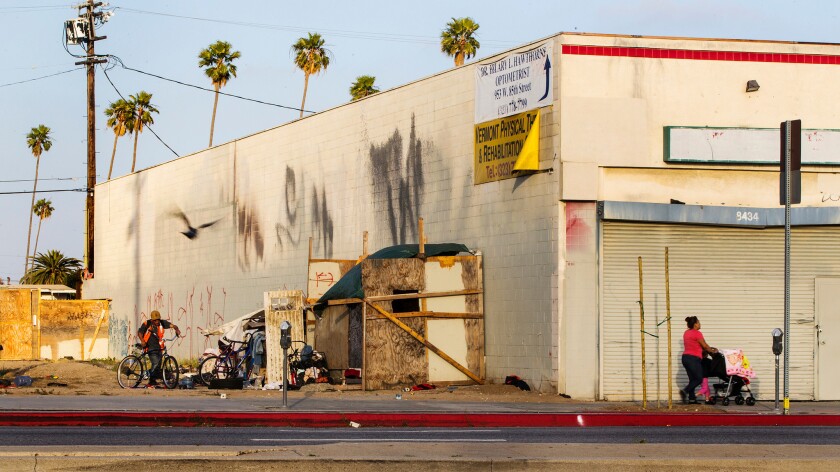 Betty Price was 14 years old when she visited the corner of Vermont and Manchester avenues to pick out the graduation dress she would wear in her junior high commencement.
Back then in the 1940s, the bustling intersection was lined with stores and restaurants, and Price, now 82, remembers her mother taking her there for shopping and the occasional meal.
But time has not been kind to Vermont and Manchester. Decades of urban decay and the 1992 riots left the shopping district abandoned. The property is empty, save for a homeless camp. Last month, a transient set two people on fire here.
Hope came a year ago when former Councilman Bernard C. Parks broke ground on the football field-sized property to mark a promised development of a $100-million entertainment district to rival L.A. Live.
The development is seen as a key test about whether the building boom that has brought massive new developments across Los Angeles can extend to the Southside.
South Los Angeles, which has some of the city's poorest communities, has seen several major revitalization projects over the years announced only to see them stall.
Residents have long complained about a lack of quality shopping – notably supermarkets – in their neighborhoods. The city has designated parts of region as "food desert" and changed zoning rules to discourage fast-food restaurants and encourage supermarkets and more upscale restaurants. Studies, however, have found the effort has seen mixed results.
It's like being in a dream, where you want it to come true but knowing it won't.
— Dana Gilbert, 57
Some in the Vermont Knolls area are already worried about the Manchester Avenue project, seeing little progress since the big announcement.
"Everybody got excited," Dana Gilbert, 57, said. Now, "everybody is losing faith again. It's like being in a dream, where you want it to come true but knowing it won't."
The property owner, Eli Sasson, insists that he will build a world-class destination that will revitalize the neighborhood and create hundreds of jobs. He said the so-called Vermont Entertainment Village – which in artist renderings feature an open-air promenade with retailers like Urban Outfitters and Nike – will get back on track after some delays.
Three weeks ago, permits for seven structures of various levels for proposed retail, restaurant and supermarket space were submitted to the Los Angeles Department of Building and Safety, and they were "waiting for a soil report and approval letter to be submitted for plan check review."
"My credibility is on the line," Sasson told The Times last week. "I didn't want to do the groundbreaking. But out of respect for the councilman, I did. That hurt, in a way, what I'm doing. We promised too early. We announced too early. I'm more of a do-er guy."
Since the riots, there have been proposals to build affordable housing on the property, as well as the kind of grocery stores and sit-down restaurants that are in short supply in the area. But disputes over the land's future and political infighting have scuttled plans.
Marlton Square, District Square and Vermont Knolls are just some of the other neighborhoods in South L.A. that have seen renderings of projects that never happened or are long stalled.
A two-story retail center with a Target, Marshalls and Ross was proposed in 2013 for District Square on Crenshaw Boulevard and Rodeo Road. But the developers had to re-imagine the 6.5-acre space after an anchor tenant pulled out of the project. Now, the lot near the future Crenshaw/LAX light rail line is slated to be a mixed-use development with senior housing, a Smart & Final Extra, Marshalls, 24 Hour Fitness and Burlington Coat Factory, according to Councilman Herb Wesson's office. A groundbreaking is expected in the next 12 months.
Parks said in 2011 that he had attended at least four groundbreakings at Marlton Square, a 22-acre lot behind the Baldwin Hills Crenshaw Plaza on Marlton Avenue and Santa Rosalia Drive. Still, that same year, he held a similar ceremony where construction crews tore down a building, a move some community members hoped would usher in development.
Then last year, Kaiser Permanente held another groundbreaking to announce plans to build a $90-million, 100,000-square-foot building on 8.65 acres of the property. Crews are in the process of laying the building foundation, underground utilities and setting the concrete columns that will support the Kaiser building, spokesperson Socorro Serrano said. The facility is expected to open in mid-2017.
It was perhaps with some prescience that at the ceremony for the Vermont Entertainment Village, Parks had remarked that in South L.A. there are "10 times more groundbreakings than ribbon cuttings."
Commercial development is risky, particularly in working class communities like South L.A., said Brenda Shockley, president of Community Build Inc., a nonprofit community development corporation created to revitalize areas ravished in the 1992 L.A. riots. And the district where the project is proposed is one of the city's poorest.
"The return on the investment is not regarded as profitable as if you were on the Westside," Shockley said. Acquiring financing and attracting tenants "all of those things are more fluid, and generally they don't pencil out unless you have some kind of public investment as well."
Five years ago, Gov. Jerry Brown and the state Legislature dissolved 400 redevelopment agencies that provided public subsidies to spur economic development and housing construction in blighted areas. Critics said the agencies were rife with waste and corruption.
But with the Community Redevelopment Agency gone, the well of public money used to lure developers to blighted neighborhoods has dried up, Shockley said.
In 2008 the redevelopment agency began eminent domain proceedings to gain control over the lot on Vermont and Manchester after talks with Sasson broke down. But the dissolution of the agency happened while it was in the process of buying the land, Parks said.
When officials announced their plans for an entertainment district on Vermont, between 84th Street and Manchester, many residents cheered. The project was scheduled to open by the end of 2016 and early on there were hopeful signs: A medical office was moved from the property and a permit was pulled in April 2015 to tear down that building.
But since then, the project seemed to enter into a kind of limbo. Price said that when she drives past the lot on her way to the doctor's office and to the Crenshaw Christian Center, a 7,400-member church her husband founded, she feels sadness.
Price asked her daughter: "What's going on with my project?"
Sasson said some of the holdups involve complications due to the need to reroute electrical wiring.
He said he's working with Congresswoman Maxine Waters to move the process along.
Harris-Dawson's office said Sasson did not give a reason for the cancellation, and that the councilman was not scheduled to attend that meeting.
Department of Water and Power spokeswoman Ellen Cheng said the agency met with designers of the proposed project in April and have been in regular email correspondence since then to discuss plans to move power lines that are over the property. However, she said DWP is not the reason for the holdup.
"Any delay on the project is not due to that," she said.
Price's daughter, Angela Evans, 59, said she has not given up hope that the corridor will return to the beautiful metropolis of her mother's childhood. Other neighborhoods similar to theirs -- USC and the corner of Slauson and Western avenues – have experienced renaissances.
"When? When? Can this happen for us?" she asked. "I believe it can happen because you see it around."
ALSO
UCLA shooter's slain wife had found happiness at medical school
Charter groups bridle at LAUSD's order to 'wand' students to detect weapons
LAPD jailers didn't conduct proper cell checks 8 times out of 10, watchdog report finds
---
The stories shaping California
Get up to speed with our Essential California newsletter, sent six days a week.
You may occasionally receive promotional content from the Los Angeles Times.