Democratic donor's home was littered with drug paraphernalia after man died, coroner says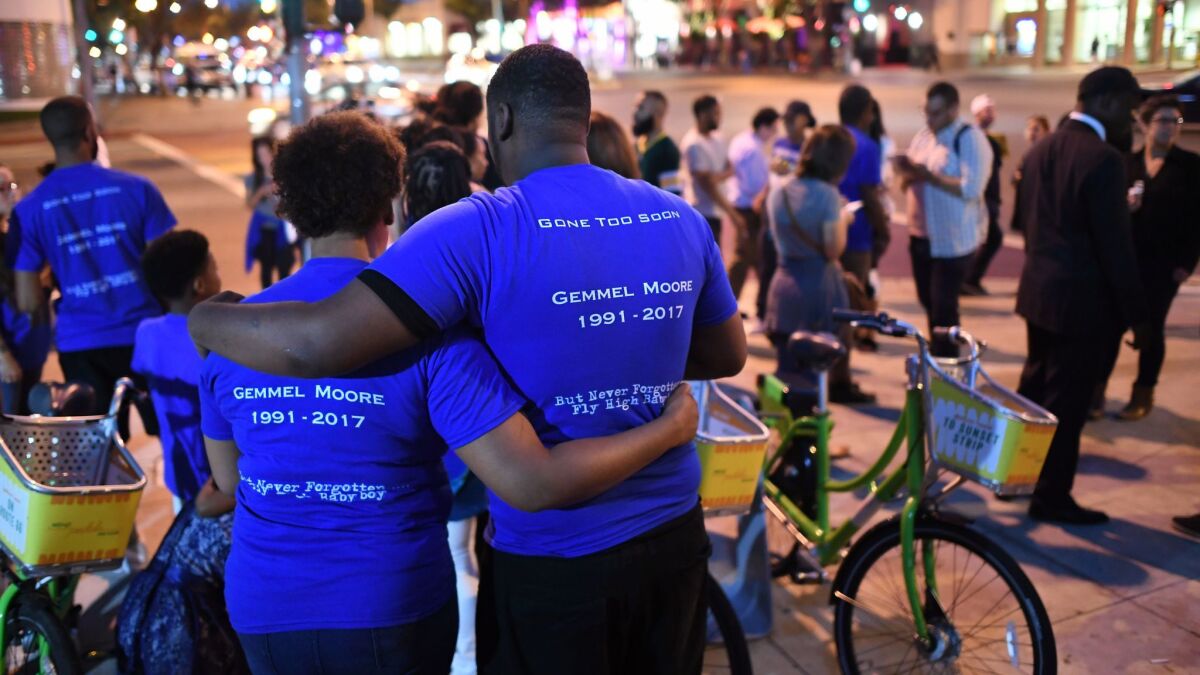 The West Hollywood apartment of a prominent Democratic donor where a 26-year-old man was found dead of an overdose this summer was littered with drug paraphernalia, according to the man's autopsy report.
The Los Angeles County coroner's report, which was obtained by the Los Angeles Times on Friday, says that Gemmel Moore died from an accidental methamphetamine overdose July 27 in the Laurel Avenue home of Ed Buck. The drug was injected into his body.
Paramedics found Moore naked on a mattress in the living room with a "male pornography movie playing on the television," the report states.
Coroner's officials ruled Moore's death an accident, and an initial review by sheriff's deputies found nothing suspicious. In August, Los Angeles County sheriff's homicide detectives launched a new investigation after Moore's mother and friends questioned whether the drugs that killed him were self-administered.
Capt. Chris Bergner of the sheriff's homicide bureau said witnesses are still being interviewed and that it remains an "active investigation."
No charges have been filed.
Moore's mother, LaTisha Nixon of Texas, has questioned whether Buck's ties to elected officials and differences in race and class influenced the investigation.
Buck, who is 63 and white, is a longtime political donor, one-time West Hollywood City Council candidate and a well-known figure in LGBTQ political circles. Moore, who was black, had been homeless and had worked as an escort.
Buck's attorney, Seymour Amster, says his client was a friend of Moore's who did nothing wrong and that the methamphetamine was self-administered. After reviewing the autopsy report, Amster said he maintained his position that Buck "did not witness it being injected."
"I think it's time to bring this tragedy to a conclusion," Amster said. "This was an accidental death. This was an unfortunate death … but that doesn't mean we can make spurious accusations and spin something out of control."
Moore had flown from Houston to Los Angeles the day he died, according to coroner's investigators. His mother has told The Times that Buck bought his airplane ticket.
A notebook found in his property indicated using drugs in the past with someone whose name is redacted in the coroner's report. The Times has reviewed pages of a journal that authorities said was found among Moore's possessions. In it, Moore purportedly wrote last year about using crystal methamphetamine.
"Ed Buck is the one to thank," Moore appears to have written. "He gave me my first injection of chrystal [sic] meth."
The Times interviewed a man who said he reported complaints about Buck — similar to those made in the journal — to the sheriff's West Hollywood station on July 4. The man, who asked to remain anonymous, described himself as an escort. The Sheriff's Department was looking into whether he filed a report.
The coroner's report says that, about 6:45 p.m., Moore was visiting "his friend's residence" and "was witnessed by his friend" becoming warm and unresponsive after using methamphetamine injected about 5 p.m. The male friend's name is redacted.
The friend alerted a neighbor who "has medical knowledge" and attempted CPR until a paramedic arrived. The report says Buck called 911.
The coroner's report says police found sex toys, syringes and "clear plastic bags with suspected methamphetamine in a tool box roll-cabinet in the living room."
Police indicated that someone at the scene "is suspected to be known to exchange drugs for sex," the report states. The name is redacted.
The report says that coroner's investigators interviewed a woman, whose name is redacted, who said Moore told her that someone whose name is also redacted tied him up "over a year ago" and "held him against his will at the residence in West Hollywood."
The report indicates that an investigator spoke with Moore's mother.
According to the report, a coroner's investigator found the following items in Buck's two-bedroom apartment: 24 syringes with brown residue, five glass pipes with white residue and burn marks, a plastic straw with possible white residue, clear plastic bags with white powdery residue and a clear plastic bag with a "piece of crystal-like substance."
Bergner said potential witnesses have been given some immunity from prosecution from other possible crimes in order to provide statements to his detectives. Investigators have spoken to several witnesses and are working to corroborate their statements, which takes time, he said.
Bergner cautioned that though medical evidence in a coroner's report is conclusive, the investigative narrative is based on initial information and can change as a more thorough investigation is conducted.
Amster said the coroner's ruling of Moore's death as accidental should have settled the matter.
"I think this concludes it," he said of the autopsy. "The manner of death is accident. This whole thing is about 'how did Gemmel Moore die?' It was a tragedy. It certainly is a strong statement to say no to drugs."
Twitter: @haileybranson
Twitter: @lacrimes
Times staff writer Maya Lau contributed to this report.
ALSO
'We all started screaming': Two boys killed, mother seriously injured when sheriff's vehicle careens onto sidewalk
'Diaper bandit' led police on high-speed chase that severely injured 6-year-old girl, prosecutors say
---
The stories shaping California
Get up to speed with our Essential California newsletter, sent six days a week.
You may occasionally receive promotional content from the Los Angeles Times.