Tourist 'red carpet,' Hollywood and Highland, to get diagonal crosswalk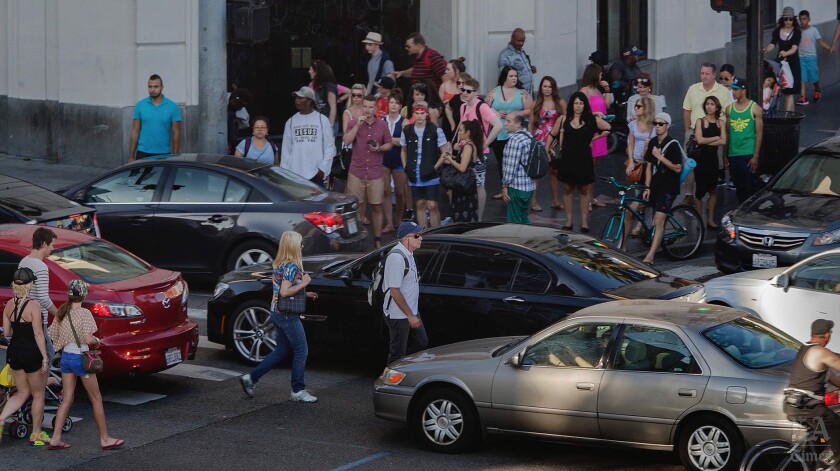 One of Los Angeles' most iconic and hectic intersections -- Hollywood Boulevard and Highland Avenue -- is about to get a "scramble" crosswalk that will stop traffic in all directions long enough to let pedestrians cross, even diagonally.
City Councilman Mitch O'Farrell, who represents a district that includes Hollywood, announced the new configuration Tuesday.
Only last week, the council approved Mobility 2035, a citywide transportation plan that emphasizes pedestrian and bicycle safety, at times by reducing lanes of vehicle traffic.
"Hollywood and Highland is one of the busiest intersections in Los Angeles and one of the most dangerous," O'Farrell said in an interview. "Pedestrian safety is my top priority in terms of mobility."
The crosswalk will cost an estimated $50,000 and is expected to be completed by the end of the year.
Interested in the stories shaping California? Sign up for the free Essential California newsletter >>
A Times analysis identified Hollywood and Highland -- at the center of a bustling tourism and shopping zone -- as one of the most problematic intersections for pedestrians in the city. Thirty-eight people were struck by vehicles there from 2002 through 2013, one fatally.
"Hollywood and Highland is our red carpet entrance for people from around the world who come to experience Los Angeles' center stage," said Seleta Reynolds, general manager of the city's department of transportation. "The new intersection design will prioritize the safety and comfort of people walking. We plan to implement this change in consultation with the community and will evaluate the before and after effects."
Studies have shown that scramble crosswalks are safer for pedestrians, and the city has experimented with a number of them, most recently installing 10 in 2008 in Venice, Woodland Hills and the downtown fashion district as well as near UCLA and USC.
Four in the fashion district, at the intersections of Santee Street and Maple Avenue with 11th and 12th streets, were later removed because of traffic delays caused by the crosswalks.
Times staff writer Ryan Menezes contributed to this report.
ALSO:
L.A. will add bike and bus lanes, cut car lanes in sweeping policy shift
Diagonal walkways put drivers, pedestrians at different cross purposes
L.A. lawmakers question police ticketing of pedestrians in crosswalks
---
The stories shaping California
Get up to speed with our Essential California newsletter, sent six days a week.
You may occasionally receive promotional content from the Los Angeles Times.