L.A. will add bike and bus lanes, cut car lanes in sweeping policy shift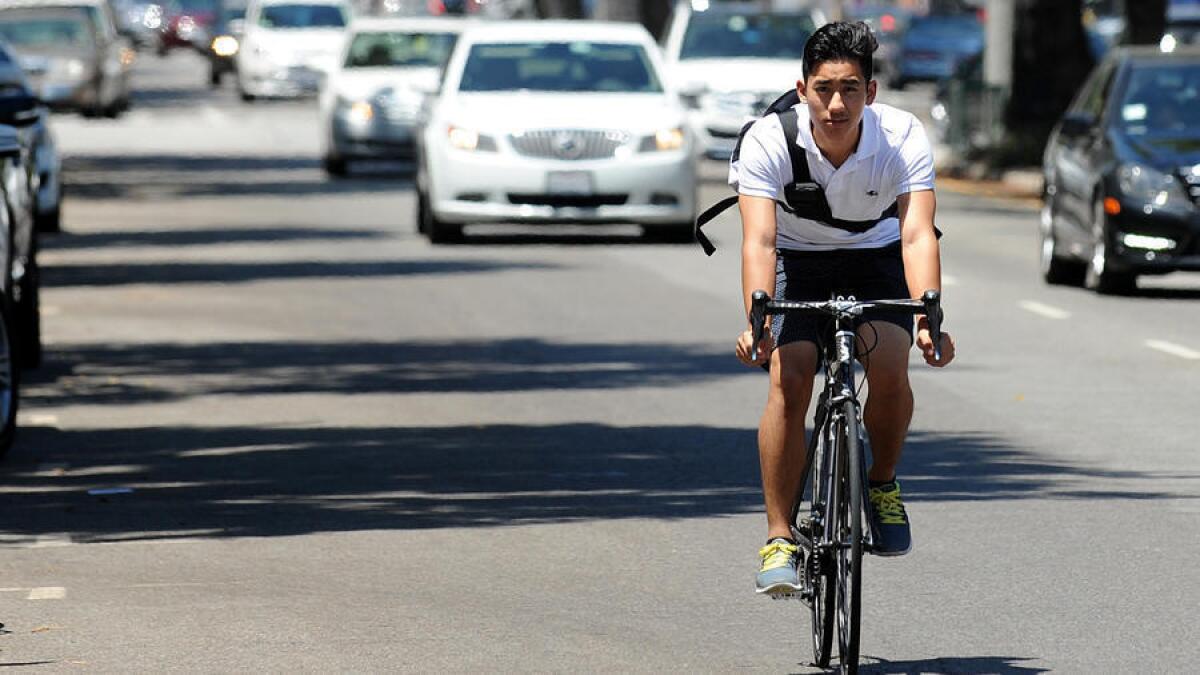 Over the decades, Los Angeles has bulldozed homes, paved through tranquil canyons, toppled countless trees and even flattened some hillsides, all in the name of keeping automobile traffic flowing as fast as possible.
On Tuesday, city leaders decided to slow things down.
They endorsed a sweeping policy that would rework some of the city's mightiest boulevards, adding more lanes for buses and bikes and, in some places, leaving fewer for cars. The goal is to improve safety for cyclists and pedestrians while also luring more people out of their cars.
The plan represents a major departure in transportation policy for a city so closely identified with cars, and reflects the view of many planners that the old way of building more road space to address traffic is no longer a viable option.
Known as Mobility Plan 2035, the plan spells out hundreds of miles of new bicycle lanes, bus-only lanes and other road redesigns. It also seeks to cut the fatality rate from traffic collisions to zero within 20 years, in part by keeping cars within the speed limits. And it builds on other changes the city has already made to its streets in recent years.
The mobility plan touches every section of the city, including Sunset Boulevard near downtown, Van Nuys Boulevard in the San Fernando Valley and Martin Luther King Jr. Boulevard in South Los Angeles.
City Councilman Mike Bonin, a major backer, said the changes are needed in part because the city has a "legacy of shame" when it comes to the number of automobile fatalities involving children and senior citizens.
"This is a document that helps us prioritize public safety so that those who are walking and bicycling and trying to get around [without] a car don't get killed," Bonin said. "Right now, only 5% of those hit by a car going 20 mph die. Over 80% of those who are hit by a car going 40 mph die."
Tuesday's 12-2 council vote was welcomed by transit advocates and business organizations, who say that the plan will provide more options for people who want to walk, bike and take public transit.
Opponents are preparing a legal challenge, saying the city's own analysis shows that the plan, and the accompanying loss of car lanes, will lead to increased traffic congestion and delays by emergency vehicles.
"We can't stand by and let this happen," said Laura Lake, a volunteer with the advocacy group Fix the City. "We want to see real transportation reform, but this isn't it. This is aspirations and slogans, not transportation planning."
A Times analysis found that pedestrians constituted 1 of every 10 people involved in car crashes in Los Angeles County between 2002 and 2013. Yet pedestrians during that period represented more than 35% of overall road deaths, many of them near freeways or on wide, straight streets.
Reducing all types of crashes, experts say, is possible if the city is willing to dramatically reshape streets by adding medians, widening sidewalks and putting in dedicated bus and bike lanes, at the expense of car lanes.
Backers of the plan say that a reduction in vehicle speeds does not automatically result in gridlock. A better scenario for a major street is to have cars moving at steady, consistent speeds, they say.
"Slower moving traffic does not necessarily lead to congestion. Those two are separate," said Senior City Planner Claire Bowin, who helped draft the plan. "Slower traffic can actually in some ways accommodate more cars moving through an area."
City leaders say the plan reflects a newfound view that simply widening streets is no longer feasible or, in many cases, desirable. They contend that if even a small share of motorists change their travel behavior, choosing alternatives to the car, the city can make a big dent in the overall number of miles traveled.
Los Angeles briefly achieved that type of change, they say, during the 1984 Olympics, when residents cut back on car trips and changed the times they traveled. A similar situation played out four years ago during Carmageddon, when the 405 Freeway on the frequently congested Westside was closed for a weekend.
Projects contained in the mobility plan will be subject to additional review from local neighborhoods and public safety officials to ensure they won't harm emergency response times, planning officials said.
Those reassurances didn't stop some council members from seeking to rework the plan's list of projects.
Councilman Curren Price, who represents part of South Los Angeles, called for a section of Central Avenue to be taken off the list of protected bike lanes — those that are separated from traffic by curbs or other barriers. Councilman David Ryu, who represents part of Hollywood, said he wants to remove stretches of Melrose Avenue and Lankershim Boulevard. And Councilman Paul Koretz has been pushing for months to have Westwood Boulevard taken off the plan's list of future bike lanes.
Council members ultimately put off a debate on those requests until next month. So far, the biggest changes are being sought by Councilman Gil Cedillo, who has tangled with bicycle activists over the last two years. Cedillo pushed for nearly a dozen street segments in Chinatown, Highland Park and elsewhere to be taken out of the plan's network of protected bike lanes.
Cedillo said the city did not show the plan to his constituents and argued that bicyclists make up a tiny fraction of his constituents.
"I have to be a representative for the entirety of my district, not simply 1%," said Cedillo, who along with Koretz voted against the plan.
Backers of the mobility plan say that it will build on the ongoing push to extend new rail lines to the Westside, South Los Angeles and elsewhere. It calls for nearly 240 additional miles of bus-only lanes that would operate either during rush hour or 24 hours per day. In some cases, major corridors — including Sherman Way, Venice Boulevard and Huntington Drive — would receive dedicated lanes both for buses and bicycles.
Councilman Jose Huizar, who represents downtown, told his colleagues that some streets in his district have already lost car lanes. On those corridors, the resulting reduction in traffic speeds helped stimulate commercial activity, he said.
"Small businesses are improving because now people are slowing down and saying, 'Hey I didn't know there was a pie shop there,' " he said.
As part of Tuesday's decision, council members signed off on a Statement of Overriding Considerations, saying that the benefits of the mobility plan will outweigh its more serious environmental impacts.
The city's Environmental Impact Report concluded that the plan's projects, if completed by 2035, would result in "unavoidable significant adverse impacts," including additional noise, cut-through traffic and diminished access for emergency vehicles. The report also found that there would be a considerable increase in the percentage of major streets that are highly congested during evening rush hour.
City officials said they had to rely on conservative projections to ensure that the plan would withstand a legal challenge. And they cited other data that indicate the plan will cut the number of trips by 1.7 million miles per day within 20 years.
Follow @DavidZahniser on Twitter for more news from L.A. City Hall.
ALSO:
Westwood bike lane proposal ignites strong feelings on both sides
Editorial: An L.A. transit plan with vision
The stories shaping California
Get up to speed with our Essential California newsletter, sent six days a week.
You may occasionally receive promotional content from the Los Angeles Times.