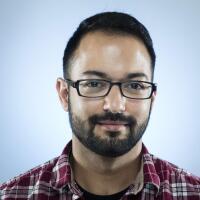 Armand Emamdjomeh
Armand Emamdjomeh is the former deputy director of Data Visualization at the Los Angeles Times. He worked at The Times from 2010-17 and worked on topics ranging from the Homicide Report to helping readers explore the surface of Mars.
Latest From This Author
As Los Angeles planners continue to nudge the city toward a denser, more bicycle-, pedestrian- and mass transit-centric future, the City Council passed Mobility Plan 2035 earlier this month, charting a transportation course for the next 20 years.

One of Los Angeles' most iconic and hectic intersections -- Hollywood Boulevard and Highland Avenue -- is about to get a "scramble" crosswalk that will stop traffic in all directions long enough to let pedestrians cross, even diagonally.

With the city experiencing its first crime surge in more than a decade, homicides countywide are on pace with last year, according to recent data from the coroner's office.

The fatal shooting of a homeless man by Los Angeles police Sunday morning is once again focusing attention on officer-involved shootings.

When Angelenos phone the city to complain about illegal construction, trash piling up next door or other building nuisances, some parts of town have gotten a faster reaction from building inspectors than have others, a Times analysis of city data shows.

As hundreds protested Tuesday outside Los Angeles Police Department headquarters, someone wrote a provocative statement in chalk in the sidewalk: "LAPD killed 1 person per week since 2000. 82% were black or brown."

Paul Livingston pressed his left arm to the pavement of Santa Monica Boulevard and slowly dragged his mangled body out of the street and onto the curb.

Catherine Lacey Dodd's son's birthday and Halloween fall around the same time of year.