As homeless camps explode in L.A. suburbs, residents fear they will become permanent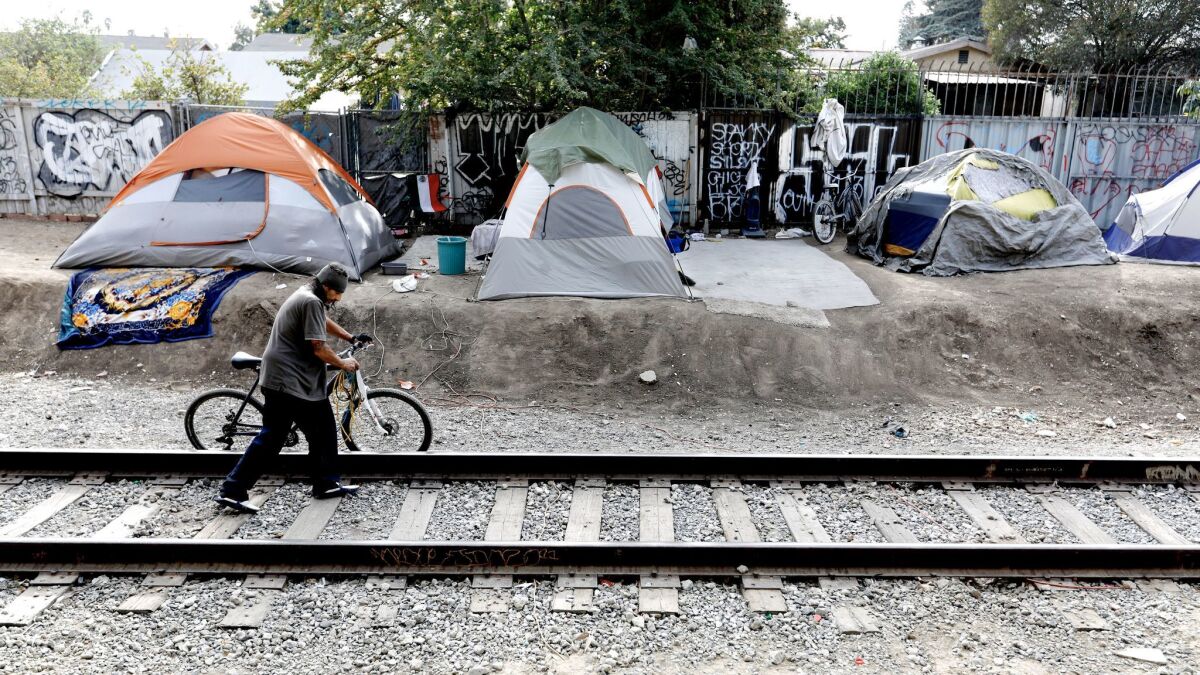 In the shadow of the roaring 110 Freeway in West Carson, Jennifer Morris stepped out of the portable restroom and washed her hands in a nearby sink.
Morris' pajama bottoms and shirt were covered in dirt, but she said she hadn't felt this clean in months.
Morris, 41, lost her job at a pet rescue organization about a year ago. Ever since, she's lived with her boyfriend in a sprawling homeless encampment in the unincorporated community, the thick brush hiding rows of tents where she slept, cooked meals and went to the bathroom.
As Southern California's homeless population has exploded in recent years, the South Bay and Harbor areas have seen their own surge, with an estimated 6,145 people calling the camps home, according to the 2017 homeless count — a 4% increase from 2016.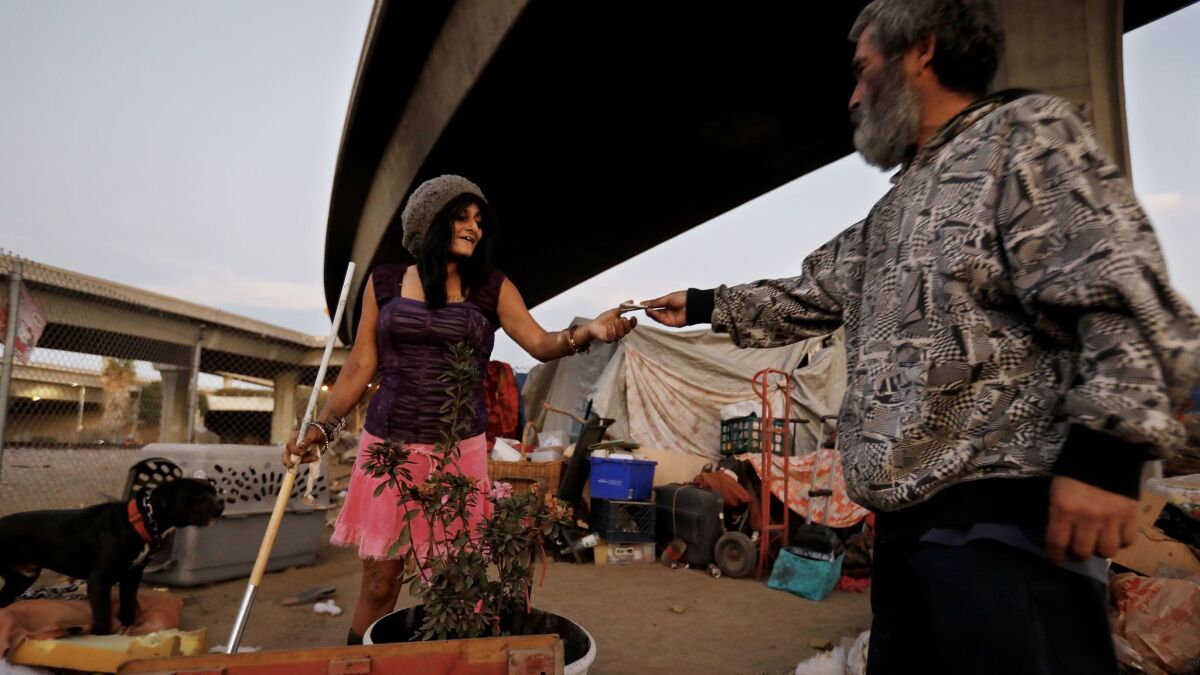 The situation has alarmed Los Angeles County health officials, who fear the growing encampments are ripe for public health outbreaks, notably hepatitis A, which caused numerous deaths in San Diego's homeless community.
So the county has placed toilets, sinks and other supplies at this encampment in West Carson, as well as at those in unincorporated areas of Pico Rivera, East Rancho Dominguez and Pearblossom.
But the move has troubled some nearby residents, who fear the county's action will make what they hoped would be temporary camps permanent.
The debate in West Carson is part of a larger battle communities are fighting as the homeless problem spreads out of urban areas such as skid row and into suburbs that don't have the services needed to deal with basic hygiene.
Faced with mounting pressure to tackle the issue, officials are having to make a difficult decision: Let them stay or push them out.
Different communities have made different decisions. In Orange County, officials decided to remove hundreds of homeless people from camps along the Santa Ana River in response to complaints from neighbors. The sweeps have prompted legal challenges, with critics saying many of those evicted from the camps have nowhere else to go.
"I won't let Orange County degrade that way. It wasn't safe or sanitary," said Orange County Supervisor Todd Spitzer. "We have a duty to protect property owners and renters there."
L.A. County has taken a different tack with several of its larger encampments. The Board of Supervisors voted last year to install "hygiene stations" in West Carson and the three other unincorporated areas, arguing that reaching the homeless where they are makes more sense than sweeping them away without any place to go.
The restrooms and sinks arrived this month and were an immediate hit with the camp inhabitants. For Morris, being able to get clean gave her hope for the future.
"I'm trying to find housing, but I can't without a job," she said. "And I can't get a job without being clean."
As she walked across the street back to the encampment, she was caught off guard when she saw police guarding the area as sanitation crews cleaned up what had become makeshift restrooms. They removed buckets of feces and urine and threw away charred metal from a fire pit.
Her friend Ted Mathes stood nearby, wearing a baseball cap, sunglasses and immaculate clothes. He's been homeless for the last six years — three of which he's spent at the homeless encampment on Lomita Boulevard and Vermont Avenue.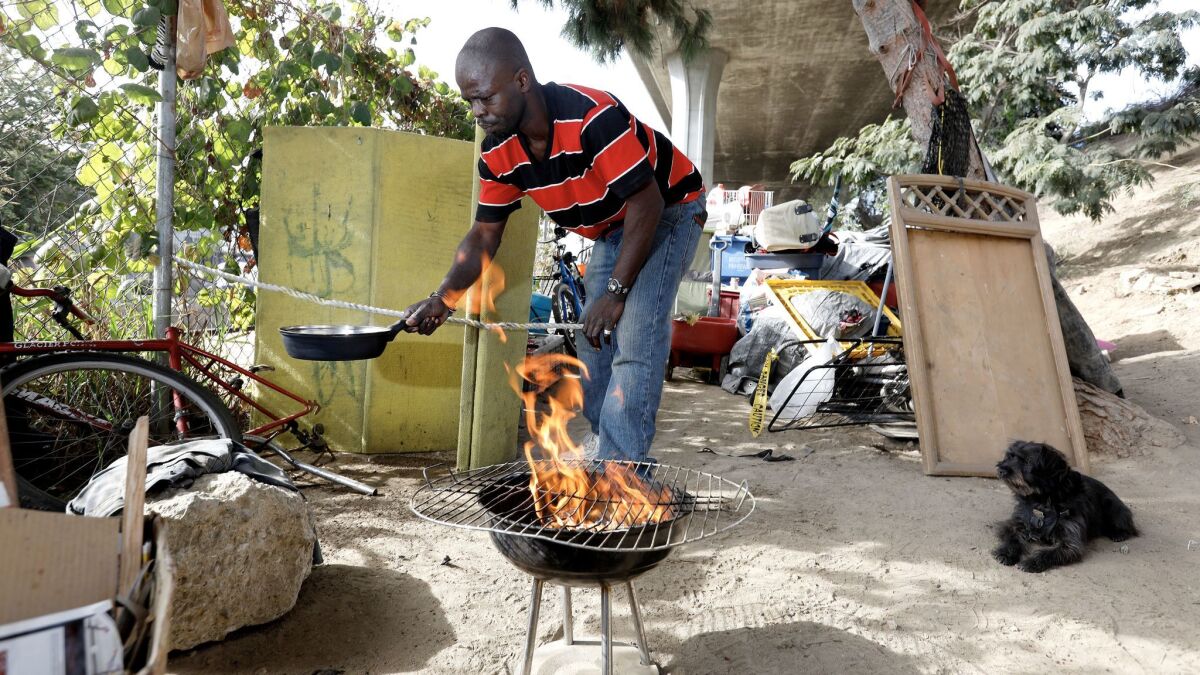 Mathes, 56, didn't know he could use the toilets and sinks.
"I thought it was for construction workers," he said.
Mathes hopes to find housing within the next seven months. Until then, he plans to use the toilets and sinks daily, but says he feels ashamed.
"During rush hour cars will be lined up there, and I don't want people to see me," he said. "I'm trying to stay out of sight."
Morris is among 190 people in West Carson living in such camps, according to a recent survey by the Department of Public Health.
Some homeless people in West Carson are recent arrivals who come because they've heard its relatively safe and they won't be disturbed, while others have lived there for years.
About a five-minute drive from the West Carson site, a camp with about 30 tents lines the backyards of houses beside the 110 Freeway near Figueroa Street in the L.A. neighborhood of Vermont Vista.
About 50 people live there. Raul Rodriguez is one of them. On a recent Thursday, Rodriguez limped along the train tracks toward his tent. He has spent the last year living at the growing homeless encampment.
Because of his knee injury, Rodriguez said he plans his days around finding a restroom. No hygiene station has been installed at the encampment.
But sometimes, he said, the pain is so great he ends up defecating in a plastic bag near his tent.
A few feet away, a swarm of flies hovered over a bush. He said people in the encampment frequently go there to defecate.
"Sometimes the stench is so bad that I decide to just clean it up myself," he said.
He feels bad for residents who live nearby and said people at the encampments are trying their best to clean up.
The addition of the hygiene stations is viewed much differently behind the block walls that separate the camps from the rows of modest houses. There, residents have watched with alarm as the camps have expanded, and now they fear they are here to stay.
Maria Alvarez, 50, has lived in a modest house at Figueroa and 117th streets with her husband and three children for more than 22 years. She started noticing a growing number of homeless people setting up tents behind her house three years ago.
Ever since, she has feared that the value of her home and others in the neighborhood has gone down, and that the stench from the piles of garbage has affected her health. She said she has sympathy for the homeless people who live there but believes the county should find permanent homes for them, not allow them to live by her house indefinitely.
"We feel bad and we don't want to make their lives difficult, but we just want officials to help find a permanent solution," she said.
Dominick La has lived in West Carson for 10 years and said the number of homeless people there has skyrocketed in the last four.
La, who works at a medical marijuana dispensary across the street from where officials placed the toilets and sinks, said the continued presence of police officers near the camps affects his business.
"Whenever police come to remove people and clean the camps, we don't get a lot of business. They're afraid," La said. "Sometimes people from the camp try to come inside our store too."
While the Orange County effort is fought in the courts, L.A. County leaders say it seems futile and cruel to rout the homeless.
"We need to provide dignity to these people so they can get back the services they need. We have to do something that addresses the issue in a humane way," said L.A. County Supervisor Hilda Solis. "Removing homeless people doesn't work. It only displaces them temporarily."
Greg Spiegel, director of strategic initiatives at Inner City Law Center, a nonprofit law firm, agreed.
"They will be there whether there are toilets or not," he said. "So the question is: What health conditions should they be living in?"
Follow me on Twitter @melissaetehad
---
The stories shaping California
Get up to speed with our Essential California newsletter, sent six days a week.
You may occasionally receive promotional content from the Los Angeles Times.