Orange County's riverside homeless begin trading tents for motel vouchers, other aid as camp is cleared
The homeless in the Santa Ana River trail encampment are removed and relocated after a ruling by U.S. District Court Judge David O. Carter, who lifted a temporary restraining order on evictions. (Video by Myung J. Chun / Los Angeles Times)
The crowd of homeless men and women lined up along the Santa Ana River trail to collect motel vouchers before bidding goodbye to Orange County's largest homeless camp.
As they inched forward wearing woolen caps and hoodies in the cold Tuesday morning, county workers tried to answer their questions and steered people such as Michael Parenteau, who has lived on the streets for 15 years, to services including housing, healthcare and transportation.
"I'm ready. This is my one chance if I want to get my life in order and get back on my feet," said Parenteau, 67.
The retired carpenter clutched a rope as he led his terrier mix, Frankie, to join the waiting throng.
Moving day at the so-called Camp Hope, assembled next to Anaheim's Honda Center, brought together an assortment of tent city residents with 40 members of the county's Health Care Agency, all working to screen and process applicants.
At 9 a.m. Tuesday, U.S. District Court Judge David O. Carter lifted a temporary restraining order on evictions, enabling homeless advocates and representatives from the county, plus the cities of Anaheim, Costa Mesa and Orange, to join forces to clear the riverbed encampment.
Last week, the judge — a decorated Marine and Vietnam War veteran — walked several miles along the encampment to get an up-close and personal look at how people were living there.
Carter had asked that the evictions be done "humanely and with dignity."
Many of the homeless, worried that vouchers or services would be limited, have already left.
Since Valentine's Day, 244 riverbed residents have been moved to motels, according to Susan Price, the county's homeless czar.
"There's no one solution for everybody who's homeless. This is a response to a crisis until we can bring up the level of beds and other services available around the county," Price said. "We are completely focused on helping those who want to be helped."
Along with vouchers, those leaving the encampment receive a $75 gift card each week for four weeks to help with food and other necessities. County officials also made available more than 200 recuperative beds for those with serious medical issues, Price said. Tuesday's clearance concentrated on relocating people camped on the river trail from Ball Road to Katella Avenue.
By 7 p.m., more than 100 people had been moved from the riverbed camp, officials said. The relocations were accomplished "without a single arrest or a single act of violence," Orange County counsel Leon Page said.
Carter, who met with advocates and county representatives in a quick meeting in the parking lot of the Honda Center to get a daily progress report, hailed the results, saying it's a "great credit to transparency, humanity ... history."
He said he would return to the encampment Wednesday morning for another look.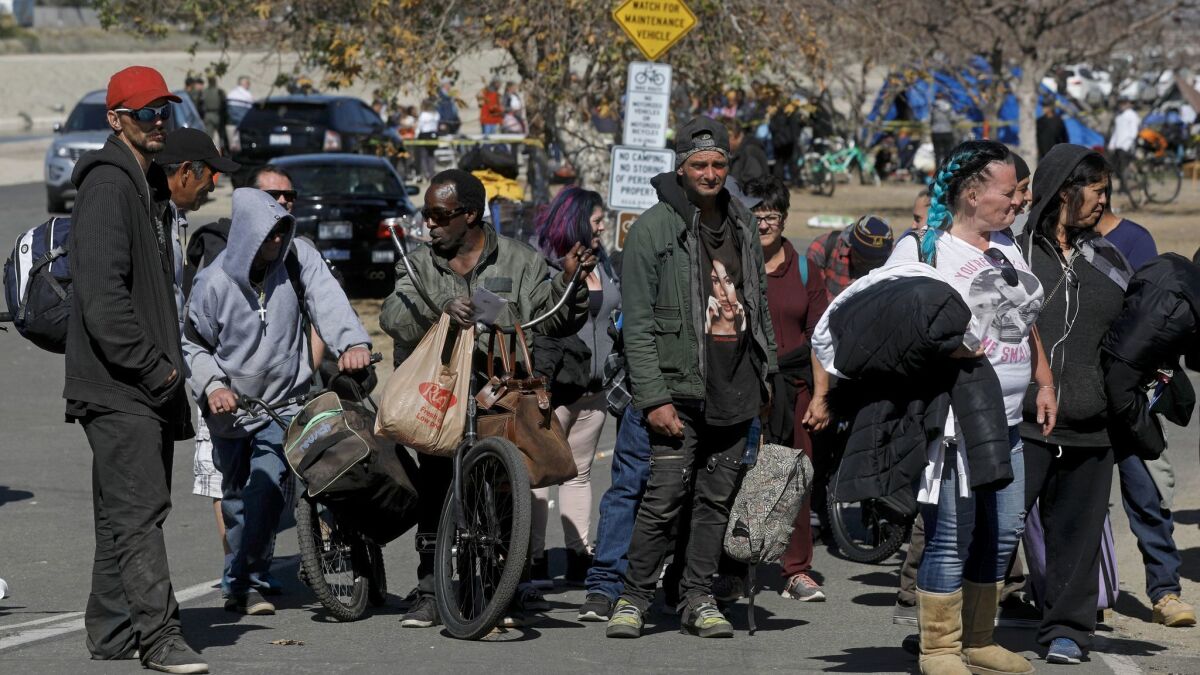 As word spread about motel vouchers, homeless people from different parts of Southern California began streaming in, trying to get their names on a waiting list.
"We know there are new faces and they're exploiting the goodness of the county. But we know who's been here because we have inventory," said County Supervisor Todd Spitzer.
County Chief Executive Frank Kim said county workers are familiar with the people who have called the riverbed home. But that hasn't stopped new people from arriving, he said.
"Just yesterday, I was out here and people would open up their cars and a bunch of other people would step out with their sleeping bags, looking for a motel voucher," Kim said. "We want to be clear that vouchers are being offered only to the riverbed residents. But we will work with all the homeless to help connect them to other services they need."
David Duran, who handles community development for the Housing Is a Human Right group, drove to the riverbed before the court order lifted Tuesday.
"We've already gotten phone calls from people who didn't get food vouchers or who have no way of getting to their destinations" after being cited for infractions such as missing a bicycle light. "There are a lot of challenges for the average person out here — not to mention mental health challenges."
But Duran added that he was "happy that this is starting to help get the homeless in better living conditions."
Alice Simpson, 57, originally from Alabama, said she was "thrilled to get into safety." She stood in the shade of a tree, counting down the minutes until transportation arrived to take her to the Bridges at Kraemer Place, a county-run shelter in Anaheim.
"I'm very comfortable with this move and I want to go in without fear," said Simpson, who has been diagnosed with symptoms associated with schizophrenia. "I have been living in fear at this camp and the person I call my best friend is 911. Maybe that will change now."
Fifteen minutes later, a blue bus pulled up on Katella Avenue near the 57 Freeway with seats for 36 passengers. A county worker started shouting out the names of those who had already qualified for a temporary motel or shelter stay. One by one, men and women from the waiting cluster emerged, hauling suitcases, purses bulging with used clothing or carrying dogs that shivered in the cold.
"This next step, it's the right step," said 54-year-old Carmen Ballesteros.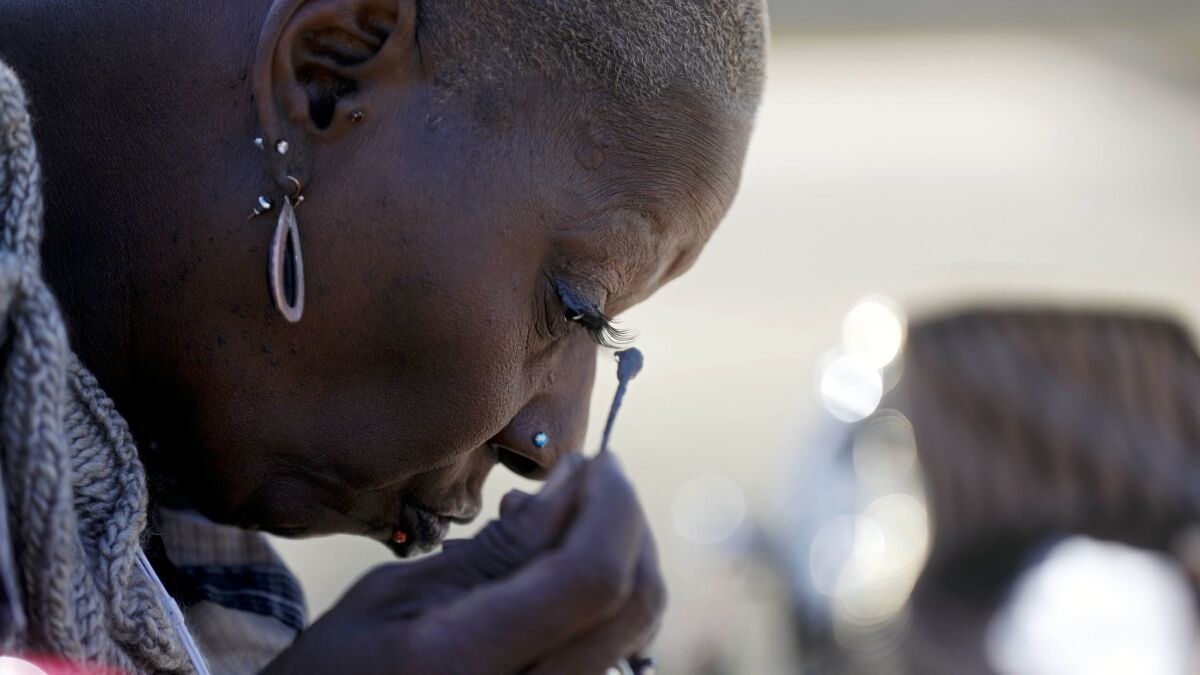 She said she could not remember the last time she slept in a warm place. About four years ago, Ballesteros came to the riverbed for refuge. But she said she found a place that in many ways underscored how difficult it is to be homeless.
"Living exposed out here has taken quite a lot from all of us. Every day is a struggle," Ballesteros said.
The former McDonald's manager said she lost her job and home after taking time off to care for a sister diagnosed with bipolar disorder.
For a while, home used to be the cramped Santa Ana Civic Center, where hundreds of street people competed for a safe spot.
"Now, to think of relaxing on a bed and not to worry about the freezing cold, I can't express how happy I am," she said. "We are grateful for help."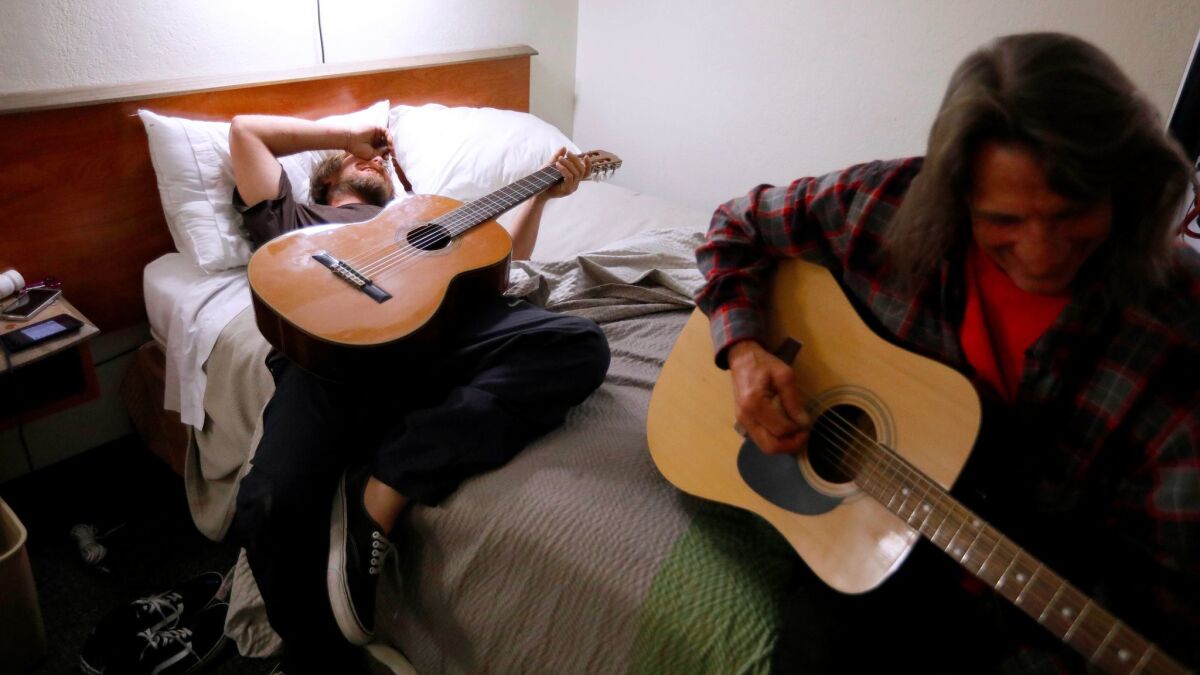 ---
UPDATES:
8:15 p.m.: This article was updated with the number of people moved from the homeless encampment.
5:10 p.m.: This article was updated with quotes from homeless people and others at the homeless encampment.
This article was originally published at 12:05 p.m.
---
The stories shaping California
Get up to speed with our Essential California newsletter, sent six days a week.
You may occasionally receive promotional content from the Los Angeles Times.