Hundreds rally in L.A. to protest LAPD shooting of unarmed black man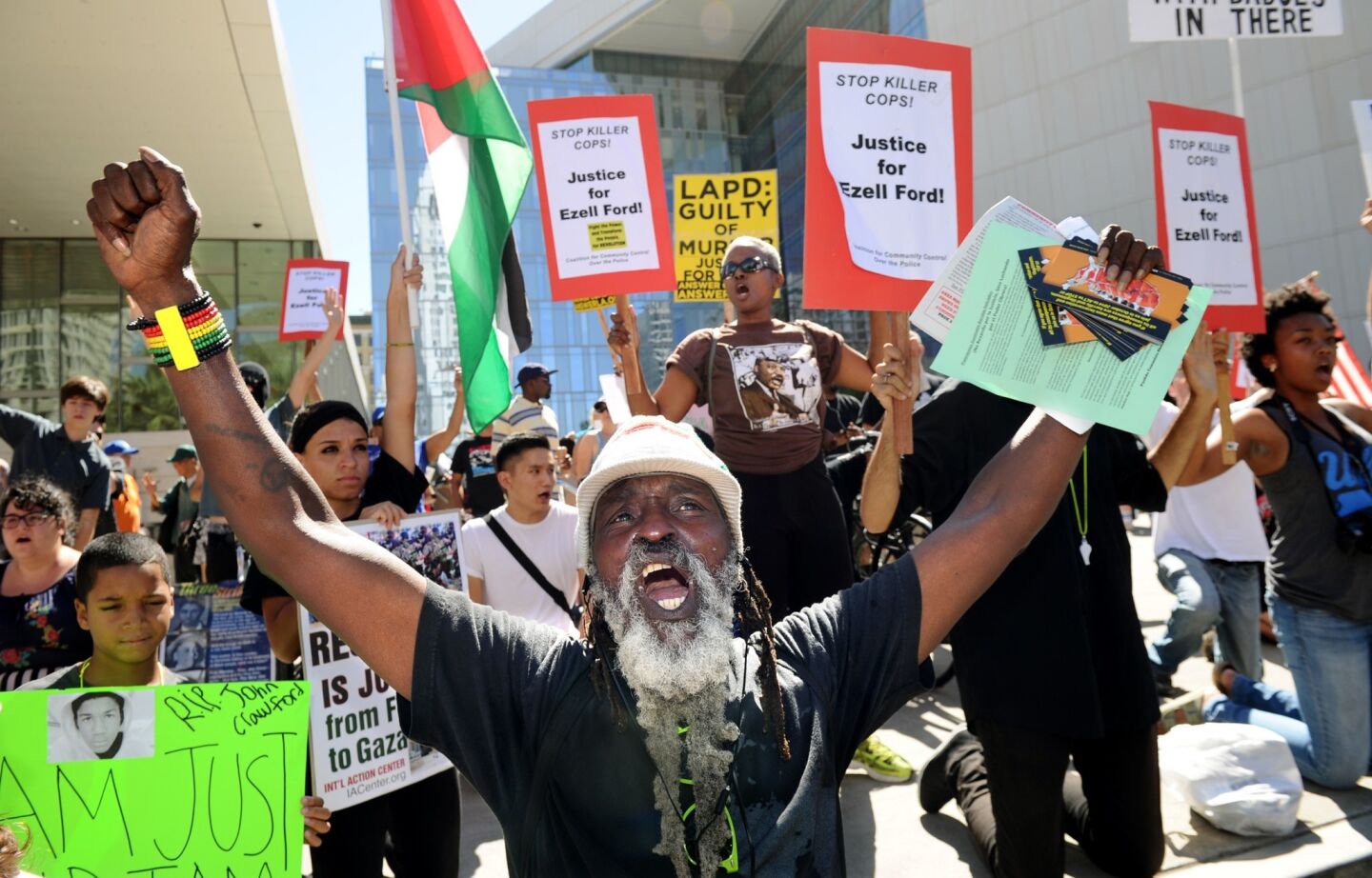 Kelly Kunta leads a rally outside Los Angeles Police Department headquarters in downtown L.A. on Sunday to protest police killings of young black men around the country.
(Wally Skalij / Los Angeles Times)
Protesters confront an LAPD officer during a march through downtown L.A. on Sunday to protest police killings of black men. No incidents were reported during the march.
(Wally Skalij / Los Angeles Times)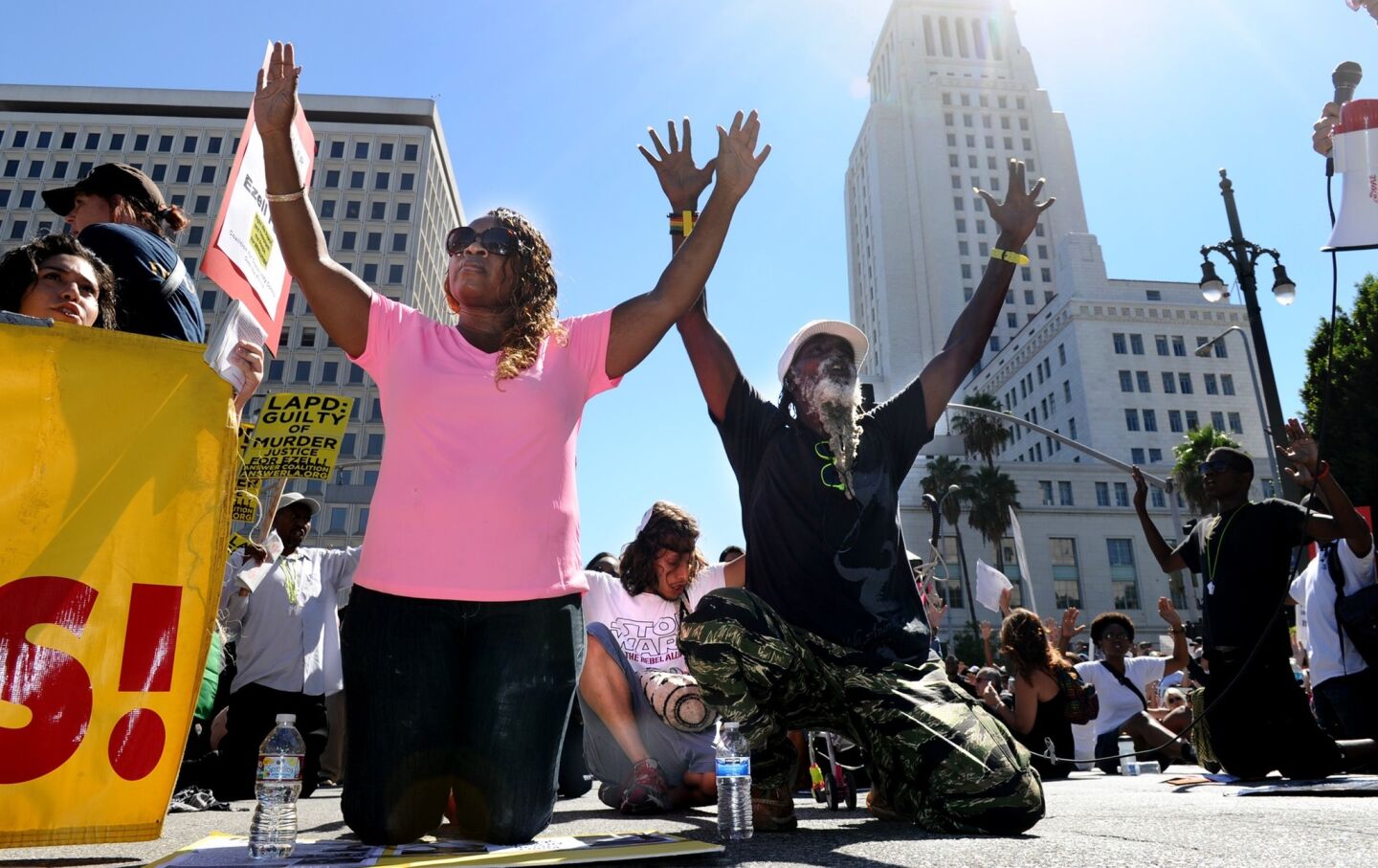 Marchers kneel, raise their arms and shout, "Hands up! Don't shoot!" on their way from LAPD headquarters to Union Station.
(Wally Skalij / Los Angeles Times)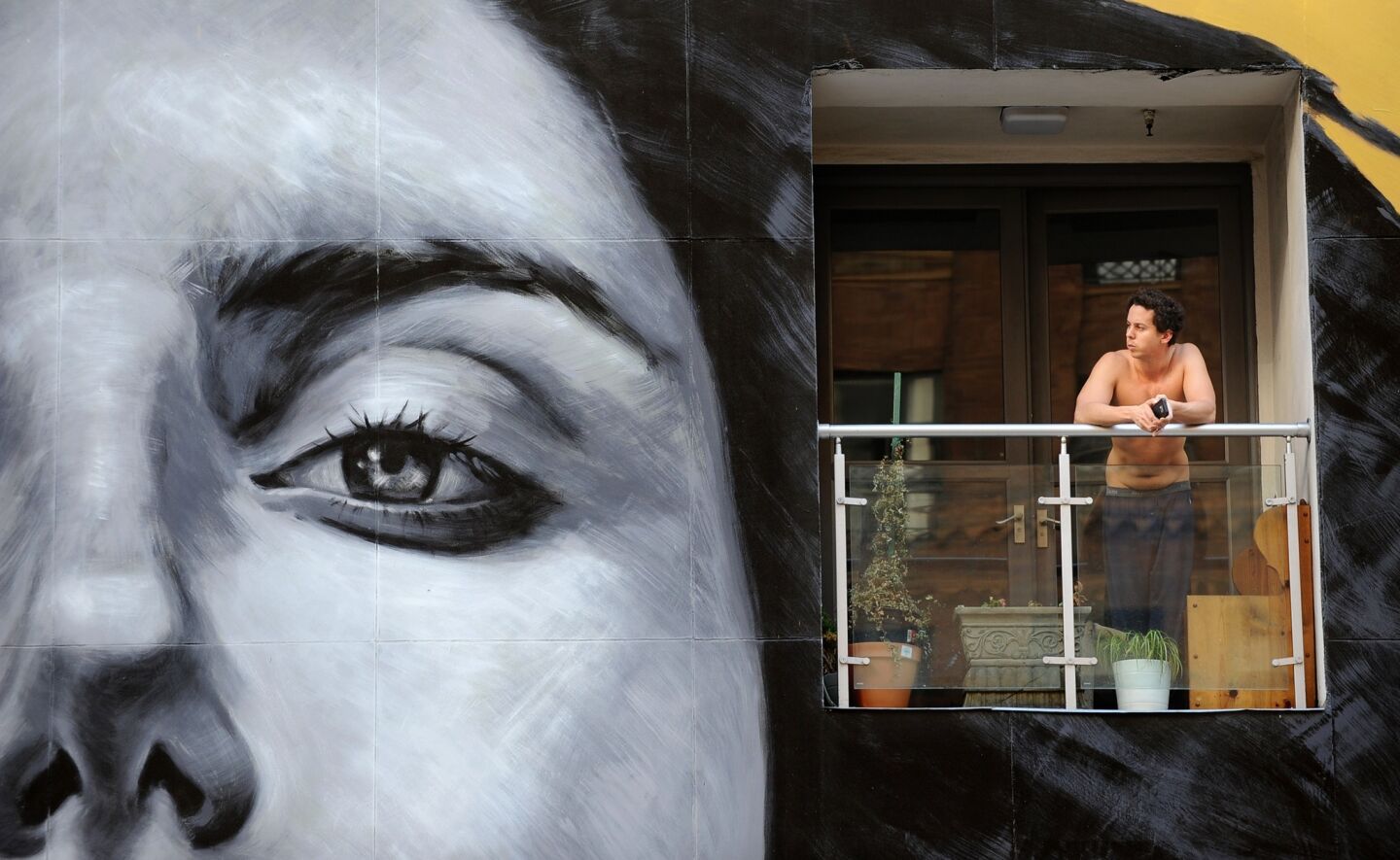 A downtown L.A. resident watches the march along Spring Street to protest police killings around the country.
(Wally Skalij / Los Angeles Times)
Most had never met the young man for whom they marched. Ezell Ford was a name they learned a week ago after he was shot and killed by police officers in his Florence neighborhood.
Yet Ford's death felt familiar to the hundreds of protesters who rallied Sunday afternoon outside the Los Angeles Police Department's downtown headquarters. They had come, they said, to address the epidemic of black men gunned down by law enforcement.
"I'm sick and tired of the police killing our people off," said Nicole Tinson, who wore a shirt that read "Unapologetically black."
The 23-year-old graduate student at Yale Divinity School who grew up in South Los Angeles said the LAPD had diminished the people in her community for years.
"It's absolutely ridiculous," Tinson said. "A man who holds his hands up is surrendering himself. You can't go shoot someone already down."
There are conflicting accounts of what took place the night of Aug. 11. According to an LAPD statement, two veteran gang officers got out of their car on West 65th Street to talk to Ford, who was unarmed. The 25-year-old continued walking and "made suspicious movements" before tackling one officer and reaching for his gun. Both officers fired their weapons. Ford died later at a hospital.
An eyewitness contradicted the statement and said she saw no such struggle and that neighbors shouted at the officers, "He's got mental problems."
Diagnosed with schizophrenia, bipolar disorder and depression, Ford was taking medication and seeing a doctor, a family member said.
Many community members say the LAPD statement has only created more questions.
"I want to know what probable cause did those gang officers have when they stopped Ford?" said Cheryl Dorsey, 56, a retired LAPD sergeant. "There's been no explanation other than a violent altercation ensued. What does that mean?"
Ford's killing has been compared with that of Michael Brown, an unarmed black teenager killed by police Aug. 9 in Ferguson, Mo., whose death has attracted national attention.
Musician and artist Ryan Wood was, in fact, attending a Los Angeles rally in honor of Brown when he learned about Ford.
"It gave me even more reason to be out there that day," he said. At 25, the same age as Ford, Wood said he is often wary of how police view a young, black man like himself.
"You can't even trust that if you do what they say, you won't be killed," he said. Rallies, he said, were one way of telling law enforcement they will be held accountable.
After a crowd had gathered, the protest became mobile, heading north on Main Street, then east on right on Cesar E Chavez Avenue and stopping at Union Station. Along the way, the group stretched out over a couple of blocks and paid no attention to cars and traffic signs, marching down the sun-soaked street chanting, "Stop killer cops!" Los Angeles police officers followed the impromptu march, holding back traffic and enduring taunts along the way. Some drivers honked in solidarity, others out of annoyance.
Multiple times, protesters raised their arms in the air and shouted, "Hands up! Don't shoot!" -- repeating the mantra for effect in the middle of intersections while on their knees.
Some rode bikes or skateboards. Most walked. A man pushing a stroller with a little girl received kudos. "Start 'em young," said someone, nodding. Two helicopters sputtered overhead. No incidents or injuries were reported during the event, an LAPD commander said.
The animated crowd left Ford's aunt somewhat comforted.
"It feels good to know that he is supported," Theresa Robinson said. "Justice is all we want. Not just for my nephew, but for all the police have shot. It has to stop."
Twitter: @corinaknoll
---
Life is stressful. Our weekly mental wellness newsletter can help.
You may occasionally receive promotional content from the Los Angeles Times.