After a sex scandal rocked Oakland police, officials are trying to figure out how to restore public trust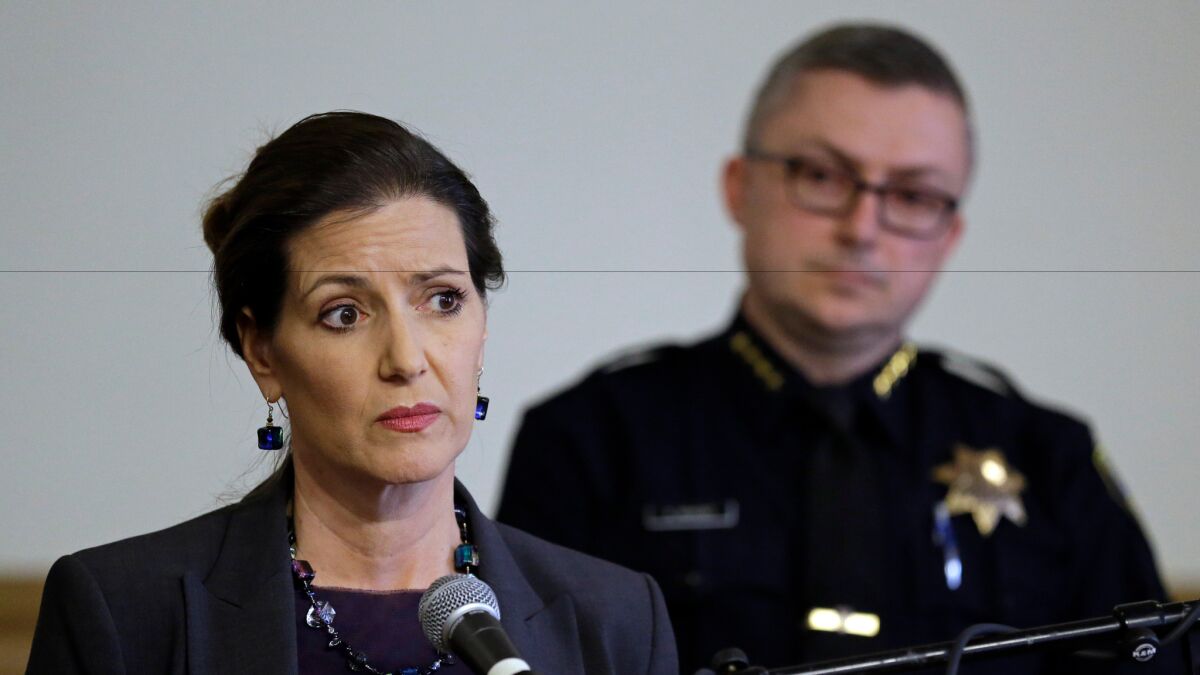 Reporting from Oakland —
The Oakland Police Department finally appeared to be making progress after years of scandals.
Violent crime that once plagued the city was receding, and the department looked close to ending 13 years of federal monitoring sparked by notorious police brutality and racial profiling cases.
But instead of stepping out of the shadow of past controversies, the department is now plunging into a new controversy that has left several officers accused of sexual misconduct. Oakland's police chief abruptly resigned last week, and officers from at least two other law enforcement agencies are now under investigation.
See more of our top stories on Facebook »
It started last September when a suicide note was found near the body of Officer Brendan O'Brien. That note sparked an investigation into allegations of sexual misconduct involving several city police officers and a young prostitute, according to John Burris, the civil rights attorney who negotiated the settlement that placed the department under federal oversight in 2003.
The investigation continued quietly for months.
But that all changed last week, when the woman at the center of the sexual misconduct scandal said in a televised interview that she had slept with more than a dozen Oakland police officers. She also accused several officers of having sex with her when she was underage and said she had had sexual encounters with members of several other Bay Area law enforcement agencies.
Oakland Police Chief Sean Whent, the man who some credited with the department's recent progress, stepped down last week, with the city releasing a statement saying his resignation was a "personal choice." Three sources with knowledge of the situation, however, told The Times that his departure was tied to the scandal.
The sources spoke on the condition of anonymity in order to discuss the case candidly.
Two Oakland officers implicated in the scandal have resigned, city officials said, and three remain on administrative leave.
Now, city leaders are left wondering how to win back the public's trust once again.
"I have three daughters, man. That's what's really troubling, or not understandable," said City Councilman Noel Gallo, whose district includes the Fruitvale area where young women are known to work as prostitutes along International Boulevard. "You're talking about young girls."
On Tuesday, the City Council's Public Safety Committee endorsed a ballot measure that would allow Oakland residents to vote to create an independent police commission. The motion must still clear the entire council next month before it can be moved to a citywide vote.
Currently, the city administrator's office has final say over whether or not officers are disciplined. The new commission, however, would assume that power, Gallo said.
The measure is expected to face fierce opposition from the Oakland Police Officers' Assn.
Interested in the stories shaping California? Sign up for the free Essential California newsletter »
As Oakland officials debate what to do, fallout from the investigation into the scandal spread this week to neighboring law enforcement agencies.
The Contra Costa County Sheriff's Department on Monday suspended a deputy after allegations surfaced that he had engaged in sex with an underage girl, according to agency spokesman Jimmy Lee. Lee said the allegations against the deputy arose from the Oakland police scandal but would not say if they involved the same woman.
Contra Costa County prosecutors this year declined to bring charges against another member of the Oakland Police Department who resigned as part of the scandal. The officer, Terryl Smith, had been accused of attempting to forcibly sodomize the woman at the center of the scandal.
Richmond police are also investigating several of their officers based on information received from the Oakland probe, according to Assistant Police Chief Lisa French. No officers have been placed on leave, and French said investigators have not developed any information that Richmond police officers had engaged in sex with the woman when she was underage.
O'Brien, the officer who took his own life last year, died about 15 months after his wife had committed suicide in the same residence, according to Burris and coroner's records.
O'Brien, who had been diagnosed with post-traumatic stress disorder and depression after his wife's death, left a note at the scene, records show. The note indicated O'Brien and four other officers might have been involved in sexual misconduct with a young Oakland prostitute, according to Burris, who is briefed on such matters because of his role in the federal monitoring process.
Burris faulted Whent for his handling of the scandal, including allegedly failing to discipline officers after punishments were recommended by the department's internal affairs unit.
Burris also claims that Whent failed to notify the city's federal monitor about details contained in O'Brien's suicide note. The monitor, retired police executive Robert Warshaw, did not learn about the allegations for several months.
Whent could not be reached for comment.
In response to questions from The Times, a spokeswoman for Oakland Mayor Libby Schaaf said she could not provide details about the investigation or how it was handled because the case remains open. But she said a full reporting would be provided once the probe was completed.
As for Whent, the spokeswoman referred to a statement Schaaf made last week: "Let me be very clear. Chief Whent has never been a subject of the misconduct investigation. I am deeply grateful for the contributions he has made to this department, and I respect his personal decision to resign."
Some community activists said they were outraged that information about the sex allegation was not made public.
For Rashidah Grinage, the lack of transparency surrounding the misconduct scandal only further highlighted the need for an independent authority to oversee police discipline.
"We knew nothing," said Grinage, one of the activists pushing for the creation of the police commission. "I think that's the whole point."
It could take months or longer for the various investigations to be complete. The Alameda County district attorney's office is reviewing both the sexual misconduct allegation as well as the department's handling of the suicide investigation into O'Brien and his wife, Irma Huerta Lopez, Assistant Dist. Atty. Teresa Drenick said
Lopez reportedly used O'Brien's off-duty handgun to kill herself in June 2014. According to the coroner's report, Lopez's family believed her death was "suspicious." Burris said many within the Oakland Police Department shared that opinion.
Even some of the department's staunchest defenders, such as police union President Barry Donelan, were left shaking their heads in disgust at the state of affairs.
"This isn't what the vast majority of those wearing the blue uniform think or act like," he said. "I think I stand on firm ground when I tell you those who are out there today serving the citizens of Oakland, this isn't what they're made of."
ALSO
Homeless man arrested after deadly fire in L.A. office building
Man bound for L.A. Pride with guns, ammo and explosive chemicals is formally charged
Prosecutors remove judge in Stanford swimmer sex assault case from new sex crimes case
Follow @JamesQueallyLAT for crime and police news in California.
The stories shaping California
Get up to speed with our Essential California newsletter, sent six days a week.
You may occasionally receive promotional content from the Los Angeles Times.