Column: Tens of thousands of votes are in danger of not being counted in California's biggest races this June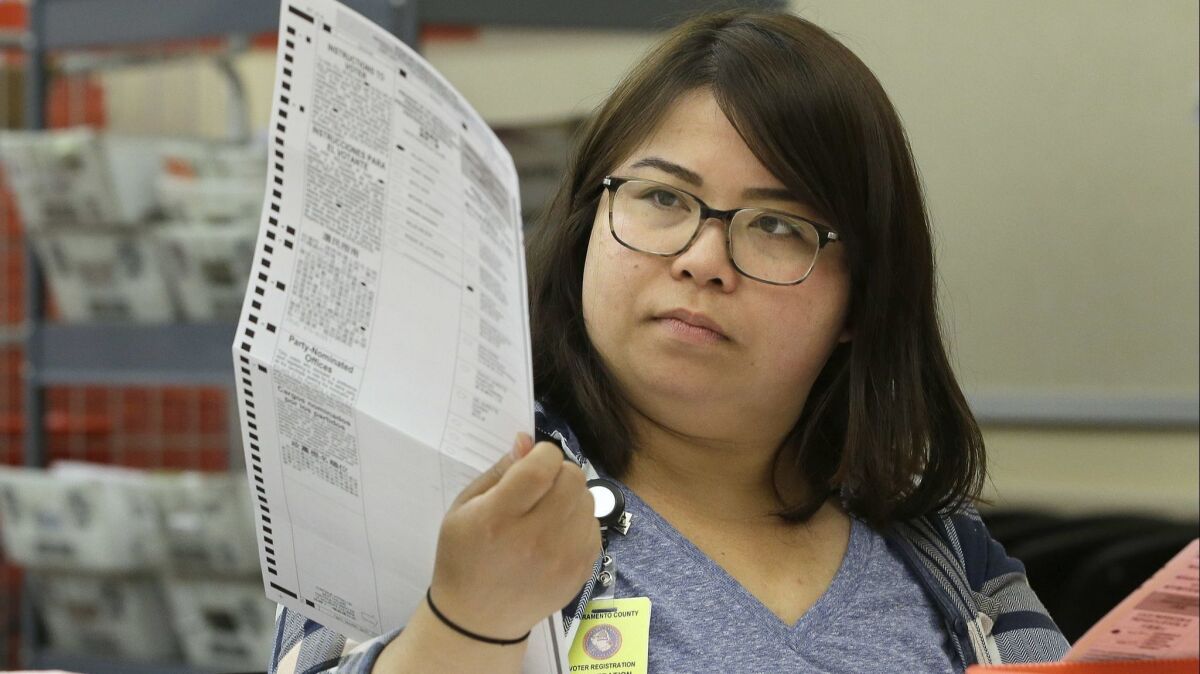 Reporting from Sacramento —
In the vast majority of elections, it's the simplest rule of all: You can only vote for one candidate. Make a mark beside the name of more than one person, and that vote doesn't count.
Such mistakes are usually rare, which is what made California's U.S. Senate primary in 2016 so worrisome. In that one race, close to 250,000 confused voters marked their ballots for multiple candidates.
"Those were people who registered, took the time to vote and presumably believed their vote was going to be counted," said Kammi Foote, Inyo County's registrar of voters. But those weren't among the more than 8.5 million votes counted in the race.
As bad as it was two years ago, it could be worse on June 5 in California's races for governor and the state's other U.S. Senate seat. In both contests, the supersized list of candidates is a tight squeeze on the ballot.
Deconstructing Trump's whopper about California voter fraud »
When the list of candidates spills into a second or third column on the ballot, in some cases on the other side of the page, voters can mistakenly choose one name from each list and cast an "overvote." The most infamous example was the Florida "butterfly ballot" in the 2000 presidential race.
In 2016, there were 33 California counties that listed the Senate candidates in more than one column. Those counties had more than four times as many Senate "overvote" cases as local communities with all the names in a single column. Statewide, that translated into 235,821 mistakenly marked ballots.
The challenge for county registrars is even more daunting this time around. In addition to 32 candidates in this year's Senate primary, the race for governor has 27 people on the ballot. "We tried everything we could to get those contests in a single column," Foote said. In the end, though, Inyo County had to create two columns of names for each of those races.
In some counties, the candidates will stretch over three columns. In others, voters will find the race starts on one side of the page and continues on the other. Ballot design is one of the real Rubik's Cube puzzles of election administration — with the order of the races, the must-use information and even the size of the margins all governed by state regulations.
On top of that, the machines that read and tally ballots vary by county. What's used in one place isn't necessarily used somewhere else. A university research paper last year pointed out that the error rate in California's 2016 Senate race was substantially higher in counties that didn't use machines to scan ballots for errors before voters left their polling place.
Coverage of California politics and government »
Some counties recently have been able to update their voting systems, but most haven't. There simply isn't money from the state or federal government to do so, though Gov. Jerry Brown included $134 million in the budget for voting technology upgrades.
Without far-reaching improvements in ballot design and systems, the problem could get worse. As California switches to a top-two primary, a high-profile race attracting a lot of candidates means one large pool of choices for voters. And yet most of the voting systems in use were designed for party-specific ballots with fewer candidates.
For now, the best that California elections officials can do is sound the warning. Ballots will begin arriving in mailboxes in early May, and voters will again be put to the test. The errors of 2016 wouldn't have changed the outcome, but that's likely little consolation to the voters whose voices were drowned out in a sea of confusion.
Follow @johnmyers on Twitter, sign up for our daily Essential Politics newsletter and listen to the weekly California Politics Podcast
ALSO:
Updates on California politics
---
Life is stressful. Our weekly mental wellness newsletter can help.
You may occasionally receive promotional content from the Los Angeles Times.