California's free-for-all primary election rules could surprise everyone in 2018 ... again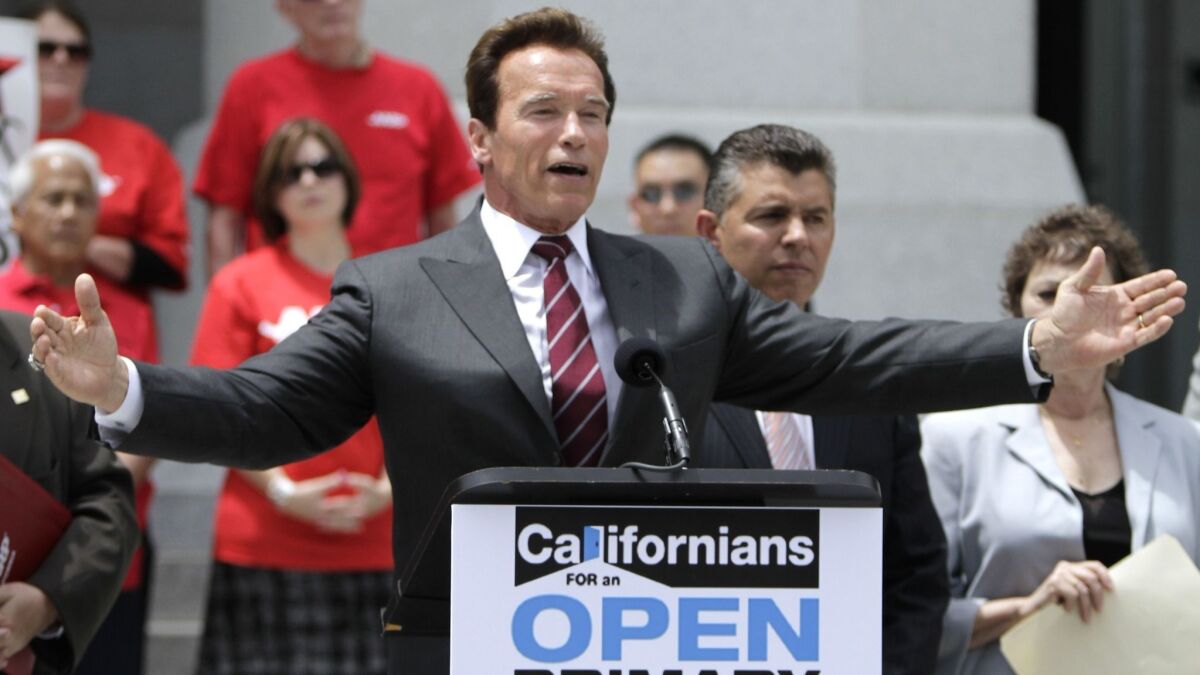 Reporting from Sacramento —
California may appear to Democrats as an electoral oasis, a sea of newly turned-blue political maps that could quench their thirst for control of the U.S. House of Representatives.
Or the oasis could be nothing more than a mirage, disappearing in the haze of the state's unbridled primary election rules. In places where antipathy for President Trump is now sky-high, a poor showing by Democrats on election day would be stunning.
"It's really through the looking glass, but Democrats could be shut out of these races," strategist Katie Merrill said.
For the third consecutive election cycle, state and congressional races on California's primary ballot will feature large pools of candidates no longer subdivided by partisan labels. Only the two contenders with the most votes in each race advance to a showdown in November, even those from the same party. The rest go home.
The top-two primary has maximized voter choice while minimizing the power of parties and interest groups to foresee the eventual outcome. Voters have the power — and sometimes the burden — of sorting through what can be lists filled with dozens of names.
"It's such a loose and open system that it can produce quirky results," said Eric McGhee, a researcher at the nonpartisan Public Policy Institute of California.
The top-two primary was crafted in the dark of a winter night in 2009, a concession by Democrats in the California Legislature to a single Republican lawmaker in exchange for his support of a state budget package. When it appeared on the ballot the following spring as Proposition 14, the only leader embracing it was Gov. Arnold Schwarzenegger, who insisted the top-two primary would discourage extreme partisanship while encouraging candidates to embrace the kind of centrist platform he believed voters were demanding.
"It will force them to appeal to a broader number of voters," Schwarzenegger said in a 2010 video. "It will free legislators from their ideological straight-jackets, so they can meet in the middle and get things done."
Track the California races that could flip the House »
But McGhee, one of the state's foremost experts on the top-two primary, has found only a few traces of political moderation since 2010 and then only among Democrats who won. In a lengthy study published last fall, he and political scientist Boris Shor wrote that California created so many changes almost simultaneously — new primary rules, independent political redistricting, longer legislative term limits — that pinpointing the effect of each is practically impossible.
"If institutional reform is a potential lever in the American democratic system, these reforms amount to grabbing the lever and pulling as hard as possible," the researchers wrote.
Where were GOP candidates on Tuesday? Not with Trump »
The California primary that's now less than three months away promises to be the system's most important test, and possibly its most controversial. Although Democrats have largely consolidated their power behind just a few formidable candidates in statewide contests, local races with a multitude of candidates could allow Republicans to quell the anti-Trump fervor in at least four congressional districts that Democrats otherwise are well poised to capture.
"The top-two primary math is showing us there need to be fewer Democrats in those races," said Merrill, whose Fight Back California political action committee is betting the bank on the seven Republican districts won by Democrat Hillary Clinton in 2016.
Recent polling by Merrill's PAC found significant potential for GOP candidates in Southern California's hottest races to finish first and second — even though a plurality of those surveyed said they would "definitely" vote Democratic. That includes seats being vacated by Reps. Darrell Issa (R-Vista) and Ed Royce (R-Fullerton) and the reelection effort of embattled Rep. Dana Rohrabacher (R-Costa Mesa).
Analysts also have pointed out the possibility for dispersed Democratic support in large fields of candidates running in GOP congressional districts representing the Central Valley and Sierra Nevada foothills. The nonpartisan California Target Book now counts 60 Democrats running in the 14 districts currently represented by Republicans.
Merrill said her group prefers to spend its money solely against Republicans but may have to help at least one Democrat stand out in some of those crowded primary contests. "We're going to have to shift our focus," she said.
The challenges are not limited to Democrats. Republicans face a similar problem in a San Diego County Assembly district where six GOP candidates could squander a dominance that's kept Democrats out of the November election since 2010.
Republican candidates were overrepresented too in the 2016 U.S. Senate race. The primary rules allowed two prominent Democrats to advance to the final election, the first single-party Senate election since California began direct election of its senators in 1914.
That dynamic could return in some of the most important statewide races in 2018 — as a small number of well-funded Democrats are competing against a GOP field that's too big and too obscure. The intraparty battle between Sen. Dianne Feinstein and state Senate leader Kevin de León is an especially weak spot for Republicans and could leave GOP voters with little reason to even show up for the June 5 primary.
California has not historically had strong party machines and bosses found in other states, but has plenty of experience with trying to circumvent restricted primaries.
Until 1959 Democrats and Republicans frequently were "cross-filing" for elected office — placing a candidate under more than one party and thus increasing their chances of making it to the November general election.
In 1996 voters enacted a "blanket primary" similar to the current method in that it placed all candidates on a single ballot. It differed in that the top vote-getter from each party was still guaranteed a spot in the fall election — ostensibly better for the parties than what they have now, but challenged in court by California Democrats who didn't want outsiders anointing their standard-bearer. The U.S. Supreme Court agreed, declaring the blanket primary unconstitutional in 2000.
The rules approved by voters in 2010's Proposition 14 were crafted specifically to avoid such legal challenges. But the current system based on the raw vote has almost erased the names of minor parties come November. And it scrapped what some believe would have been an important fail-safe in the event of same-party fall faceoffs: a provision to allow write-in candidates.
Top-two primaries were envisioned by self-proclaimed reformers to be as much about voters as politicians. But McGhee said voters haven't really changed, largely still making choices based on the "D," "R" or other party designation listed on the ballot.
"Voters don't follow politics closely, and so they use shortcuts," McGhee said.
A party designation doesn't always help when shared by so many candidates in a single race. When they have few real policy differences, everyone gets a thin spread of votes.
That possibility has prompted some of this year's hopefuls to step aside. Two Democrats recently decided to abandon their efforts in the open-seat race for the 39th Congressional District: community college trustee Jay Chen and chemistry professor Phil Janowicz. Chen was later praised for "his selfless actions that will help ensure that Orange County voters and activists have the opportunity to vote for a Democrat this November" in a statement by the leader of the Democratic Congressional Campaign Committee.
And yet the departure of two men seems to have hardly moved the needle; there are still nine Democrats running on June 5.
"The top-two primary doesn't work in a two-party environment," Merrill said. "It just doesn't."
Follow @johnmyers on Twitter, sign up for our daily Essential Politics newsletter and listen to the weekly California Politics Podcast
ALSO:
Get our Essential Politics newsletter
The latest news, analysis and insights from our politics team.
You may occasionally receive promotional content from the Los Angeles Times.