Angels' Keynan Middleton keeps making closing statement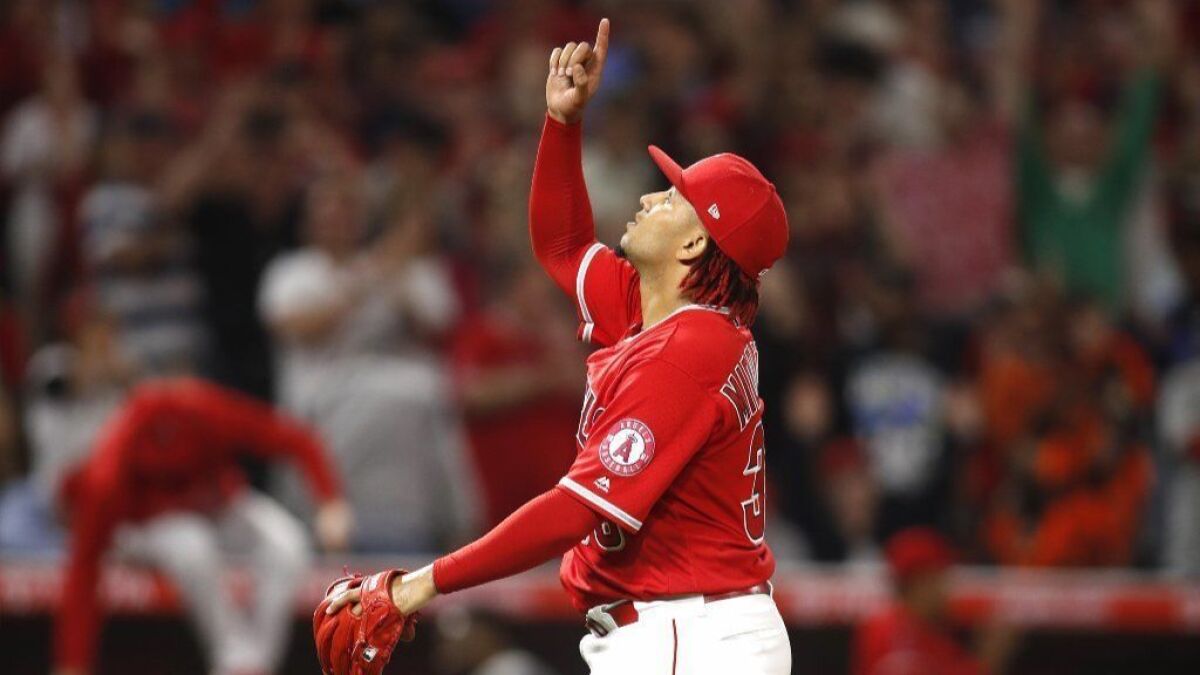 Labels are not important to Mike Scioscia, which is why the manager is reluctant to anoint Keynan Middleton as the Angels' closer even though it's apparent to anyone following the team that the hard-throwing right-hander has seized the ninth-inning role.
"Keynan's last couple looks have been in save situations, but he could very easily be pitching in high-leverage situations that might pop up in the seventh and eighth innings," Scioscia said. "The long and short of it is, he's in that group of guys who are going to pitch in the back of our bullpen."
Middleton notched his fifth save Saturday night, striking out Evan Longoria with a 97-mph fastball with two on to end the eighth inning and adding a scoreless ninth to nail down a 4-3 win over the San Francisco Giants. He has a 2.08 earned-run average in 11 games, with 12 strikeouts and four walks in 13 innings.
"I'm just going out and throwing whenever he tells me to," said Middleton, in his second year with the Angels. "That could be the seventh, eighth or ninth inning. I just want to get outs and get these guys back to the dugout. Whatever I have to do for this team, I'll do."
Middleton struck out Brandon Crawford with a nasty 88-mph changeup and Nick Hundley with a sharp 87-mph slider Saturday night. He noticed that the Angel Stadium scoreboard showed his changeup as an 88-mph four-seam fastball.
"I love that," Middleton said. "That will keep the hitters guessing even more if they think I throw an 88-mph fastball."
Unpleasant memory
News of Chicago White Sox pitcher Danny Farquhar suffering a brain aneurysm in the dugout during the sixth inning of Friday night's game against Houston brought back a painful memory for Scioscia.
Scioscia was in his first season with the Angels in 2000 when Kent Mercker, then a 32-year-old left-hander with the club, suffered a cerebral hemorrhage on the Angel Stadium mound during a game against Texas in May.
After striking out Ruben Mateo in the second inning, Mercker slumped in front of the mound and put his hands on his knees, as if to catch his breath. Four pitches later, he hunched over again, complaining of a headache and dizziness, and he was pulled from the game.
"He was out of sorts and thought his ears were popping," Scioscia said. "You knew something was happening. He was having trouble focusing. We took him out, he went into the clubhouse to get evaluated, and [then-athletic trainer] Ned Bergert had the sense that something was a little different here. He sent him to the hospital, and his brain was bleeding. It was scary."
Mercker later described the pain as "somebody taking a hammer and beating me on the side of my head." He was hospitalized for 12 days but recovered enough to return to the Angels that August and pitch six more big league seasons.
"I defied death," Mercker said, "and lived to tell about it."
Short hops
Catcher Martin Maldonado is hitless in his last 22 at-bats. Rene Rivera pinch hit for him in the ninth inning Sunday and singled. … Reliever Eduardo Paredes, recalled from triple A on Saturday, was sent back to Salt Lake on Sunday morning to clear a roster spot for starting pitcher Jaime Barria, who was sent back to Salt Lake after allowing two runs on five hits in two innings Sunday, taking the loss. The Angels will add a pitcher Monday.
---
Get the latest on L.A.'s teams in the daily Sports Report newsletter.
You may occasionally receive promotional content from the Los Angeles Times.