Chargers defense sets tone, often looks back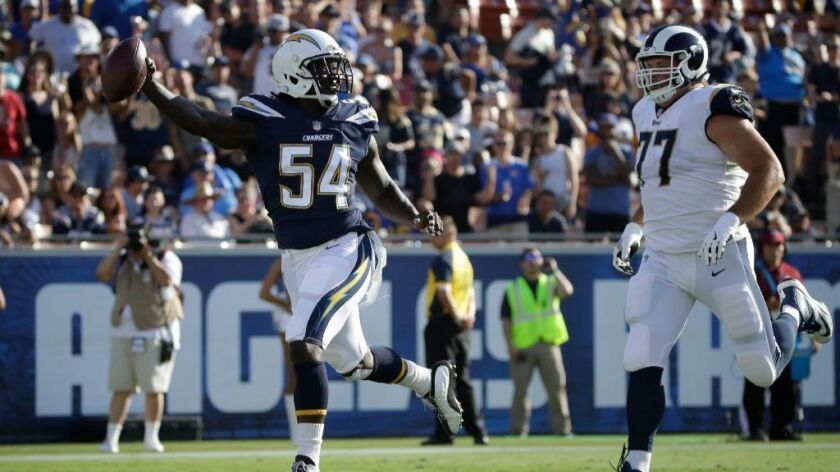 Melvin Ingram did not heed the advice of Satchel Paige, the legendary pitcher who was famously quoted as saying, "Don't look back, something might be gaining on you."
The Chargers defensive end did just that, after scooping up a fumble forced by fellow edge rusher Joey Bosa's sack and strip of Rams quarterback Jared Goff, then rumbling to the end zone in the first quarter of Saturday's 21-19 preseason victory in the Coliseum.
On his 76-yard fumble return for a 14-0 lead, Ingram looked back not once, not twice, but five times. Andrew Whitworth, the Rams' 6-foot-7, 333-pound tackle, was gaining on him, but Ingram outlasted Whitworth, gasping for air as he reached the end zone.
"I'm glad he made it," cornerback Jason Verrett said. "I know my brother was out there tired, but I was excited for him. It was a huge play. I was looking on the Jumbotron and saw the lineman coming, but I knew Melvin was going to get in there."
Causing turnovers — by interception, a strip of a ball-carrier or a crunching hit that forces a fumble — is a huge point of emphasis for new defensive coordinator Gus Bradley, and the Chargers' first-team defense did a good job of it in the first half Saturday night.
In addition to Ingram's fumble recovery for a touchdown, Verrett, playing for the first time since he suffered a season-ending knee injury in Week 4 last season, picked off a poorly placed Goff pass in the first quarter. The turnover led to a nine-play, 54-yard drive that ended with Melvin Gordon's two-yard touchdown run and a 21-0 Chargers lead.
The turnovers highlighted a solid first-team defensive effort; the Chargers yielded a few too many rushing yards (58 on 14 carries) in the first half but kept the Rams out of the end zone.
Free safety Dwight Lowery had the biggest legal hit of the game, a bruising blow to knock Malcolm Brown out of bounds after a 22-yard reception in the first quarter.
That was a love tap compared to reserve safety Dexter McCoil's vicious hit to the sternum and head of Rams receiver Josh Reynolds after a short gain midway through the third quarter. McCoil was flagged for unnecessary contact to a defenseless player, a 15-yard penalty.
Cornerback Michael Davis stopped Rams receiver Robert Woods short of a first down on a third-down pass early in the second quarter, forcing the Rams to kick a field goal.
Strong safety Jahleel Addae broke up Goff's pass intended for Gerald Everett in the corner of the end zone on a third-and-goal from the three-yard line, forcing the Rams to kick another field goal before halftime.
"It was solid," Verrett said of the defense. "We started pretty fast, and we did a better job of finishing this week. We always talk about creating turnovers in practice, and we got two."
Etc.
Backup receiver Isaiah Burse, playing with a torn labrum in his shoulder, suffered a concussion while defending the second-half kickoff. … Receiver Tyrell Williams, who caught 69 passes for 1,059 yards and seven touchdowns last season, and veteran tight end Antonio Gates, who has caught 111 touchdown passes in 14 years, did not dress for the game. … Right tackle Joe Barksdale (right foot injury) and cornerback Casey Hayward (right hamstring injury) both missed their second straight game. … Receiver Dontrelle Inman, who aggravated a groin injury last week, and cornerback Trovon Reed, who has a hip pointer, did not play.
Follow Mike DiGiovanna on Twitter @MikeDiGiovanna
---
Get the latest on L.A.'s teams in the daily Sports Report newsletter.
You may occasionally receive promotional content from the Los Angeles Times.