Good news for Chargers: Games with playoff implications will start at same time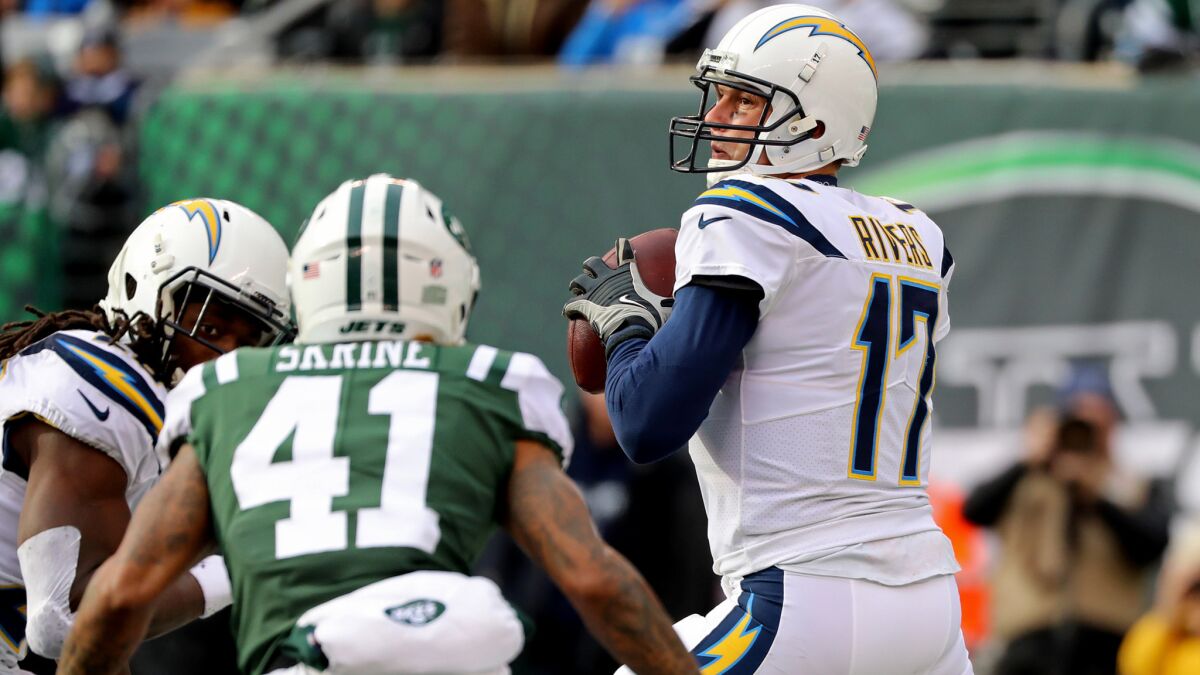 During the second half of the Chargers' eventual 14-7 win Sunday, quarterback Philip Rivers glanced to the giant scoreboard in the corner of MetLife Stadium to watch a crucial play occur 850 miles away.
Knowing his team needed a Titans loss to stay alive in the chase for a playoff spot, Rivers caught a glimpse of Tennessee driving.
"Dag gummit," he thought.
That situation is awkward enough — being involved in a game while worrying about the results around the league — but it could've been worse in the final week, so the NFL corrected it.
The NFL announced late Sunday that the games with playoff implications would all be played at the same time to eliminate a situation where, say, the Chargers would know they couldn't make the postseason before they began their season finale.
To avoid that, the league moved Jacksonville-Tennessee, Baltimore-Cincinnati and Buffalo-Miami to afternoon games so they will kick off at the same time as the Chargers game against the Raiders.
Monday in a conference call, coach Anthony Lynn said he was thrilled with the changes.
"Absolutely. I think you have to be completely focused on the task at hand and eliminate all the other distractions or you'll get your butts kicked or you can get hurt in this league," Lynn said. "I just want to go play the game, be at our best, hopefully win the game and see where we're at. But no way I want to go into the game knowing what our fate is, good or bad."
Injury updates
The Chargers could be a healthier team in Week 17 if a few of their injured starters return.
Offensive tackle Russell Okung, defensive tackle Corey Liuget and linebacker Denzel Perryman could all return Sunday against the Raiders, Lynn said.
Okung's absence Sunday (because of a groin injury) was a game-time decision.
"Russell was just not ready. I never want to put an injured player on the field. There's a difference between playing with an injury and pain," Lynn said. "And if it's just pain, I've seen Russell play through some things. And as much as he wanted to play, it's my job to protect him.
"I didn't feel like he could get through the game without hurting himself or the team so I left him out. I felt like I could've gotten two quarters out of Russell Okung had I played him. He just was not ready."
The Chargers could be without running back Melvin Gordon, though, after Gordon injured his ankle late in the win against the Jets.
"We don't know. He limped off the field and is in a boot right now," Lynn said. "He's seeing the doctors (Tuesday). We'll know more about Melvin as we get going here, but ankles can be kind of tricky. We can keep him out all week; he's had enough reps where he can go out and play. He knows what he's doing.
"It's something we'll look at. But, he's another guy that's probably going to come down to the end of the week."
Twitter: @DanWoikeSports
---
Get the latest on L.A.'s teams in the daily Sports Report newsletter.
You may occasionally receive promotional content from the Los Angeles Times.