Chargers' kicking competition heats up between Sturgis and Aguayo, but coach Anthony Lynn says games will decide winner
The position battle is one that lacks sizzle but hardly significance, the Chargers entirely too familiar with the importance of employing a dependable kicker.
So, in midweek leading up to the team's second preseason game, a discernible weight was attached Wednesday to the practice efforts of Caleb Sturgis and Roberto Aguayo.
During full-team drills, Sturgis made all seven of his field-goal attempts with a long of 53 yards, while Aguayo made four of seven with two of the misses coming from 50 yards and longer.
"I'd love to make the decision sooner than later," coach Anthony Lynn said. "I really would. But it's so close right now."
Last season, the Chargers used four kickers and were successful on an NFL-worst 67% of their field-goal attempts.
A blocked kick in Denver and two misses against the Miami Dolphins, including a potential winner, helped the Chargers lose their first two games in a season they'd finish 9-7 and barely miss the playoffs.
In the Chargers' preseason opener last Saturday at Arizona, Sturgis made a 45-yard attempt but missed from 41 yards. Aguayo was two for two on extra points.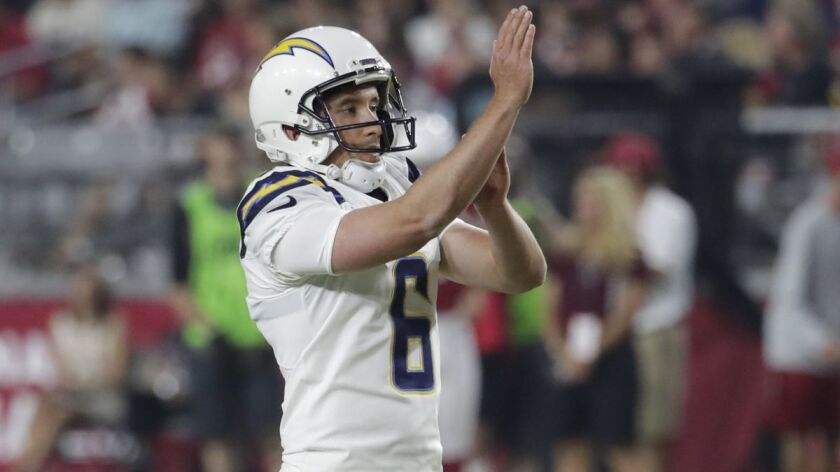 "It's a long battle. … We'll see how it plays out in games," Lynn said. "What a player does in games, to me, is what I evaluate the most."
Sturgis, 29, suffered a hip injury in the season opener for the Philadelphia Eagles last year and never kicked for the Super Bowl champions. He made 53 of 63 field-goal attempts in the previous two seasons with the Eagles.
Lynn said that Sturgis, who signed a two-year deal with the Chargers in March, appears to have fully healed from the injury but suggested he has been slowed in camp by leg soreness caused by increased use.
"We're just being really cautious with him," Lynn said. "You know kickers. They're a little weird anyway. They're not like a linebacker. You don't just throw 'em back out there."
Aguayo, 24, was a second-round pick of the Tampa Bay Buccaneers in 2016. He struggled in his only season with the Buccaneers, missing nine of 31 field-goal attempts.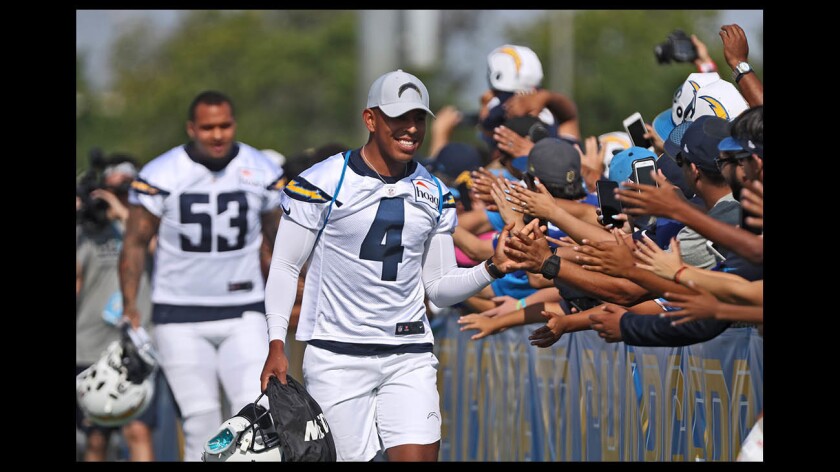 He spent last season with the Chicago Bears and Carolina Panthers but appeared in no games. He signed with the Chargers in January.
"A lot of kickers don't become a good kicker in the National Football League until they're cut," Lynn said. "When he got here, I told him, 'You've been cut three times. You've got nothing to lose. You're playing with home money. Turn it loose.' "
Lynn said that he would consider keeping two kickers on the active roster during the season, which he said the Denver Broncos did when Lynn was an assistant and Jason Elam began to lose leg strength.
Catch 47
He received a variety of text messages and a bunch of Twitter mentions, replays of his catch given a ton of air time.
But it was when Geremy Davis returned to his locker Saturday that he understood the impact of his acrobatic 47-yard touchdown reception.
"I had a missed call and I was like, 'Ah, I couldn't have answered it, you know? The game was going on,'" Davis said. "My mom was just so ecstatic to see her son make that play."
So Michelle Redmond called immediately, even though there was still more than a quarter to play.
Davis' catch was a highlight of a game in which he led the Chargers with 88 receiving yards.
On third and 19 from near midfield, he turned back and caught a deep pass from Geno Smith inside the five-yard line, leaping over Arizona Cardinals defensive back Chris Campbell.
Davis landed on both feet while turning again and stepping into the end zone.
"I just had to have the faith that I could make that play," he said. "The opportunity comes, I have to make it. Geno and the O-line gave me the opportunity."
At perhaps the Chargers' deepest position, Davis is trying to make the team and add to a resume that includes two NFL receptions, both with the New York Giants in 2015. He appeared in five games for the Chargers the last two seasons.
"With the competition we have here you have to elevate your play," he said. "When the opportunity arises, I have no choice but to make that play."
Starters rest
Most of the Chargers' starters were held out of practice Wednesday in order to give the backups more repetitions.
"The most important part is, when they get in games they're more comfortable," Lynn said. "They've been in that situation. They've done it. You hope the execution is better in the game. I want these guys to play fast and physical."
Etc.
The Buffalo Bills claimed defensive lineman Albert Havili off waivers. The Chargers removed the undrafted rookie from the roster Tuesday after signing linebacker Kyle Coleman. … The Chargers' other addition this week, tight end Je'Ron Hamm, has a chance to make the team in a spot the team needs help. "If he learns that playbook and he goes out there and he lights it up on Saturday," Lynn said, "he's going to turn a lot of heads."
---
Get the latest on L.A.'s teams in the daily Sports Report newsletter.
You may occasionally receive promotional content from the Los Angeles Times.