Clippers' Doc Rivers wants to retain core of team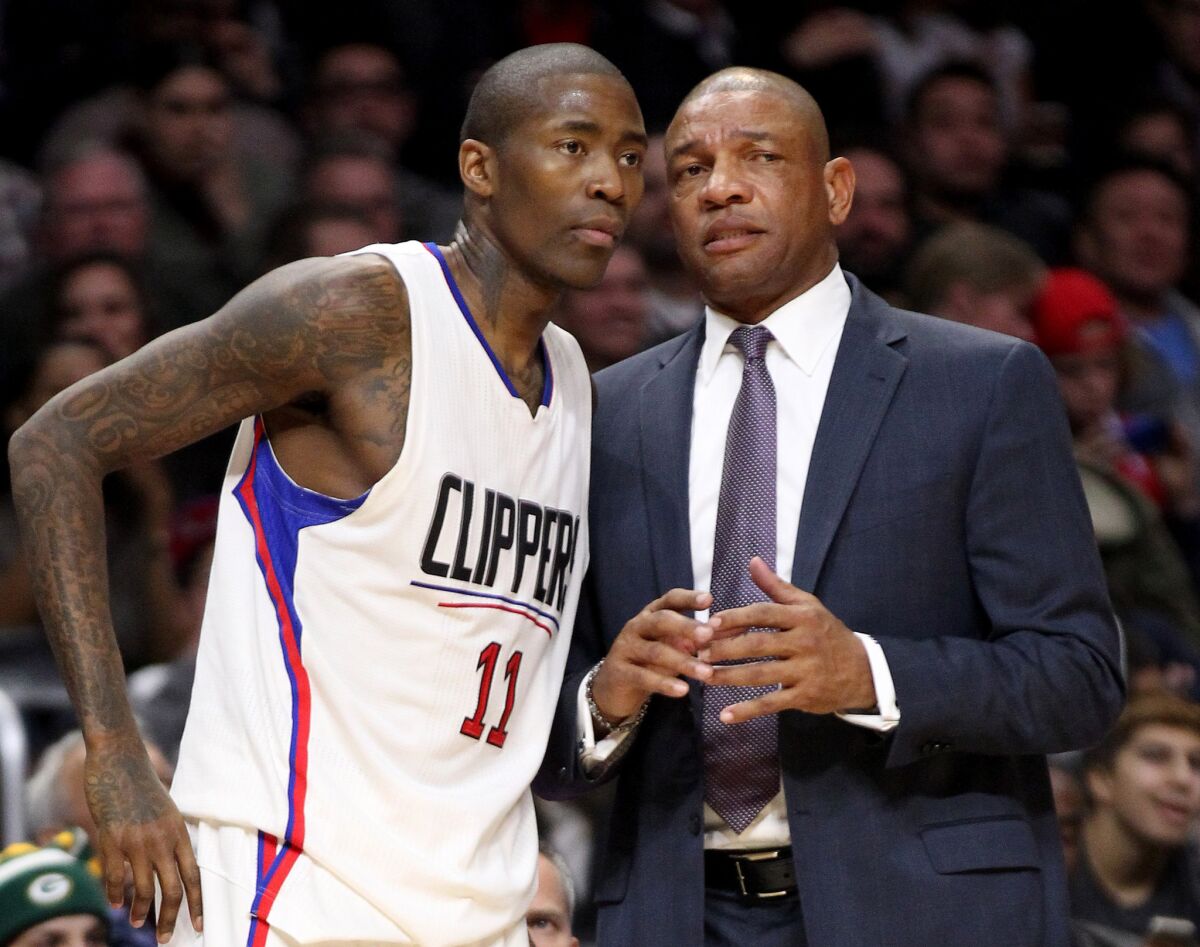 The Clippers may not need a new motto for next season. "Together We Will" would work again, provided they can stay together.
Clippers Coach Doc Rivers, who will largely decide the fate of his roster as the team's president of basketball operations, said Monday he wanted as many of the team's free agents back as possible. He also did not sound like someone on the verge of trading stars Blake Griffin, Chris Paul or DeAndre Jordan.
"How many teams are in the top five or top six in scoring and defense?" Rivers said to reporters at the team's practice facility, three days after the Clippers' season ended in the first round of the playoffs. "Three, and we were one of them. The numbers tell us we're really good."
Rivers' numbers were off a little bit, but his point remained. Only the Clippers, San Antonio Spurs and Cleveland Cavaliers ranked in the top 10 in points scored and allowed.
"An analytical guy would look at our numbers and say, 'I wouldn't touch your team,' " Rivers said. " … We're close and we know that."
The Clippers wanted to find out whether their roster as presently constructed could topple the defending champion Golden State Warriors but never got the chance after Griffin and Paul were injured within a few minutes of each other in Game 4 of their first-round series against the Portland Trail Blazers. Both were lost for the playoffs, and so was their team.
"I would have loved to have seen us 100% healthy going into the playoffs," Rivers said, "and if we hadn't won it then, you would have known what you need to do. Now it's more of a guesswork, but I think we have a pretty good idea what we need to do."
Rivers' recruiting efforts will start with his own players. Jamal Crawford and Jeff Green are the top free agents and Austin Rivers, Cole Aldrich and Wesley Johnson all have player options for next season that Doc Rivers expects them to decline in search of bigger paydays.
There will be an unprecedented amount of cash for teams to spend on free agents with the rise of the salary cap to a projected $92 million per team. The Clippers will have very little of it to spend because they're expected to have only a taxpayer's mid level exception of $3.5 million per year for up to four years and a biannual exception of $2.2 million for up to two years in addition to veteran's minimum contracts.
"I hope they all make a lot of money," Doc Rivers said of his free agents, "I hope they all somehow make it here, I just don't know how that's going to happen."
The Clippers will have an advantage with Crawford and Green in that the team holds their so-called Bird rights, meaning they can offer them more than other suitors in terms of length of contract and annual raises. Crawford indicated on teammate J.J. Redick's Yahoo Sports podcast Monday that he wanted to come back.
"I would love to stay here," Crawford said. "To break through with this core group would mean everything."
Doc Rivers said he believed all of his players wanted to return, a notion bolstered by the scene after the team's season-ending loss. Redick said on his podcast that he stood in a bathroom stall for about 10 minutes to compose himself before returning to the locker room. Crawford noted that veteran Paul Pierce, a onetime champion with the Boston Celtics, cried after a much shorter playoff stay and Crawford broke down as well while looking out the window of the plane on the trip home.
"I think it says a lot about the togetherness of the group," Redick said, "when there's that collective emotion."
Rivers said he would have "very little" input on Pierce's decision whether to retire, leaving it up to Pierce whether to return for a 19th NBA season after one in which he posted career lows in almost every category.
Rivers said he expected Griffin and Paul to opt out of the final year of their contracts next summer, though that's a worry for another day. Each remains under contract for next season but holds a player option for the 2017-18 season.
The Clippers will have two draft picks in June, one late in the first round (No. 25) and one early in the second round (No. 33). Rivers said it was foolish to expect one of those players to drastically improve the team next season.
It felt like the expectation was that the biggest enhancement would come internally. That is, of course, if the team stays largely the same.
---
Get our high school sports newsletter
Prep Rally is devoted to the SoCal high school sports experience, bringing you scores, stories and a behind-the-scenes look at what makes prep sports so popular.
You may occasionally receive promotional content from the Los Angeles Times.