Just how ready is 'Born Ready' Lance Stephenson for his 1st season with the Clippers?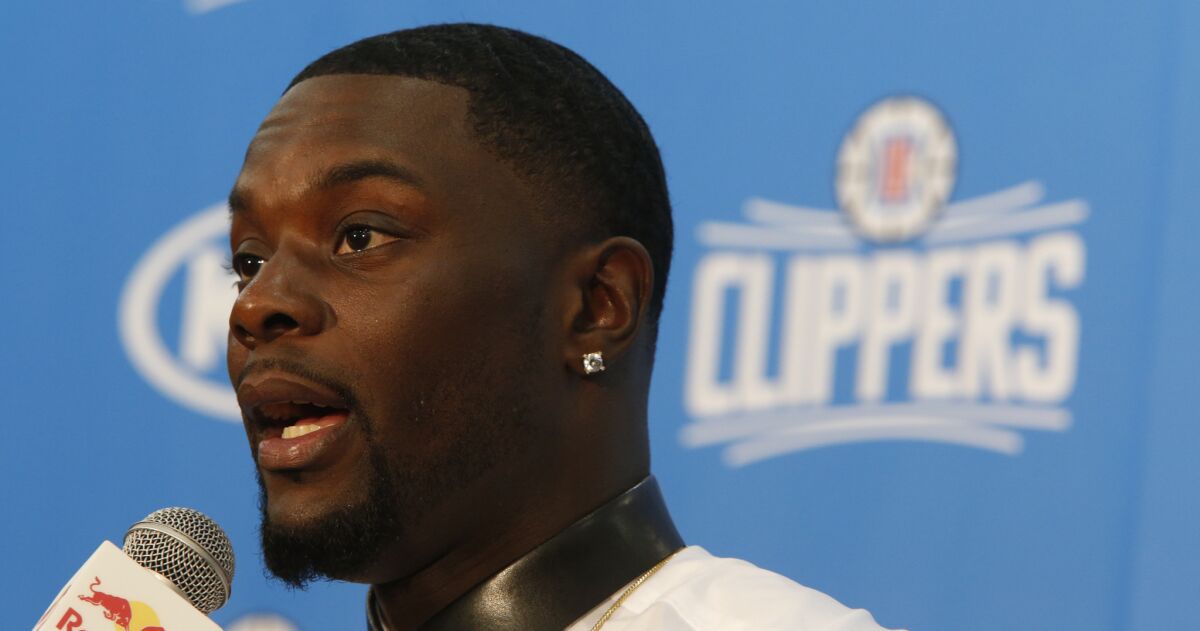 They wouldn't leave Lance Stephenson alone. The all-stars from Staten Island would score and point directly at the Clippers small forward, hardly inconspicuous even as he milled about the sideline in jeans and a dark blue T-shirt with a couple of heavy chains around his neck.
Stephenson had come to the game at Brooklyn's Gersh Park earlier this month to support a neighborhood team of college players and others trying to fashion a professional career. But after a while, the prodding got to be a bit much, particularly when the emcee inquired whether Stephenson would "come out here and put a body on somebody."
"I'm like, man, you want me to get in?" Stephenson recalled. "You want me to play? You think you can do that against me?"
Stephenson didn't earn the nickname "Born Ready" for sitting games out. So he snatched some sneakers from his car, commandeered a yellow jersey from a resting player and went after those who had defied him.
Twenty-five points later, Brooklyn's finest had helped his team wipe out a nine-point deficit in only 12 minutes while winning over a new legion of fans. Video footage shows bystanders roaring in delight after Stephenson swished a step-back three-pointer on his first touch of the game.
"It was the quickest 25," said D.J. Medley, who helped announce the game, "I've ever seen in person."
Stephenson can only hope the summer smackdown holds some symbolism for his first season as a Clipper. He's about to step into another potentially chaotic situation with even more to prove after the worst season of his NBA career.
The doubters have been so pervasive that Stephenson mentioned them in a rap song this summer: "All of the haters, I don't pay attention. Player listen: I'm trying to tell you I'm different. I'm on a mission."
The 24-year-old Stephenson said he had enough material to release an album but was waiting for the right time, now clearly not an option while he makes the transition to a new team.
He has spent the summer laboring through three-a-day workouts in Las Vegas totaling four to 4 1/2 hours, each drop of sweat cleansing him from his time with the Charlotte Hornets last season, when his production dropped precipitously from his previous season with the Indiana Pacers, when he was a borderline All-Star and one of the game's top perimeter defenders.
Hornets Coach Steve Clifford told NBC Radio earlier this summer that his team's lack of perimeter shooting prevented Stephenson from having the spacing he needed to drive into the paint and get the layups that had made him so effective as a Pacer. Instead, Stephenson largely settled for jumpers, his 17.1% accuracy on three-pointers the worst in NBA history for a player who attempted more than 100 in a season.
"Every time I was on the floor," Stephenson said, "I mean, it just didn't fit well."
Charlotte traded Stephenson in June to the offensively gifted Clippers, who figure to play at a pace more to his liking while surrounding him with a bevy of sharpshooters. Stephenson recently outlined the role he envisioned in an article for the Players' Tribune website, saying he wanted to focus on being a defensive stopper, knockdown shooter and high-energy teammate while backing up Paul Pierce.
The Clippers own most of the leverage in the seemingly low-risk, high-reward gamble that is Stephenson, owing him $9 million for next season but holding a $9.4-million team option for 2016-17 that they can decline if things don't work out.
Stephenson's defensive potential is especially enticing for the Clippers after years of putting the aging Matt Barnes on opposing wing players, with mixed results. Barnes now plays for Memphis after the Hornets acquired him and Spencer Hawes in the Stephenson trade before flipping Barnes to the Grizzlies.
"They're just missing that guy that's tough and doesn't bow down to no one," Stephenson said of the Clippers.
Actually, there's someone the Clippers will need Stephenson to make nice with on the second unit. His name is Jamal Crawford, and he's a two-time NBA sixth man of the year whose ball-dominant style is similar to that of Stephenson and could require some adjusting from both players unless the Clippers decide to trade the longtime star of their bench.
Stephenson said he can play alongside Crawford, further evidence of Stephenson's politicking to put his bad-teammate reputation to rest. He compared his leadership style to that of Clippers point guard Chris Paul and said observers often confuse his fiery demeanor with something more sinister.
"People that are just watching the game will be like, 'Oh, he's a bad guy because he's yelling at his teammates,'" Stephenson said. "But me and my teammates understand where I'm coming from."
Stephenson hails from the Coney Island portion of Brooklyn, where he attended the same high school as Stephon Marbury and Sebastian Telfair, but was often on the losing end of games against opponents much older than himself growing up. Those experiences hardened him into the player a local play-by-play announcer dubbed "Born Ready" when he was only 16 and in the midst of winning a record four public school athletic league championships.
One of the most hyped players to come out of New York City, Stephenson finally started living up to his billing after a one-season stopover at the University of Cincinnati and two nondescript seasons with Indiana, helping the Pacers reach the Eastern Conference finals in back-to-back seasons. Then came the disaster that was last season with the Hornets.
Along the way, Stephenson never lost the swagger that allows him to speak like he raps, the words flowing freely like his shots in that surprise appearance in the summer all-star game.
"I'm on a mission to win a chip. I'm on a mission to do great this year. I'm on a mission to prove everybody wrong," said Stephenson. "I mean, a lot of people are doubting me and saying I'm a bad locker-room guy and all of those rumors, but there's no facts that I'm a bad locker-room guy, so I'm going to just show everybody and just go hard this year."
Follow Ben Bolch on Twitter @latbbolch
---
Get our high school sports newsletter
Prep Rally is devoted to the SoCal high school sports experience, bringing you scores, stories and a behind-the-scenes look at what makes prep sports so popular.
You may occasionally receive promotional content from the Los Angeles Times.