Chase Utley gives Dodgers a quick lesson in being aggressive on base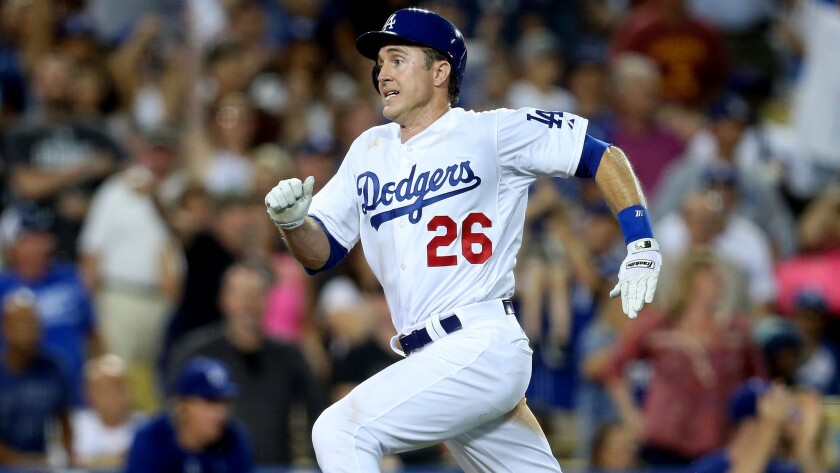 If we're grading the Dodgers on the strength of their baserunning this season, high marks would not exactly be the order of the day. Plenty of eye-rolling, maybe, but not high marks.
Certainly, they are not a team with speed, but they seldom force the action and are not typically the biggest gamblers on the bases. Well, Yasiel Puig aside. Mostly, they've played it very safe.
But they got a glimpse of how being smart and aggressive on the bases can impact a game Friday night from the newest of Dodgers: Chase Utley.
Utley is certainly not the fastest guy on the field. At 36, he's not the youngest either, but he demonstrated what intelligent and aggressive baserunning can mean for a team.
"It was awesome," Clayton Kershaw said. "Baserunning has been kind of a point of weakness for us. He's a gamer. He's been doing that his whole career."
Utley was playing in his first game at Dodger Stadium since the Dodgers acquired him on Aug. 19 from the Phillies. In the third inning, he drove in their first run, hustling a drive to center into a triple.
But with the score tied 1-1, it was what he did with his walk to lead off the bottom of the sixth that really made a difference. Adrian Gonzalez singled Utley to second, and then when Jason Hammel bounced a curve in front of the plate, Utley immediately broke for third.
"I noticed he looked like he didn't know where the ball was," Utley said. "I didn't really know where it was, either. I took off, took a chance and it worked out."
The ball actually bounced up and hit catcher Miguel Montero in the chest. After first fumbling for the ball, he grabbed it and fired to third baseman Kris Bryant. Only the throw was wide and went off Bryant's glove.
New third base coach Ron Roenicke waved Utley home, even though the ball died a few feet after hitting the grass.
"I broke. A good throw, maybe I'm out there," Utley said. "Sometimes you have to take that chance."
He scored the winning run and started what proved to be a three-run inning. Utley will never be confused with the Dodgers' second baseman from last season, the speedy Dee Gordon, but he showed an awareness of how to properly be aggressive on the bases.
Dodgers Manager Don Mattingly said you don't have to be a speedster to be effective on the bases, you just have to play smart.
"Without bad-mouthing anybody else, it's just an awareness of how to run the bases," Mattingly said. "It's one of the areas we've been lackadaisical."
It's an area Roenicke was brought over earlier in the month to help rectify. And it seems, Utley, too.
---
Get our Dodgers Dugout newsletter for insights, news and much more.
You may occasionally receive promotional content from the Los Angeles Times.