Dodgers Dugout: What analytics missed about Matt Kemp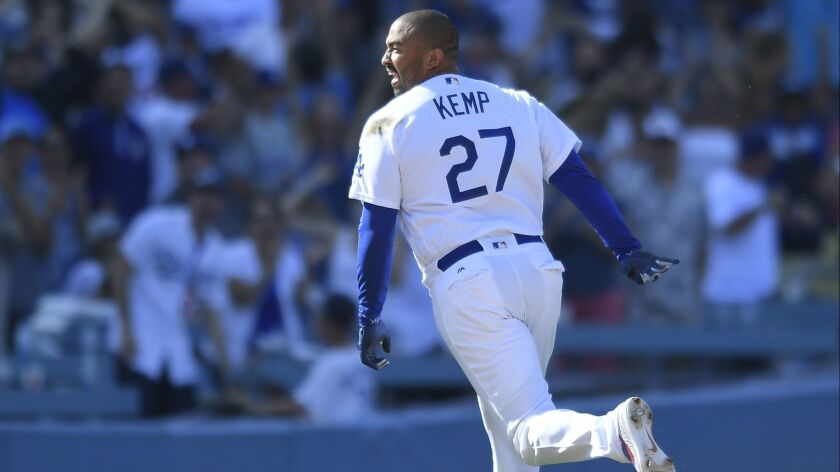 Hi, and welcome to another edition of Dodgers Dugout. My name is Houston Mitchell, and what happened to all those "fans" who emailed me saying the season was over and it was time to look to next year? Remember, the Big Dodger in the Sky can see you hopping back on the bandwagon.
Matt Kemp, superstar
As many longtime Dodgers Dugout readers know, I am a fan of analytics and advanced statistics. I use WAR, ERA+, OPS+, FIP and many other stats so often that I usually don't even explain them anymore, assuming you all know what I am talking about. They are an added tool that allows us to determine how much a player is contributing. I'm happy that most people are beginning to realize that pitcher wins are overrated and that RBIs can be impacted as much by how often you come up with runners on base compared with another player.
All that being said, however, these new stats shouldn't be the only thing used to evaluate players either. Case in point, Matt Kemp.
If you go by WAR, Kemp, with a WAR of 1.3, is the 15th-best Dodger this season, behind the following players: Clayton Kershaw, Max Muncy, Chris Taylor, Justin Turner, Cody Bellinger, Ross Stripling, Yasmani Grandal, Walker Buehler, Manny Machado, Alex Wood, Kiké Hernandez, Joc Pederson, Hyun-jin Ryu and Yasiel Puig.
According to OPS+, Kemp, with an OPS+ of 117, has been the seventh-best Dodger this season, behind Muncy, Turner, Machado, Pederson, Grandal and Bellinger.
By the way, those numbers for Machado only count his stats with the Dodgers. But do we really think Machado has meant more to the Dodgers than Kemp this season?
In fact, if you asked Dodgers fans who the team MVP this season has been, it's safe to say that Kemp would win pretty easily. He certainly wouldn't finish 15th in the voting.
Kemp wasn't even supposed to be on the team this season. When he was traded from Atlanta to L.A. in exchange for Adrian Gonzalez, Brandon McCarthy, Scott Kazmir and Charlie Culberson, it was supposed to be a salary dump, and many thought the Dodgers would release him immediately. But they didn't.
Then many thought they'd try to work out a trade so the Dodgers could get something in exchange for him, and if that failed, then they would release him. But the Dodgers didn't trade him. And they didn't release him.
Then many thought he would come to spring training and play himself off the roster. But he didn't. But there would be no way he'd start for them. But he did.
You see, while all the experts, including me, were writing about his lack of production, his poor WAR the last few seasons, his low OPS+, his great ability to ground into double plays, his arthritic hip, there was one thing we were not seeing in all those stats: Matt Kemp's determination.
It turns out Kemp loved playing for the Dodgers. He never wanted to leave. Sure, his play declined after he left, and he put on some weight, but what the analytics didn't show us was the heart and determination it took just to take the field with an arthritic hip. I'm sidelined for a week by a hangnail, yet here's a guy trying to hit 100-mph fastballs and run down balls in the gap while pain was stabbing him with every step he took.
That didn't show up in the analytics.
When he was traded here, Kemp weighed about 270 pounds. He knew the baseball gods were giving him one last chance by granting his request to come home to L.A. So he called up Torii Hunter and they started working out together. He changed his eating habits. He started losing weight, around 50 pounds in total. He eliminated sugar and bread. No junk food. He showed up in camp the Matt Kemp of old.
None of that showed up in the analytics.
And losing that weight did another thing. It appeared to take some of the pressure off that hip and he started running faster, started making plays he wasn't making the last couple of seasons.
None of that showed up in the analytics.
The fans loved him from the start. He always gets the biggest ovations when his name is announced. Because Kemp is like any good Dodgers fan: a guy who wants to see the Dodgers win a title. Fans could see him giving 100% and doing his best, so they responded in kind, giving him an added shot of adrenaline because he knew the fans hadn't forgotten him.
None of that showed up in the analytics.
So when an important four-game series with the Arizona Diamondbacks happens, who seemingly single-handedly wins two of the games, putting the Dodgers back into first place? Matt Kemp. A three-run homer in the bottom of the eighth on Saturday. A two-run drive off the wall for a walk-off win Sunday.
By someone who according to one analytic is only the 15th-best Dodger this season, or by another analytic is only the seventh-best hitter.
Because you can't measure everything by analytics. And that is what makes baseball, and Matt Kemp, great.
September additions
Now that we are in September, teams can expand their major league rosters from 25 to 40. Here is who the Dodgers added:
Activated pitcher Zac Rosscup and infielder Chase Utley from the disabled list.
Recalled outfielders Tim Locastro, Andrew Toles and Alex Verdugo and catchers Kyle Farmer and Rocky Gale from the minors.
Acquired infielder David Freese from Pittsburgh for minor league shortstop Jesus Valdez.
Acquired reliever Ryan Madson from Washington for minor league pitcher Andrew Istler.
To make room for some of these players, the Dodgers had to remove some players from their 40-man roster. Here is what they did:
Designated reliever Adam Liberatore and infielder Rob Segedin for assignment.
Put pitchers Erik Goeddel and Brock Stewart on the 60-day disabled list.
The new guys
Since joining the Dodgers, here's how the new guys are doing:
Brian Dozier, .212/.331/.385/95 OPS+.
Manny Machado, .262/.344/.476/121.
John Axford, 16.20 ERA, on the disabled list with a broken leg.
These names seem familiar
What recently departed Dodgers are doing around the league:
Charlie Culberson, Braves, .286/.330/.498, 121 OPS+.
Brandon McCarthy, Braves, 6-3, 4.92 ERA (on the 60-day DL with right knee tendinitis).
Yu Darvish, Cubs, 1-3, 4.95 ERA (on 60-day DL and out for the season with an elbow injury).
Curtis Granderson, Brewers, .245/.344/.430, 114 OPS+ (Traded by Toronto to Milwaukee on Aug. 31 for prospect Demi Orimoloye).
Brandon Morrow, Cubs, 0-0, 22 saves, 1.47 ERA (on 10-day DL with right biceps tendinitis).
Tony Watson, Giants, 4-5, 2.65 ERA.
Chris Hatcher, A's, 3-2, 4.11 ERA, Recalled from minors on Sept. 1.
Luis Avilan, Phillies, 2-1, 3.70 ERA, two saves.
Trayce Thompson, White Sox, .117/.162/.211 (removed from the 40-man roster and sent to the minors). Hitting .209/.278/.359 for triple-A Charlotte.
Wilmer Font, Rays, 2-3, 5.93 ERA (on 60-day DL with a lat strain).
Sergio Romo, Rays, 3-3, 3.24 ERA, 18 saves.
Logan Forsythe, Twins, .326/.418/.379, 119 OPS+.
More KTLA games
For those of you who live in the L.A. area and are unable to see Dodgers games on TV, there is one more game that will be televised on KTLA, Channel 5. That game is:
Tuesday vs. New York Mets, 7 p.m.
Meanwhile, there is no agreement between DirecTV and Spectrum SportsNet coming in the near future.
Up next
Monday, 5 p.m.: New York Mets (Jacob deGrom, 8-8, 1.68 ERA) at Dodgers (Alex Wood, 8-6, 3.42 ERA)
Tuesday, 7 p.m.: New York Mets (Jason Vargas, 5-8, 6.56 ERA) at Dodgers (Rich Hill, 6-5, 3.59 ERA)
Wednesday, 4:30 p.m.: New York Mets (Zack Wheeler, 9-7, 3.37 ERA) at Dodgers (Hyun-jin Ryu, 4-1, 2.24 ERA)
And finally
With mojo back in town, Dodgers stake their claim as the best in the West. Read all about it here.
Have a comment or something you'd like to see in a future Dodgers newsletter? Email me and follow me on Twitter: @latimeshouston.
---
Get our Dodgers Dugout newsletter for insights, news and much more.
You may occasionally receive promotional content from the Los Angeles Times.