Column: With mojo back in town, Dodgers stake their claim as best in the West
The race isn't over, but it feels like it.
The snakes aren't buried, but they seem like it.
The calendar hasn't reached October, but it sounds like it.
Dodger Stadium shook again, Matt Kemp soared again, the Arizona Diamondbacks crumbled again, and, on a sweaty first Sunday in September, the Dodgers did their annual number on first place.
They grabbed it. They wrestled it. And then Kemp looped a majestic last-gasp liner into the screaming shadows to own it.
His tossed helmet might still be sailing across Chavez Ravine sky. The celebratory showers of water might still be soaking the Chavez Ravine ground. And that sound — that smack of an Archie Bradley fastball to the left-center field wall to score two runs in the bottom of the ninth — may still be reverberating across the desert.
For a second consecutive game, Kemp beat Bradley, the Dodgers beat the Diamondbacks, the score was 3-2, and the state of the National League West became clear.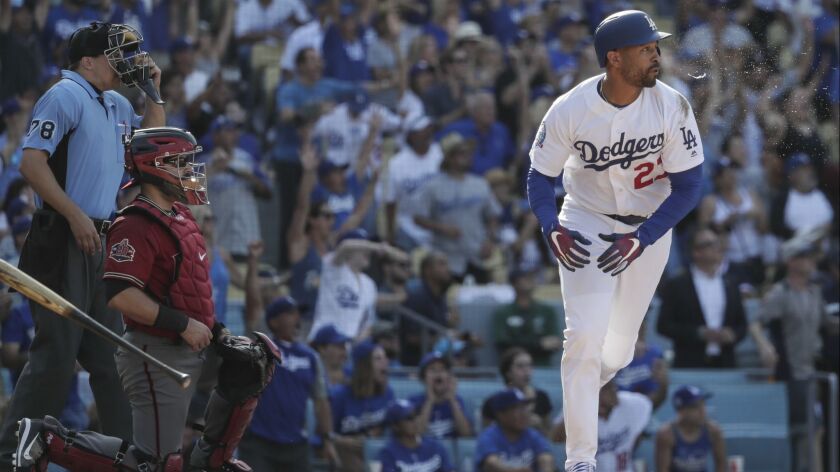 By taking three of four games in their monumental weekend series, the Dodgers moved back into sole possession of first place for the first time in nearly a month, and it's fair to say their sixth consecutive division title is theirs to lose.
"We have the best team, we said that from the very beginning … and we've done it for five years in a row?" said manager Dave Roberts. "Yeah, I like our chances."
With 25 games remaining, they not only have an easier schedule than the Diamondbacks and second-place Colorado Rockies, but they are suddenly also possessing more magic.
What could explain a Sunday victory in which they overcame another bullpen blowout, more clutch-hitting failure, and a managerial decision that sent Roberts' critics into beast mode.
"I think we've had our mojo back," said Cody Bellinger. "But I think this series kind of clarified that."
That mojo seemingly disappeared as recently as 10 days ago, when the Dodgers trailed the Diamondback by 4½ games and were reeling after being swept by the St. Louis Cardinals.
At that point, in this space, I wrote that it was time to push the panic button. Turns out, somebody pushed something, because the Dodgers won five straight against the weakling San Diego Padres and Texas Rangers, lost the series opener against the Diamondbacks, then stormed back to win the last three games this weekend in similar fashion.
Sterling starting pitching, giant late hits by the likes of Enrique Hernandez, Justin Turner and Kemp, and a return of the great finishing kick by Kenley Jansen.
Check that. On Sunday, the bullpen actually tried to blow it, and Jansen never had a real chance to save the team because of a controversial decision by Roberts. Yeah, these Dodgers are going so good that they're even able to overcome their weakest link of relievers while taking the pressure off their constantly questioned manager.
"At the end of the day, we win ballgames," Jansen said with a grin. "That's what we do."
This game was won after it was apparently lost, in the top of the ninth, when reliever Caleb Ferguson allowed a tiebreaking home run to Daniel Descalso with Jansen standing in the bullpen. The closer was then brought into the game, summoning cries of "Why didn't Roberts just start the inning with him!" Those cries grew louder when Jansen shut down the Diamondbacks to send it to the bottom of the ninth with the Dodgers trailing by just that one run.
"With Kenley's usage over the last three days, to kind of abbreviate that a little bit was my thought," said Roberts. "It didn't work out."
Luckily for the Dodgers, Arizona manager Torey Lovullo completely imploded in the bottom of the ninth, setting the stage for some grinding Dodger plate appearances that set up Kemp's hit.
To start the inning, Lovullo removed reliever Andrew Chafin even though he was facing the struggling Chris Taylor. That was crazy. When closer Brad Boxberger entered, the Dodgers were thrilled to replace Taylor with rookie Alex Verdugo, who drew a walk. Then Max Muncy held fast after an 0-and-2 count to draw another walk. Then Hernandez laid down a perfect sacrifice bunt.
Wait a minute. The Dodgers actually playing small ball? Trying to manufacture a run? Be still my heart!
"That's championship baseball right there," said Muncy.
Then, with Kemp coming up, Lovullo made another crazy move, replacing Boxberger with Bradley, who, less than 24 hours earlier, had been smashed by Kemp for a three-run, eighth-inning homer that eventually won Saturday's game. That hit gave Kemp a seven-for-15 career mark against Bradley, which made the decision even more baffling.
"I was a little surprised they took out Boxberger, but I don't care," said Kemp. "We won the game."
His Saturday night heroics were so fresh, the home run video was actually shown on the giant scoreboard as he was coming to the plate. One pitch later, that video was old news, and the symmetry was startling.
In a span of two days, the Dodgers' two biggest hits of the season were smacked by the same batter against the same pitcher in virtually the same situation. That's not magic?
"We said he's going to do it again and, on the first pitch, he did it again," said Bellinger. "That's why we call him 'Hollywood.' He likes those big moments."
Actually, Kemp doesn't like to be called "Hollywood." Not anymore. That was his younger self, back when he would have chafed at being benched Sunday just hours after his Saturday heroics, back when his .212 average since the All-Star break would have sent him into a season-ending funk.
"That's not my nickname," said Kemp. "At all."
On Sunday, entering the game as a pinch-hitter in the seventh and sticking around to win it in the ninth, Kemp showed he has grown into the sort of team player that the Dodgers used to wish he would be.
"We've all got one common goal right now, and it doesn't matter who's playing at this moment, and that's to make it to the playoffs," Kemp said.
He said that after the game in the quiet of an emptying locker room. He might have also said it during his postgame, on-field interview immediately after his hit, but the cheering crowd kept drowning him out.
The race isn't over, but you can hear the ending from here.
Get more of Bill Plaschke's work and follow him on Twitter @BillPlaschke
---
Get the latest on L.A.'s teams in the daily Sports Report newsletter.
You may occasionally receive promotional content from the Los Angeles Times.