Vin Scully won't call Dodgers playoff games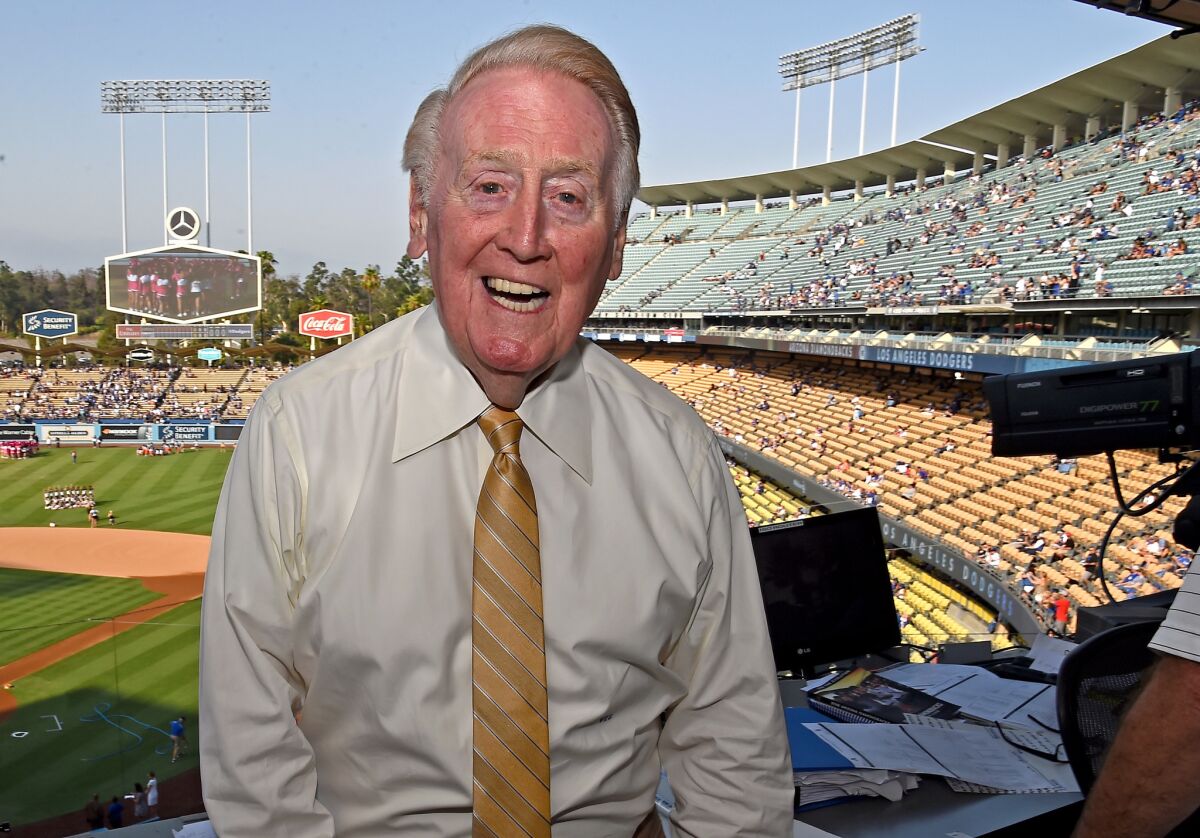 If the Dodgers win the World Series in Vin Scully's final year, the voice announcing the championship will not belong to Scully.
Scully said Tuesday he would not call any Dodgers playoff games on radio, meaning his career will end Oct. 2 in San Francisco.
"Otherwise, I'd be saying goodbye like in grand opera, where you say goodbye 12 different times," Scully told The Times.
Although national broadcasters have exclusive television rights to playoff games, Scully has called the Dodgers' postseason games on radio in recent years. The team had hoped he would do so again this year, but Scully said two farewells would be enough: Sept. 25, when the Dodgers play the Colorado Rockies in the final regular season home game, and Oct. 2, when the Dodgers finish the regular season at AT&T Park.
Said Scully: "I'm going to say goodbye at Dodger Stadium the last game with Colorado. I will say goodbye in San Francisco. And then that will be it."
In his 67th and final season as voice of the Dodgers, Scully has called three road games: Opening day in San Diego, and two games in Anaheim. He said he would work all three games of the weekend series in San Francisco.
"And then I will go home," he said.
For Scully, 88, the most poetic sports broadcaster of all time, his career will have a poetic ending.
He grew up in New York. As he walked home from school one afternoon, at age 8, he passed a laundry that displayed the score of that day's World Series game: New York Yankees 18, New York Giants 4.
"As a little kid, my first thought was, 'Oh, those poor Giants,'" Scully said. "From that little kernel, I developed a desire and a love for baseball. Since the Giants were 20 city blocks from my school and I could get there thanks to the Catholic Youth Organization and the Police Athletic League, I could go to games free, Monday through Friday. So I became a very big Giants fan.
"As things turn out, the last game of the season, and my last broadcast, will be against the Giants, in San Francisco, Oct. 2, 2016 — exactly 80 years to the day that I saw that Giant-Yankee scorecard.
"That is a fitting conclusion, I think, to my career."
Twitter: @BillShaikin
ALSO
Vin Scully's secret desire? 'I wish I could sing with Fleetwood Mac'
KTLA to broadcast Vin Scully's final six regular-season Dodger games
Snarking on baseball broadcasters is a sport within a sport. But everyone loves Vin Scully
---
Get our Dodgers Dugout newsletter for insights, news and much more.
You may occasionally receive promotional content from the Los Angeles Times.