Vin Scully's secret desire? 'I wish I could sing with Fleetwood Mac'
Fleetwood Mac is nobody's idea of a party band — except for the people who keep hiring the group to be one.
Twenty-three years ago, this famously fractious rock outfit reunited to play "Don't Stop" at President Clinton's inauguration. And Thursday night — right around the time that Clinton's wife, Hillary, was accepting the Democratic Party's nomination to be the next president — Fleetwood Mac played a private soirée for about a thousand high-rollers on center field at Dodgers Stadium.
The occasion was the Dodgers Foundation's Blue Diamond Gala, a fundraising event toasting Vin Scully, the 88-year-old sportscaster who's set to retire at the end of the baseball season.
Addressing an audience that included Sylvester Stallone, John Mayer, assorted Dodgers and a dude from "Gossip Girl," Scully accepted the honor with a characteristically intricate yarn about life's serendipity: how the son of Al Capone's attorney went on to become a war hero who would have Chicago's O'Hare Airport named after him, and how Scully will call his final Dodgers game, against the San Francisco Giants, on Oct. 2 — 80 years to the day he became a Giants fan.
After that, there was a live auction to help pay for the construction of a baseball field in Inglewood. Then, Fleetwood Mac took the stage and blazed through a fiery set — its only public performance this year, according to organizers — that had virtually nothing to do with good times, or good deeds.
"Damn your love, damn your lies!" Lindsey Buckingham growled to open the show with "The Chain," Fleetwood Mac's stomping breakup blues from 1977's "Rumours." Things scarcely got cheerier from there, with a spooky "Dreams" (about listening to your loneliness like a heartbeat), a rough-edged "Rhiannon" (about a Welsh witch) and a long, jammy "Gold Dust Woman" (about the shattering of your illusions of love).
"Congratulations, Vin! Now here's another one about all the horrible stuff humans do to one another."
How did this awesomely savage bunch end up entertaining a stadium 1/56th full of deep-pocketed donors buzzed on free margaritas? (A foundation representative estimated the evening's haul at $2 million.) Surely, we can credit Irving Azoff, the music-biz honcho — and Buckingham's manager — who chaired the Blue Diamond Gala with his wife, Shelli.
Or, who knows? Maybe it was Scully himself who did the choosing. "I wish I could sing with Fleetwood Mac," he said at the end of his speech. "But I can't."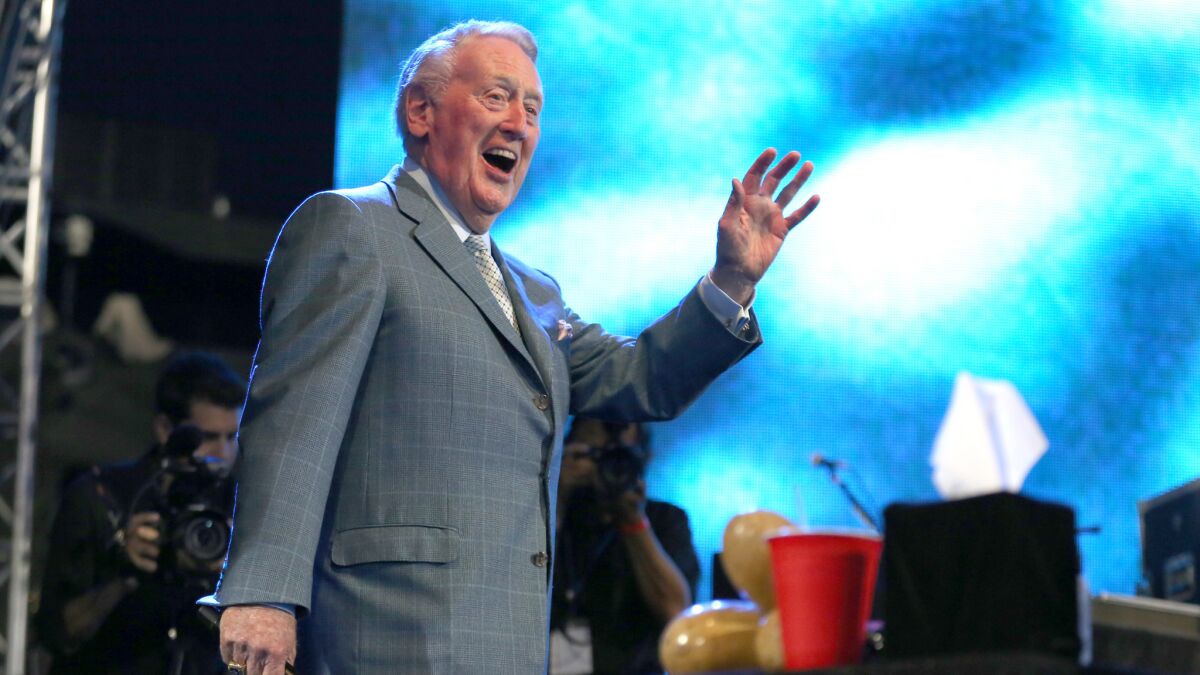 You were able, of course, to imagine a version of this show that felt less appealingly strange. With Christine McVie back in the band after many years away — another reunion that drove Fleetwood Mac's world tour in 2014 and 2015 — the group could've stuck to the relatively buoyant likes of "Everywhere" and "You Make Loving Fun," both of which McVie sang Thursday.
Introducing the former, she thanked the audience for coming, then thanked her bandmates "for letting me do this again."
Stevie Nicks sneaked in a sweet moment too when she dedicated "Landslide" to Scully, whose long experience she said the group could relate to: "We are right behind you, Mr. Scully."
Then again, let's remember that "Landslide" basically describes the destruction wrought by an avalanche. Something similar went for "Tusk," which might've conjured warm memories (given that it was partly recorded at Dodger Stadium) if Buckingham hadn't peppered the song with his maniacal laughter.
Craziest of all was that rather than doing a tidy 40 minutes and calling it quits, Fleetwood Mac played for just under two hours — almost as long as it was performing every night on its recent tour. Buckingham even made room for a deep cut in "Bleed to Love Her," before which he gave a long spiel about Fleetwood Mac's rocky journey, as though he were at one of the band's regular gigs.
Like the Clinton inauguration in 1993, the concert inevitably climaxed — at least in terms of the crowd's enthusiasm — with the ringing optimism of "Don't Stop," which finally provided the celebratory vibe many seemed to be awaiting.
But here the song also felt happily defiant, a refusal to mellow out no matter the setting.
---
Get our L.A. Goes Out newsletter, with the week's best events, to help you explore and experience our city.
You may occasionally receive promotional content from the Los Angeles Times.