KTLA to broadcast Vin Scully's final six regular-season Dodger games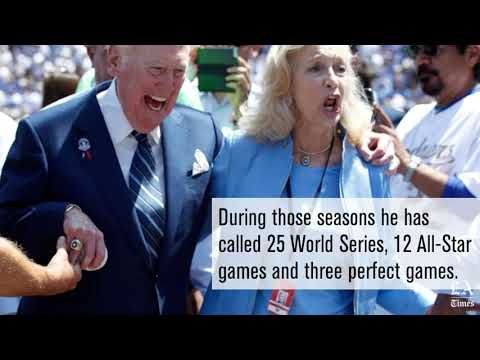 Vin Scully has been the voice of the Dodgers for a little more than half a century.
Vin Scully's last calls will be heard by all of Southern California.
KTLA (Channel 5) will air Scully's final six regular-season games, the station announced Friday. The broadcasts will be simulcast from the Dodgers' SportsNet LA channel.
Scully, regarded as the greatest broadcaster in baseball history, is retiring after this season, his 67th as the voice of the Dodgers.
However, because SportsNet has been off the air in a majority of Southern California homes since it debuted in 2014, many fans have missed Scully's final years.
The agreement means there will be no deal this season between AT&T/DirecTV and Charter, which recently completed its takeover of Time Warner Cable, to carry SportsNet LA.
That would appear to set up three options for Charter next season: try again to sell SportsNetLA to AT&T/DirecTV, pitch SportsNet LA to fans as a channel exclusively available to Charter subscribers, or license a handful of games to KTLA or another over-the-air channel.
In a statement, Charter executive vice president Michael Bair called the six KTLA games "a preview" of SportsNet LA and "a way to remind all Dodger fans who don't subscribe to Charter what they're missing."
In the three years SportsNet LA has been on air, TWC and Charter are the only major cable and satellite companies to carry the channel. DirecTV has not lost enough subscribers over SportsNet LA to compel the company to carry the channel.
AT&T/DirecTV, Cox, Dish and Frontier are among the rival distributors to balk at adding a channel — at as much as a reported $5 per month, per subscriber — that a small minority of customers would watch.
The Dodgers encouraged Charter to strike a short-term deal to make Scully's final broadcasts widely available, said Lon Rosen, the team's chief marketing officer. Rosen said the arrangement was negotiated in the past two weeks and saluted Charter for its efforts.
"They worked very hard on this," Rosen said.
Charter spokesman Andrew Fegyervesi said the company declined to comment on how the deal came about or whose idea it was.
This year's agreement echoes a similar deal at the end of the 2014 season, when KDOC (Channel 56) aired the Dodgers' final week of home games. It is a bitter deal for Dish subscribers, since Dish carries neither SportsNet LA nor KTLA.
The games on KTLA: Sept. 23-25 against the Colorado Rockies, and Sept. 30-Oct. 2 at the San Francisco Giants. KTLA also will air the Vin Scully Appreciation Night tributes before the Sept. 23 game.
Follow Bill Shaikin on Twitter @BillShaikin
ALSO
His whole family is enjoying Andrew Toles' success with the Los Angeles Dodgers
Dodgers plan to promote banished outfielder Yasiel Puig
These are Andrew Friedman's Dodgers, and his philosophy will be up for evaluation
Get our Dodgers Dugout newsletter for insights, news and much more.
You may occasionally receive promotional content from the Los Angeles Times.