Column: For the Dodgers, Corey Seager in the home run derby could be a disaster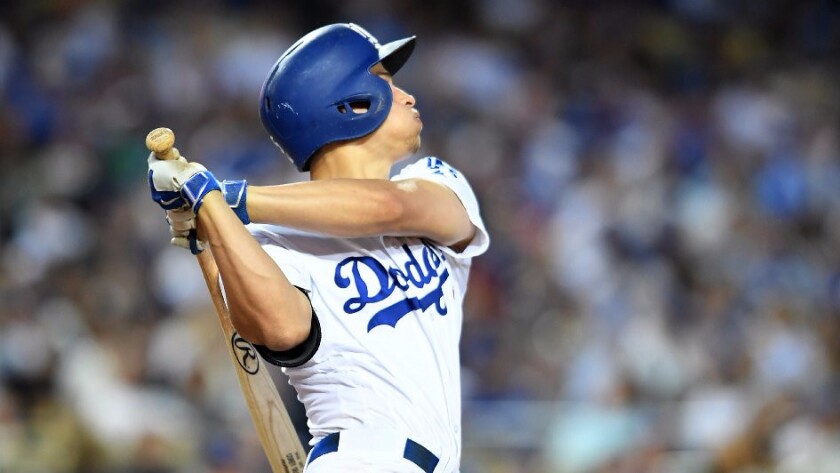 In what has become an annual rite of madness, the Dodgers have officially received news they openly cheered but quietly dreaded.
Corey Seager has been selected to compete in next week's Home Run Derby.
Yay! Not.
Their smoothest swinger is entering an event that historically screws up swings.
Their best spray hitter is undergoing an exercise that will require him to change his habits and pull the ball.
The best young player will partake in a circus that could mess with his head.
Congratulations! Now everyone cover your eyes.
For most hitters, altering something as tricky as a swing to compete in an endlessly boring and unnatural batting practice that serves as a hokey baseball publicity tool is a questionable idea.
For a kid hitter on a roll like Seager, it's a downright lousy idea, and don't the Dodgers know it.
It was a bad idea last year when Joc Pederson lost the Derby to then-Cincinnati Red Todd Frazier in a dramatic final round (yawn), then spent most of the rest of the season taking those huge swings in vain.
Yes, Pederson was already slumping when he entered the Derby, but is it really a coincidence that he hit just .178 after the event — 52 points worse than in the first half — with only six home runs in 62 games after hitting 20 in the first 89?
The Dodgers also remember two years ago, when Yasiel Puig showed up at the Derby without his own pitcher, without a clue about the rules, and eventually without hitting a homer. He then cratered in the second half, ending his season with seven consecutive strikeouts in the National League Division Series.
History is littered with Derby winners who collapsed in the second half of the season, from Bobby Abreu in 2005 to Frazier last season. The Dodgers know the Derby is dangerous, and, if they had a choice, they would surely recommend against their players participating. But they don't have a choice. Major League Baseball sanctions the show, the player's union organizes the competitors, and the Dodgers can only watch and hope their guy doesn't twist himself into a three-month pretzel.
The best news for the Dodgers is that in Monday night's event in San Diego, Seager is matched in the first round against major league home run leader Mark Trumbo of the Baltimore Orioles, so he probably won't last long. They say they'll be cheering for him, but, nah, probably not.
"The home-run derby is an intiative from major league baseball and the union to attract different fans to our sports," said baseball boss Andrew Friedman, putting on a brave face. "They feel strongly it helps expand our footprint with the younger generation, and obviously I'm all in favor of increasing the popularity of our sport."
Talking to Seager on Thursday, it's hard to blame him for saying yes. He's 22, it's his first real chance to stand on a national stage, half of the fans in his own town have barely seen him because of the TV debacle, it's a neat opportunity to be one of the cool kids.
Plus, it's a chance for his father, Jeff, to share the stage as his pitcher.
"That's what put it over the top, '' he said of his dad's involvement. "It's one of those memories that you'll never forget."
Seager, who leads the Dodgers with 17 homers and was voted into the All-Star game by the players, said his father was so intent on being ready that on Thursday night he was playing catch with the shortstop's mother, Jody.
"We'll see how that goes," he said with a grin.
Is he worried about messing up his swing? Do 22-year-old kids worry about anything?
"I don't see it," he said. "It's one of those things, it's fun for a day, I'm not going to try to do it the rest of the year. Not going to try to swing straight uphill. Hey, tomorrow my swing could stink. It's a daily grind, every day, trying to make your swing as good as possible."
Adrian Gonzalez, who lost in the final round of the Home Run Derby in 2011, says he would never do it again, but not because of the swing problems.
"I wouldn't do it again not because it messed up my swing, I wouldn't do it because fans are there to see guys hit 500 feet, and I only hit 360 feet," he said. "Fans just don't want to see the ball hit over the fence, they want to see it hit out of the stadium."
But isn't that the problem? Players suddenly gunning up to hit it out of the stadium, making changes in their mechanics that require time to smooth out?
"We do home run derby every day in batting practice and that doesn't change our swings," Gonzalez said. "Guys are always swinging for the fences and it's fine."
Gonzalez said the problem with Home Run Derby isn't the swings, it's the stories like these that warn about the swings.
"People say it messes up your swing, then you start off not having a good second half, and you let that creep in your mind," he said. "It's not the Home Run Dery that does it, it's that you're listening to outside people. Hitting's such a mental thing, if you think your swing is messed up, your swing is messed up."
There is absolutely nothing messed up about Corey Seager. His swing is a thing of beauty, his first half has been a portrait of impending greatness and his daily attitude is as quietly smooth as his stride.
Why risk any of that by joining a nationally televised dinger circus? Corey Seager is thrilled, the Dodgers are baffled, and the madness continues.
When asked if he was nervous about putting on a good show Monday, Seager said, " "One-hundred percent. I'm worried about getting shut out."
The Dodgers can only hope.
Follow Bill Plaschke on Twitter @BillPlaschke
---
Get our Dodgers Dugout newsletter for insights, news and much more.
You may occasionally receive promotional content from the Los Angeles Times.