Red Sox's not-so-secret weapon was on display against Dodgers in World Series Game 1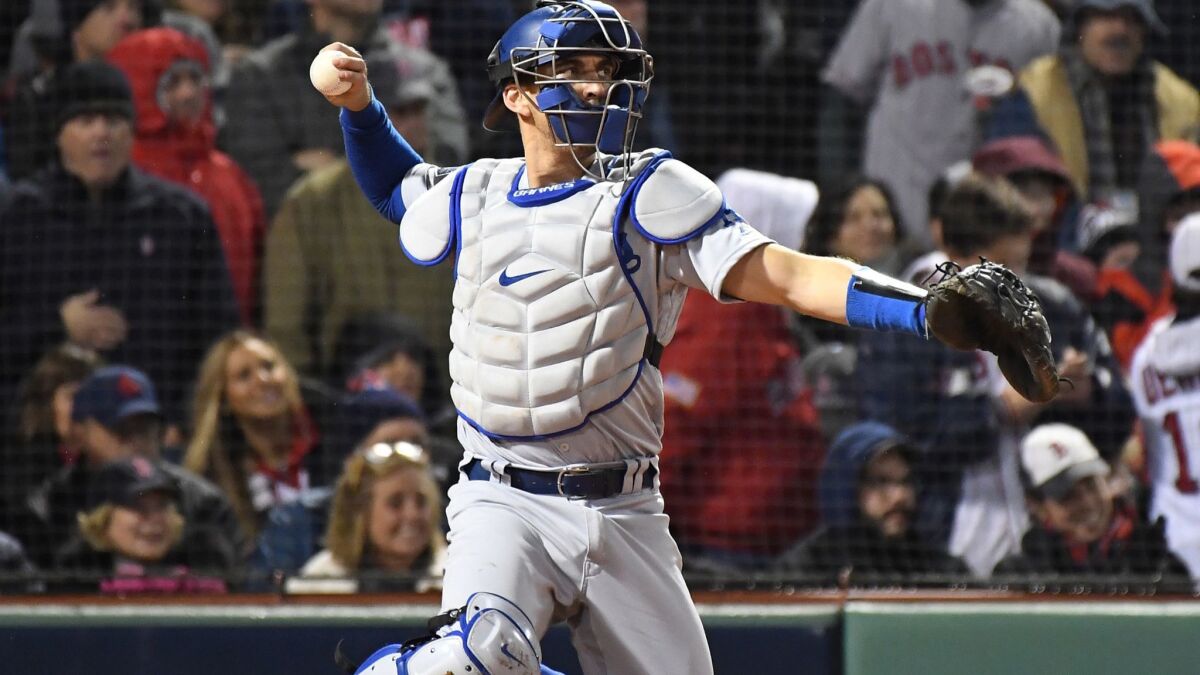 In the box score, this line reads like a small victory for the Dodgers: J.D. Martinez, caught stealing.
In reality, that line reveals how the Boston Red Sox believe they have identified a flaw they can exploit. If the designated slugger is running on the Dodgers, so are the rest of the Red Sox.
To borrow a cliche from our football-playing friends, the Red Sox established the run in Game 1 of the World Series on Tuesday.
In the first inning, two Boston runners tried to steal. In the second inning, another flirted with trying to steal home. The Red Sox won 8-4 in a game they never trailed.
The Red Sox led the major leagues in runs, hits and slugging percentage. As if that were not enough for the Dodgers' catchers to worry about, the Red Sox run too.
"That's us," Martinez said.
He paused briefly, then corrected the record.
"Not me," he said, "but us in general."
In this postseason, the Red Sox are 8-0 when they score first. In the regular season, they were 74-15 when they scored first.
On Tuesday, they stole a base and scored a run before Clayton Kershaw recorded an out.
"We just let them know we're not going to ease into it," Boston's Mookie Betts said. "Right off the bat, we're running 100 miles an hour."
Baseball is a game of matchups now, as we hear on a daily basis. This matchup is particularly unfavorable to the Dodgers.
The Red Sox stole more bases than any team in the National League. They run well, not just wild. They were one of two major league teams — the Angels were the other — that were successful 80% of the time they tried to steal a base.
The Houston Astros, remember, were so worried about slowing down Boston that they traded for Angels catcher Martin Maldonado, who threw out almost half the runners who tried to steal against him this season.
Yasmani Grandal, the Dodgers' starting catcher this season, threw out 28% of runners trying to steal. The Dodgers benched him in the National League Championship Series, after he had three passed balls and two errors in two starts.
Austin Barnes, the backup catcher, has sure hands and quick feet, the better to stop a wayward pitch. But Barnes threw out 22% of runners trying to steal this season.
And, when the Red Sox sent Martinez, they offered a real-life illustration to this point in the Dodgers' scouting report: The Red Sox will run, and not just with one or two speedsters.
"It's been a big part of our offense, all year long," Red Sox bench coach Ron Roenicke said.
"We have personnel good enough that we can spread it around and put that pressure on teams."
The Red Sox wasted no time playing the running card, even against the left-handed Kershaw. The left-handers have the better pick-off moves, but no matter.
The first batter of their first inning, Betts, singled. On the next pitch, he stole second base.
And, on the pitch after that, Andrew Benintendi drove in Betts. One out later, Martinez drove in Benintendi.
The sabermetric crowd does not mind stolen bases, so long as the thief gets away with it about 80% of the time. Benintendi stole 21 bases this season. He got away with it 88% of the time.
Betts, the leadoff batter, stole 30 bases. He got away with it 83% of the time. Jackie Bradley Jr., who stole 17 bases, led the major leagues with a 94% success rate.
Martinez is here to hit. He is J.D., for Just Dingers. He hit 43. And yet there he was, trying to steal in the first inning.
"We thought we had something," Martinez said.
Kershaw nailed him, but the Red Sox reinforced the impression that almost anyone could run, at almost any time, against any pitcher.
In the second inning, Rafael Devers was at third base with one out, dancing so far off the base that he had a legitimate chance to steal home.
Devers said he did not need a coach to tell him not to go. He was not sure he could have made it, and besides that, he might have deprived Betts of an at-bat with a runner in scoring position.
This is what the Dodgers must contend with: Betts stole a base. Martinez tried. Devers could have tried. Benintendi and Bradley did not try but very well might soon.
"This lineup is so special because there are so many ways it can beat you," Martinez said. "It could be the home run, the singles, the doubles. There are just so many different ways this lineup can win."
The Dodgers can pitch.
"I think, especially against good pitching, it's hard to sit back," Roenicke said.
So the Red Sox will run, and dare the Dodgers to do something about it.
Follow Bill Shaikin on Twitter @BillShaikin
Get our Dodgers Dugout newsletter for insights, news and much more.
You may occasionally receive promotional content from the Los Angeles Times.