Daily Dodger in Review: The happy reinvention of Scott Van Slyke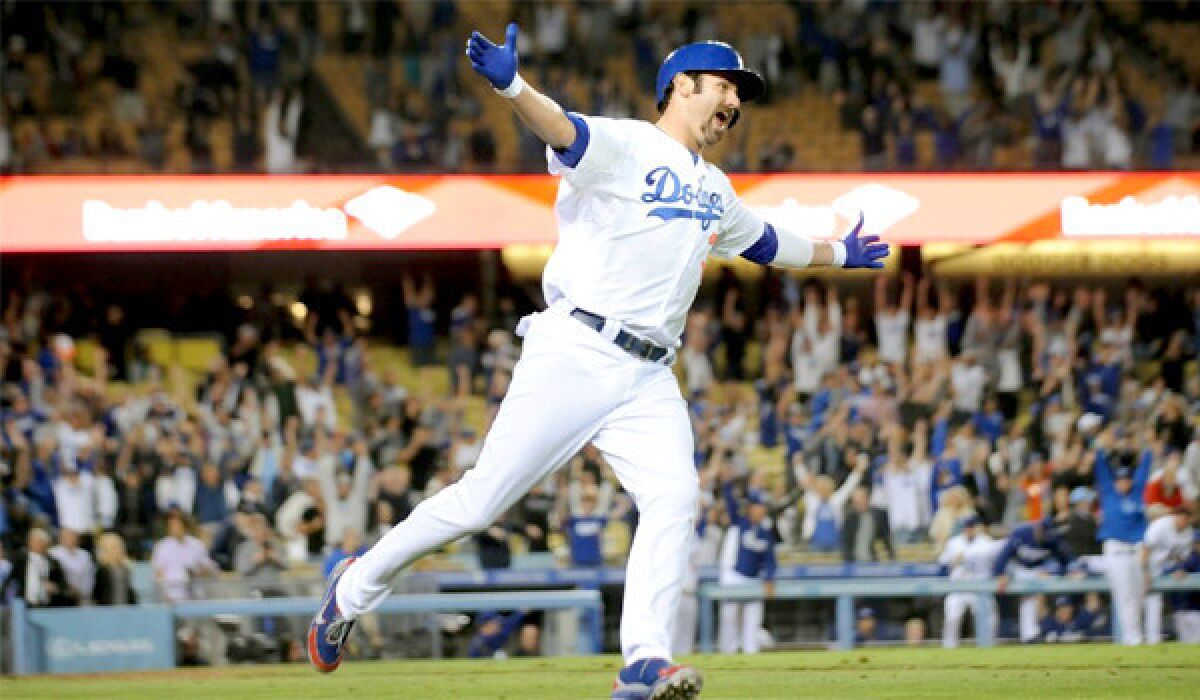 SCOTT VAN SLYKE, 27, outfield/first base
Final 2013 stats: .240 batting average, seven home runs, 19 RBI, .342 on-base and .465 slugging percentages.
Contract status: Under team control.
The good: He should give lessons in reinventing yourself. The Dodgers tried the same thing on Van Slyke last year that they did this winter with right-hander Shawn Tolleson (they were the Dodgers' minor league player and pitcher of the year in 2011).
Unlike Tolleson, however, no one claimed Van Slyke. Every team could have had him for nothing, and not one wanted him. Off the 40-man roster, he returned as a member of the triple-A Isotopes.
But he arrived in better shape and seemingly determined to reclaim his place in the organization. After a solid start at triple-A, he was called up May 10 and had a fairly sensational start, hitting four home runs in his first 40 at-bats. Spent most of July back at triple-A, but was called up again at the end of the month.
Played left and right fields, and three games at first base. Went four for 10 as a pinch hitter.
The bad: He cooled after his hot May, hitting .213 the next two months, came back to bat .313 in August, before batting .192 in September.
What's next: If the Dodgers do end up trading one of their four starting-caliber outfielders, he could go to camp as the fourth outfielder. It helps that he can get by at first base too.
The take: Yasiel Puig's meteoric arrival in June pushed Van Slyke back in the outfield line and his playing time was severely cut. It didn't help that he suffered a bit of whiplash diving for a ball on May 26.
Still, for a guy the Dodgers appeared to have no plans for when spring training began, Van Slyke came a long way. He may not be the test-tube designed outfielder that Puig resembles, but he has demonstrated very useful power.
Doesn't have a starting future here, but could prove an effective role player. Which is a long way from being waived and going unclaimed.
---
Get our Dodgers Dugout newsletter for insights, news and much more.
You may occasionally receive promotional content from the Los Angeles Times.