Ducks enter the offseason looking to adjust to NHL's evolving game
The Ducks enter a long offseason with question marks aplenty after a lethargic showing in the first round of the Stanley Cup playoffs.
Coach Randy Carlyle's crew was swept by the San Jose Sharks, and the Ducks didn't put up much of a fight. It's clear they must adjust to the NHL's evolving game and employ a style that emphasizes smooth skating along with an up-tempo offensive attack.
Carlyle has leaned on a tough, physical approach through the years, but Ducks general manager Bob Murray expressed the utmost confidence Carlyle is the man for the job as the teams seeks to adapt.
"We have a couple of guys — let's face it — were never great skaters," Murray said Saturday at Honda Center during his exit interview with the media. "How do we improve that? We know we've got to make some changes."
The plan doesn't necessarily involve acquiring quicker players. Murray pointed to the attacking style the Sharks used and said he would like to see the Ducks skate in similar fashion. That means less passing between defenseman at the blue line and, overall, playing beneath the faceoff dots.
Former 50-goal scorer Corey Perry has failed to live up to his sizable contract over the last two seasons, with fewer than 20 goals in each of those campaigns. He's owed $9 million in 2018 and $24 million total over the final three years left on his contract.
"Corey's got to buy into some more things in the offseason," Murray said. "He's got to buy into playing fast. ... Hopefully I can give [Carlyle] a healthy hockey team to start the year to see if they will change."
The team should be buoyed by a healthy Ryan Kesler, who had major surgery on his hip last summer. The former Selke Trophy winner had to learn how to stride again and he frequently missed practice after making his season debut in December.
There's also Patrick Eaves, who was diagnosed in October with Guillain Barre syndrome, a rare autoimmune disorder. Murray said Eaves has recovered, though he's now dealing with a torn labrum.
The winger underwent surgery on his shoulder — Murray wasn't sure which one — and should be available in mid-October. Eaves was sorely missed after playing in just two early-season games. The 33-year-old had 33 goals in 2016-17 and was expected to be slotted in a first-line winger to the left of Ryan Getzlaf.
The Ducks' captain averaged more than a point per game, but Murray noted that Getzlaf "looked exhausted at the end." The reason, ostensibly, is because Getzlaf logged a dizzying amount of ice time, often approaching 25 minutes a game.
"In today's hockey you can't just play four or five defenseman and nine forwards," said Murray, who believes the fourth line should play between 10 and 14 minutes each game. That unit usually skated between five and seven minutes.
"You cannot play fast if you're only playing that number of players. Our schedule's too hard; it's impossible. So we have to change some things," he added.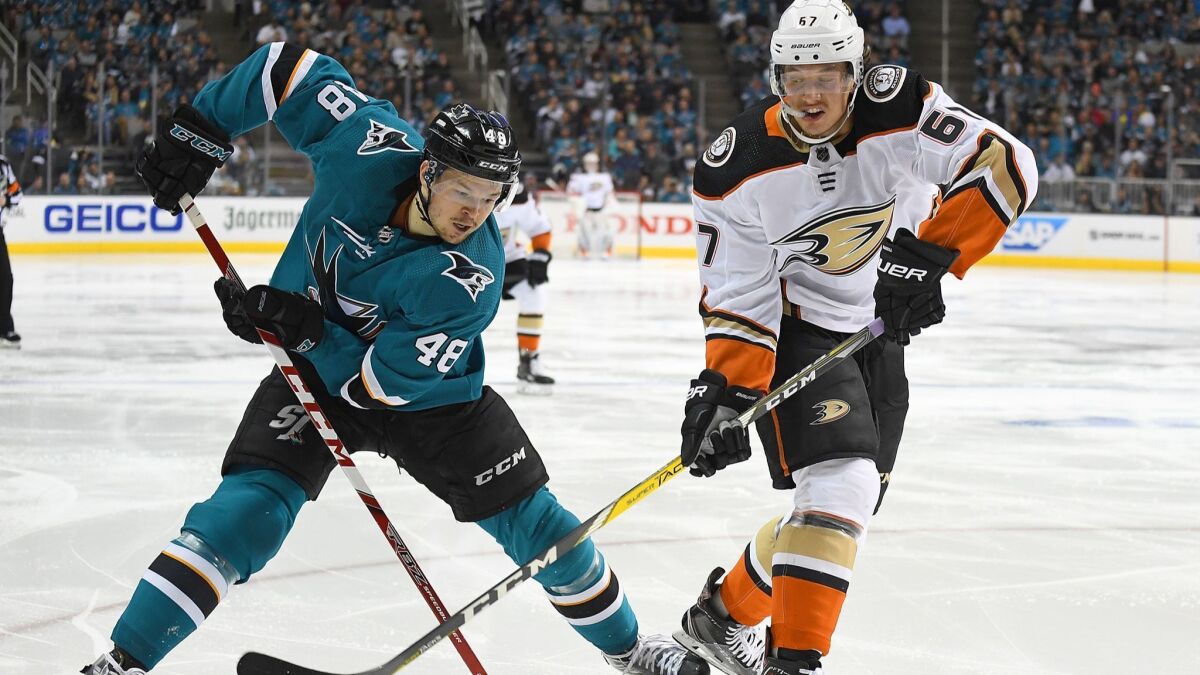 Murray reiterated there won't be a change on the bench. After all, the GM had "no issues" with the job Carlyle did and said he found it "remarkable" the Ducks even qualified for the playoffs considering the rash of injuries with which they contended.
The coach is still waiting for the "numbness" to subside. He surely didn't see a sweep coming after the Ducks reeled off a five-game winning streak to capture home-ice advantage in the first round. Only then will he dive deep into player evaluations.
"When you go extended periods, playoff runs, you don't get the numbness that you feel today, or yesterday, or the day before, and that's a feeling you'll never experience unless you've walked it," said Carlyle, whose group reached the Western Conference finals one season earlier. "Those are not the good days because you're looking, and it's almost a state of depression that you go into that you don't know really what you should be doing that day to move on from it.
"You come back to the rink, you see your coaches, you see some of the players, you see your training staff, you see management, and everybody is moving forward together because you can't sit and dwell ... we can't change what happened, but we have to prepare to make sure it doesn't happen again."
In spite of the disappointing outcome, there were positive developments. Rickard Rakell once again eclipsed the 30-goal plateau and established himself as a bona fide scoring threat. Ondrej Kase and Brandon Montour proved they're top-flight players in their first full seasons in the NHL. Adam Henrique's arrival gave the Ducks another capable center.
And, of course, there was goalie John Gibson, who was superb when he wasn't dealing with minor injuries.
"Good goaltending tends to cover up a lot of crap," Murray said.
---
Get the latest on L.A.'s teams in the daily Sports Report newsletter.
You may occasionally receive promotional content from the Los Angeles Times.