Ryan Kesler has given Ducks the gritty play they expected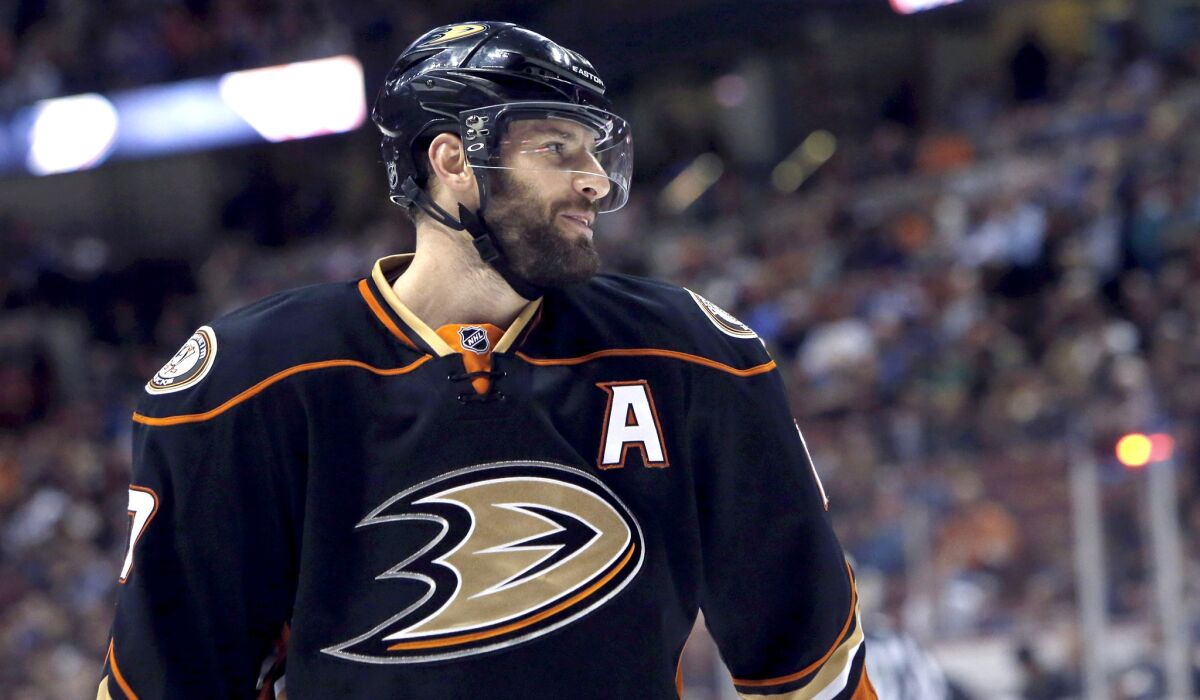 Ryan Kesler lowered his voice, as if reluctant to acknowledge the past.
Four years ago, he was in the same building as the Stanley Cup, one win from holding it. Instead, defeat.
Now he's a member of the Ducks, and there's potential for another chance. But what did Kesler take from that 2011 experience?
"I don't like looking back; it's still a sour taste in my mouth," he said about his Vancouver Canucks' losing Game 7 to the Boston Bruins.
"My focus is on these playoffs and not having that feeling again."
The Ducks know full well of Kesler's grit and passion. That's why they targeted him last off-season, thinking he would set a nightly example of what it takes to celebrate in June.
The acquisition of their second-line center is a big reason why the Ducks open the playoffs at home Thursday as the Western Conference's top seed, playing the wild-card Winnipeg Jets.
Kesler — who won the Selke Trophy as the NHL's best defensive forward in 2011 — has been the constant in a season filled with injuries and personnel changes, collecting 20 goals and 27 assists.
The 30-year-old has a nose for the puck and is a consummate special-teams player.
"This team is not built to play talent- and skill-wise. It's a hard-nosed team," Ducks General Manager Bob Murray said. "There's no other way to play the game. We have to play inside other team's nets, we have to get to the net, have to play hard hockey. Ryan Kesler does that — every night, he's a great example."
Murray says it's unfair to paint Kesler as the only element the Ducks needed to push further than they did last season, when they squandered home-ice advantage and lost a lopsided Game 7 to the eventual-champion Kings in the Western Conference semifinals.
But Murray, a former pro scout with Vancouver who was instrumental in the 2003 first-round selection of Kesler, knew investing in Kesler would be a good idea again.
Last June, he parted with productive young center Nick Bonino, defenseman Luca Sbisa and a first-round draft pick to acquire Kesler.
Murray has since made six deals to plug in complementary pieces.
Even with the upgrades, there is chatter nationally that the Southern Californians are ripe to be upset. Questions exist about their defensive commitment and recent playoff history. Plus, Bruce Boudreau has never coached a team to a conference final.
Kesler sets his sights elsewhere.
"This is a team that can do some damage, but we've got to go out and play like it," Kesler said. "We have to do a job with the young guys to make them realize an opportunity like this doesn't come around every year.
"Leave everything out there every shift … that's what you have to do, what we need to understand. There's more pressure. Some guys can handle it, some can't, but it's going to take every guy in this room. Go to the hard areas; if you're not scoring, play defense. Make a difference."
Depending on the matchups, he could center a line with forwards Matt Beleskey and Kyle Palmieri to provide a strong 1-2 offensive punch with Ryan Getzlaf's first line. Or, if more defense is needed, he'll play with Jakob Silfverberg and Andrew Cogliano by his sides.
Boudreau said Kesler "loves taking on a project of playing somebody. He takes it personal. He works his butt off against that individual or that line. He gets grumpy, wants to get in that mode right away.
"I know he's ready."
Cogliano remembers watching as Kesler had seven goals and 19 points in the 2011 playoffs, ranked third in hits, and played an average of 22 minutes 34 seconds per game.
This has been Kesler's best season since then. He's in the top 10 in faceoff win percentage, and has won a scorching 63% in the past six games.
"He has that DNA about him — he likes playing in the hardest situations and in the games against the best teams," Cogliano said. "It's encouraging to see that a guy's carried his team to a Cup final before. Everyone's excited to see him, knowing he'll relish the moment."
In the locker room Kesler has fully acclimated, tossing verbal jabs when the time is right and accepting the punches back in good humor.
When scouting Kesler more than a decade ago, Murray said he came to "know what Kes' makeup and personality is."
Explained Murray: "That stuff doesn't change over time, which this proves. He's been exactly who I thought he'd be. That wasn't hard to predict. It wasn't brain surgery."
But Murray always knows what's on Kesler's brain.
Said Kesler: "You play the game for a reason: to be better than everyone else."
He didn't say that in a hushed tone.
Twitter: @latimespugmire
---
Get the latest on L.A.'s teams in the daily Sports Report newsletter.
You may occasionally receive promotional content from the Los Angeles Times.