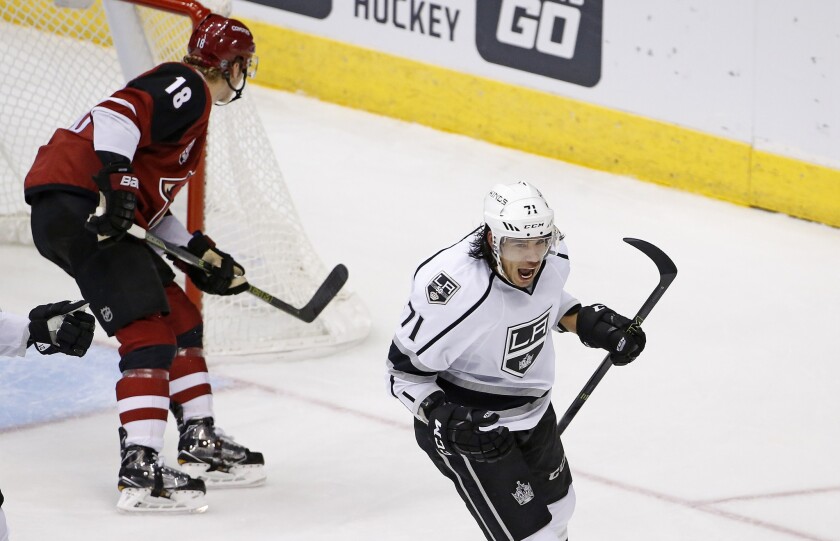 Jordan Nolan was back at the Kings practice rink, leading the team in its post-workout stretch on top of the Kings logo.
It was a nod to his past, if three weeks ago is long enough to be regarded as the past. Nolan, a member of both Kings Stanley Cup-champion teams, was put on waivers Sept. 26 and claimed by his home-area Buffalo Sabres, who play the Kings on Saturday.
"It's a little bit crazy," Nolan said.
Nolan was a bit player but will always be tied to the Cup teams. He was called up, along with Dwight King, during the 2011-12 season and the two provided bulk and brawn. One of the memorable sights of the 2012 Cup Final was Nolan's father, Ted, with Jordan on the Staples Center ice during the celebration.
Nolan's departure brought the number of current two-time Cup-winning Kings players to eight. An in-game acknowledgment of Nolan by the Kings is likely Saturday, and it will bring that chapter of his career to an official end.
Unofficially, it closed awkwardly.
By last season, Nolan fell out of favor with former Kings coach Darryl Sutter, who questioned Nolan's dedication when the forward didn't partake in a morning skate. The coach also vented to reporters about Nolan not returning from injury.
Nolan, who has a significant suspension history, said he saw a bleak future in L.A. even after Sutter was replaced by John Stevens.
"I had a little feeling in my gut that things weren't going to work out here," Nolan said. "They might say different, but that's just what I felt, and that's what I was seeing every day. So when they did tell me that I was going on waivers, I think I was pretty [ticked] off, pretty sad, but also pretty relieved and happy for something new and exciting to happen."
Ted Nolan first coached the Sabres in the 1990s, and Jordan would tow along to the now-demolished Buffalo Memorial Auditorium to watch games.
"We lived on the Canadian side when my dad coached there, so I remember putting the [Sabres] jersey on and crossing the border," Nolan said. "It just feels like I'm kind of coming home and playing."
Nolan said his father was thrilled for him to return to Buffalo. His brother, Brandon, lives in Toronto and can attend games. Going home also allowed Nolan to be closer to his Cup rings.
"They're in a safe," Nolan said. "None of the guys have asked to see them yet."
Power-play tweak
The Kings used two defensemen on both power play units Friday, as opposed to the four-forward first unit with Tyler Toffoli and Drew Doughty at the points.
Defenseman Alec Martinez was partnered with Doughty and could facilitate a move away from the four-forward look.
"It's not something we wouldn't go back to, but we just feel like we have people on the back end that are capable of providing a presence on the backside, being a shooting presence, bringing the puck up the ice, still getting speed on the rush," Stevens said.
Martinez, out with a lower-body injury, appears close to a return but only said that, "I'm getting better, but I don't have any timetable."
NEXT UP
VS. BUFFALO
When: Saturday, 7:30 p.m.
On the air: TV: FSW; Radio: 790.
Update: The Sabres are 0-3-1 under first-year coach Phil Housley. Jack Eichel, one of the bright young forwards in the league, had two goals and an assist in two games against the Kings last season. Kings wing Alex Iafallo will play against his hometown team for the first time.
Twitter: @curtiszupke
---