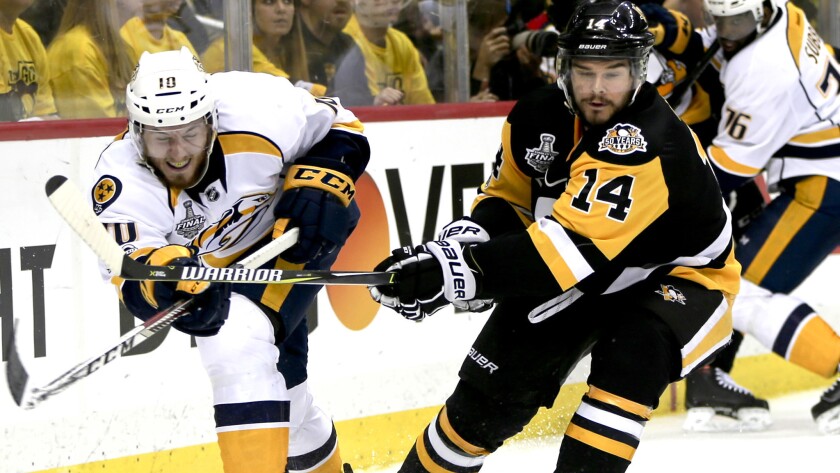 Reporting from nashville —
Undrafted out of Ferris State University, waived twice as a professional and heartbroken when the Ducks traded him to a team that was out of the playoff picture less than two years after he helped them win the Stanley Cup in 2007, Chris Kunitz is two wins away from being a four-time Cup champion.
Let that sink in. That's remarkable for someone who's not a superstar but is a fierce forechecker and solid two-way player, at home on the left side of No.1 center Sidney Crosby or grinding on the fourth line. Even at 37 and after one of his worst seasons, he has produced three straight multi-point games: The double-overtime Game 7 goal he scored to give the Penguins the Eastern Conference title over Ottawa was his second in that game, and he earned two assists in each of their first two Cup Final games against the Nashville Predators.
It's a late-career revival for Kunitz, who went from Anaheim to Pittsburgh for defenseman Ryan Whitney in a deal the Ducks lost badly. Not only did Kunitz help the Penguins reverse course and win the Cup in 2009, but he also contributed 12 points to their triumphant 2016 run and was a gold medalist for Canada at the 2014 Olympics. He could move closer to his fourth Cup championship Saturday, when the Final shifts to Nashville's Bridgestone Arena, and that's a mind-boggling thought. But he'd rather do it than think about it.
"We have a tough Game 3 ahead of us that's in an atmosphere that's going to be a raucous building, a place that's going to be really loud and crazy and we've got to go out there and play maybe one of the dullest road games of the season and take that crowd out of it and try and keep their team from getting that momentum," he said. "Our next game is our biggest game of the year by far."
Kunitz had great chemistry on the Ducks with center Andy McDonald and right wing Teemu Selanne, who was a big fan of Kunitz and often called him "unbelievable." Kunitz and Selanne rekindled their friendship recently when Selanne visited Pittsburgh to see one of his sons play in a youth tournament.
"I went and spent an afternoon watching some hockey and hanging out," Kunitz said, smiling. "Those are some my fondest memories, of breaking into the league and having a teammate and a linemate like him and Andy McDonald to show me the way, how you play in this league and how you can be successful in playing your style of hockey."
The Penguins' quick-strike ability has allowed them to win the first two games while being outshot, outhit and outplayed for stretches.
"We're trying to play our game but they've been tilting the ice in their favor quite a bit of the game," Kunitz said. "Our goaltender has made big saves. Our power play has found a way to get a goal and we've had guys step up at key moments. Those are all successful things that help your team win.
"But we have to do a better job of not letting them come with the pace that they want to put pucks on our net and have their [defensemen] jump into the play, and when we can do that, that's going to lean the ice back in our favor and hopefully have a better outcome when we go out for Game 3. The next one is going to be the toughest."
Who's in goal?
Predators coach Peter Laviolette stuck with his policy of not disclosing lineup decisions and declined to say if he will start the struggling Pekka Rinne in goal Saturday. Laviolette said he has relayed his decision to Rinne — whom he pulled during the Predators' 4-1 loss Monday — and to backup Juuse Saros. Rinne has ooked shaky in yielding eight goals on 36 shots, but he got the Predators this far and Saros has never started a playoff game.
Laviolette also said his team is frustrated to be in this situation after dominating play for stretches and taking a statistical edge on faceoffs (68-66), hits (77-67) and power-play performance (two for seven, compared to Pittsburgh's one for 10).
"We've got to continue to try and get better with what we do," he said. "We can't just look at the numbers and say, 'Yeah, we're winning all the numbers,' but the scoreboard, there's got to be things we've got to do better."
Predators defenseman P.K. Subban, who pretty much guaranteed Wednesday that his team will bounce back to win Game 3, stood by his prediction Thursday. "I feel even more confident now that I've had a night of rest," he said. "There's no question — we're going to win the next game and then we'll move forward."
Follow Helene Elliott on Twitter @helenenothelen
---