Column: Mater Dei-St. John Bosco showdown to feature two of the best junior quarterbacks in Southland
Whenever DJ Uiagalelei or Bryce Young show up to play for a football team, coaches revise playbooks and quarterbacks scatter. Their presence changes calculations and forces coaches to adapt new strategies.
The two prolific prospects will take center stage for a matchup of No. 1 vs. No. 2 on Friday night at Santa Ana Stadium when Uiagalelei and top-ranked Bellflower St. John Bosco (7-0) take on Young and Santa Ana Mater Dei (6-1) in a 7:30 p.m. Trinity League matchup.
Young has committed to USC. Uiagalelei is being pursued by Clemson and Oregon as well as pro baseball scouts. Both players are juniors and they have combined to pass for 3,300 yards and 44 touchdowns this season.
Young arrived at Mater Dei this year from L.A. Cathedral as the replacement for JT Daniels, who decided to skip his senior year to play for USC. From his early years, Young has wanted to be tested. His father, Craig, had him throwing with high school, college and NFL receivers as a youth player.
"I never wanted him to be complacent. I wanted him challenged," Young's father said.
When Young enrolled at Cathedral as a freshman, the Phantoms had a three-year returning starter, Andrew Tovar, who was the league MVP, All-Southern Section and had thrown 95 touchdown passes. That didn't deter Young.
Coach Kevin Pearson saw his skills and immediately had him share playing time with the senior. Young would play the second and fourth quarters of every game. "I had the best closer in the game," Pearson said.
Young, who is 6 feet and 185 pounds, also began to scare off others. "I heard it over over and over," Pearson said. "We love what you do but Bryce Young is there."
When word spread that Daniels would be leaving for USC last fall, the Youngs decided Mater Dei would be the perfect proving ground. The elder Young knew some college recruiters would be skeptical because of his son's lack of height, but he believed top competition could erase any doubts, as it did for former high school stars Tate Martell, a 5-11 reserve at Ohio State out of Las Vegas Bishop Gorman, and Kyler Murray, the 5-10 starter at Oklahoma from Allen High in Texas.
"The common denominator was they played at the highest level. That's why they got scholarships and won state championships," Craig Young said.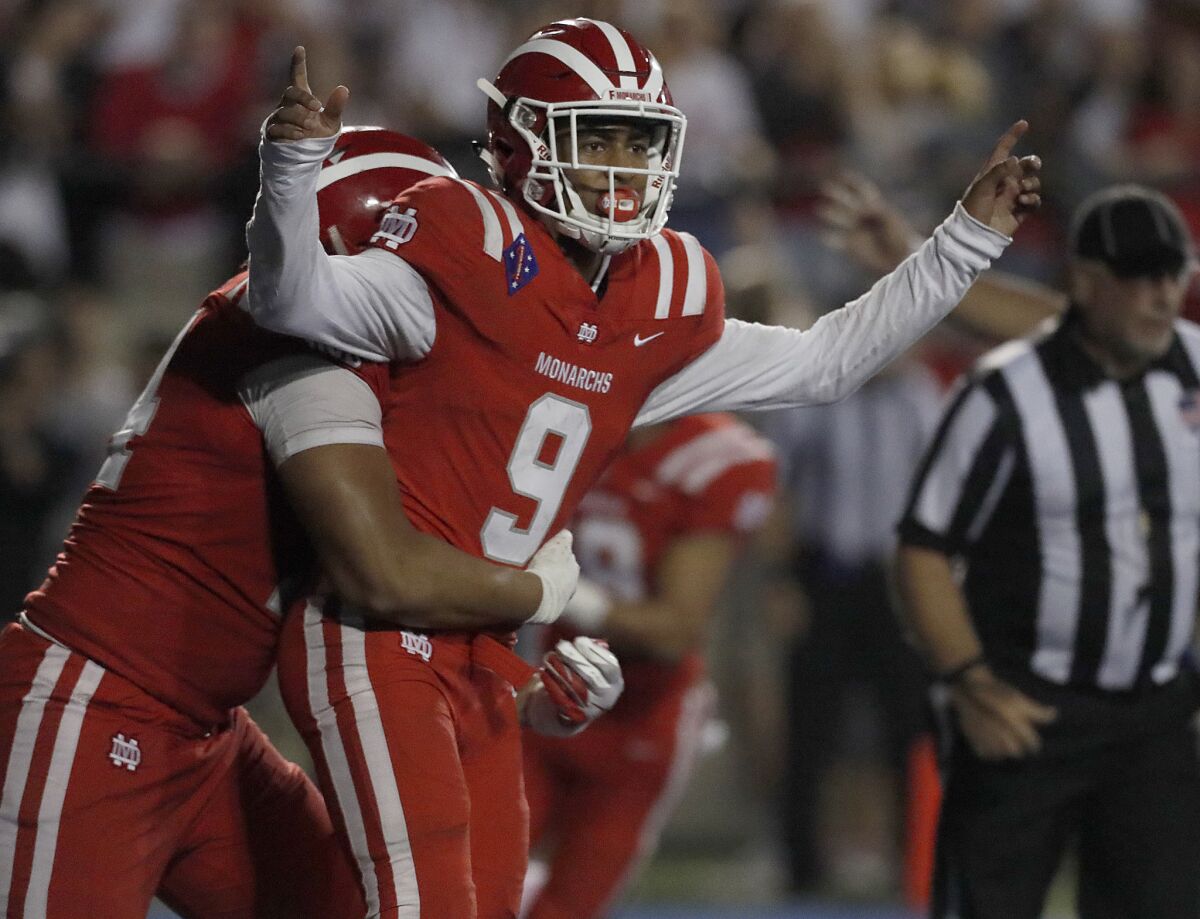 He added that his son didn't go to Mater Dei just to earn a scholarship.
"He wants to play in college and to do that he needs to be competing in practice and in games against the same people he's going to see on the college level. Those Bosco linebackers and secondary people, they're all going to be playing in college."
Young has quickly become a favorite of coach Bruce Rollinson, completing 77% of his passes for 1,738 yards and 21 touchdowns.
At St. John Bosco, Uiagalelei was known as a "man-child" from the moment he stepped on campus. At 6 feet 4 and 245 pounds, he grew up thinking he'd attend Upland High. He was a ball boy there. But his father, Dave, recognized his talent, was impressed by the success of the Braves' quarterbacks — including NFL-bound Josh Rosen — and sent him to St. John Bosco.
Among the quarterbacks who have left since Uiagalelei's arrival at St. John Bosco are Joey Yellen, an Arizona State commit and standout at Mission Viejo, Josh Stupin, the starter at Fountain Valley, and Peter Costelli, the starter at Santa Margarita.
Uiagalelei's development led to Iowa State recruit Re-Al Mitchell losing his starting job at midseason in 2017. Mitchell, who helped St. John Bosco win the 2016 Division 1 title, never played again for the Braves, eventually enrolling early at Iowa State in spring 2018.
No one knows for sure if football is Uiagalalei's best sport. He's a pitcher and outfielder in baseball waiting to see what pro scouts think of his potential this spring. This season, Uiagalelei has passed for 1,566 yards and 23 touchdowns while completing 73% of his throws.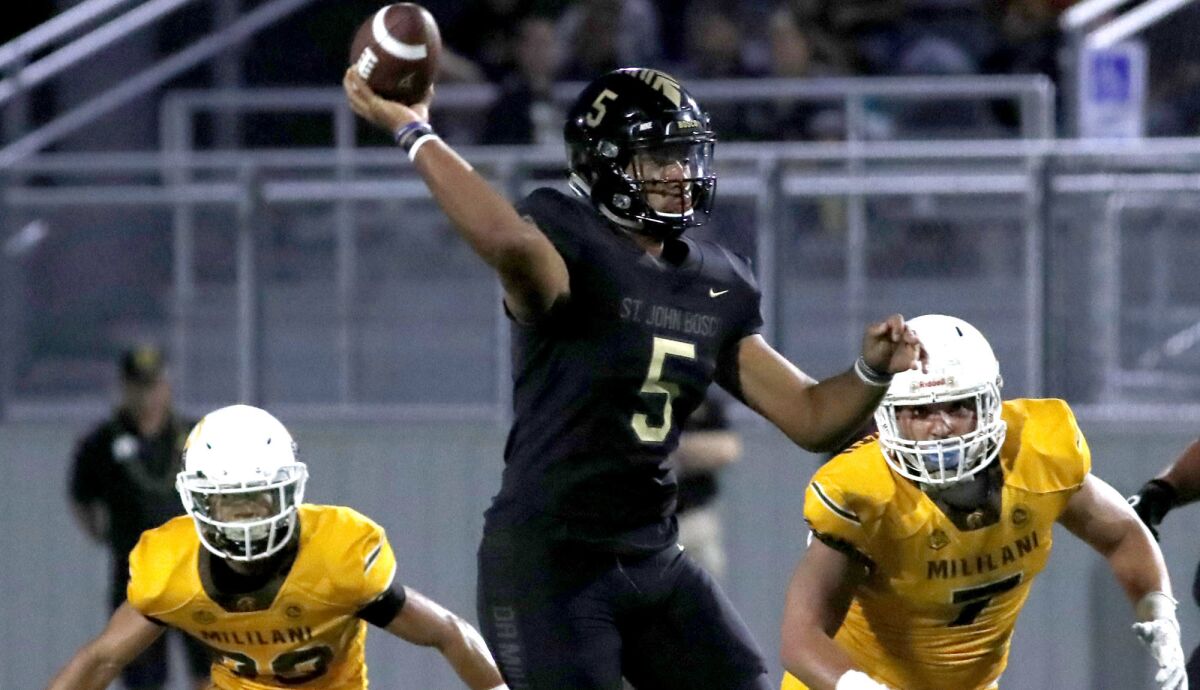 Two weeks ago Uiagalelei struggled in a 35-28 win over San Juan Capistrano JSerra, yet his father called it a blessing in disguise.
"I told my son, 'I'm so proud of you,'" Dave Uiagalelei said. "To see a kid going through his struggles and eventually figuring it out — he had to run the ball and throw the ball to seal that win. That's testament to who DJ is. He'll play defensive end if he has to. I'm so happy we went through that struggle."
The two quarterbacks have known each other from camps and competitions but never faced off before in a game. This could be the first of four meetings over the next two seasons.
"DJ is one of the most humble, nicest, God-fearing young man you'd ever meet," Craig Young said. "They've always been friendly and respectful with each other."
This game will settle which team will be the No. 1 seed for the Division 1 playoffs. It also will let people see perhaps the best two junior quarterbacks in California. The other top contender in Division 1 is Corona Centennial (7-0), which is quarterbacked by former Mater Dei backup Carter Freedland.
"That's a great team," DJ Uiagalelei said of Mater Dei. "We have to prepare, watch film and know the ins and outs of what they do. Their secondary and defensive line look very good like last year. They're a great team and it's going to be a great game."
Added Bryce Young: "Rollo has taught us to prepare for each Friday like it's our last, but as a team, we have an extra fire lit because of the rivalry that's developed between the two schools."
Twitter: @latsondheimer
---
Get our high school sports newsletter
Prep Rally is devoted to the SoCal high school sports experience, bringing you scores, stories and a behind-the-scenes look at what makes prep sports so popular.
You may occasionally receive promotional content from the Los Angeles Times.