Column: Penny family's loyalty to Norwalk inspires as the youngest son leads the Lancers to victory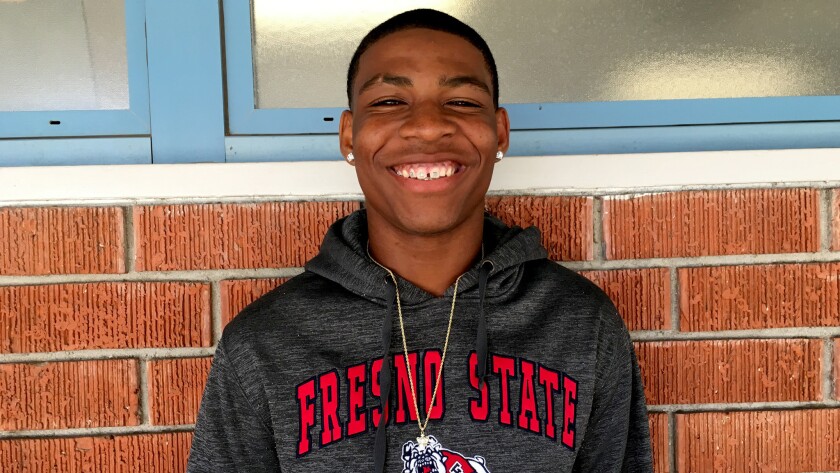 There's a family in Norwalk committed to old-fashion neighborhood loyalty that's providing plenty of inspiration.
Desiree and Robert Penny moved to Norwalk from South Los Angeles 12 years ago to raise four boys and a girl. Each one has attended Norwalk schools. All four boys have played football , and three are still playing.
There's Elijhaa Penny, 24, a running back with the Arizona Cardinals. There's Rashaad Penny, 21, a running back for San Diego State who has returned five kickoffs for touchdowns in his college career and leads the nation in rushing. He had 175 yards in 32 carries, including a four-yard touchdown run, in Aztecs' 20-17 upset of Stanford on Saturday.
And there's Brionne Penny, 16, a 6-foot-3 junior quarterback who has helped lead Norwalk High to a 3-1 start.
The boys have been adamant: They wanted to be Norwalk Lancers, no matter what other schools told them.
"The kids were like, 'No, we're going to stay here,'" Desiree said. "This is where they're comfortable. My kids love it here."
Norwalk coach Otis Harrison has coached three of the boys. Brionne is the first quarterback in the family, and his future looks bright.
"The guy can throw it," he said. "He has one of the quickest releases and can flick it 70 yards and he's fast."
Brionne has passed for four touchdowns and run for four touchdowns this season.
The most impressive part of Brionne's makeup could be his character. Harrison tried to bring him up to varsity as a freshman because the team was getting "pummeled." Penny declined.
"He asked, 'Can I still play with my teammates?' He had no reason to play other than he wanted to finish with the people who he started with," Harrison said.
Said Brionne: "If I go down, we all go down."
Brionne has felt awkward as times, being the lone quarterback in the family. But as the youngest of four boys, he was toughened up at home on wrestling matches with his brothers.
"I guess it made me more ready to take hits," he said.
Whenever he has time, he travels to Arizona with two cousins to watch Elijhaa, a special teams player for the Cardinals.
What's clear is that the Pennys have become the first family of Norwalk.
"We're trying to emphasize K-through-12 completion so the kids can be proud of their community," Harrison said.
Going for No. 300: The start of Mission League play on Friday could produce a historic moment for longtime Sherman Oaks Notre Dame coach Kevin Rooney. He has 299 career coaching victories in 38 seasons going into a league opener at home against Los Angeles Loyola.
Road trips: No. 1 Santa Ana Mater Dei and No. 2 Bellflower St. John Bosco are hitting the road for games on Saturday. St. John Bosco is headed to Washington, D.C., to play St. John's. Mater Dei is traveling to face Stockton St. Mary's at Levi's Stadium.
Then the two schools get a bye to prepare for the start of the Trinity League on Oct. 6.
NBA connections: Chatsworth Sierra Canyon's basketball team has some high-powered NBA connections. Senior guard Duane Washington, who moved from Michigan, is the nephew of former Laker guard Derek Fisher. And junior Scottie Pippen Jr., who moved from Florida, is the son of Chicago Bulls Hall of Famer Scottie Pippen.
Now all the Trailblazers need is for LeBron James to send a son to Sierra Canyon.
Twitter: latsondheimer
---
Get the latest on L.A.'s teams in the daily Sports Report newsletter.
You may occasionally receive promotional content from the Los Angeles Times.