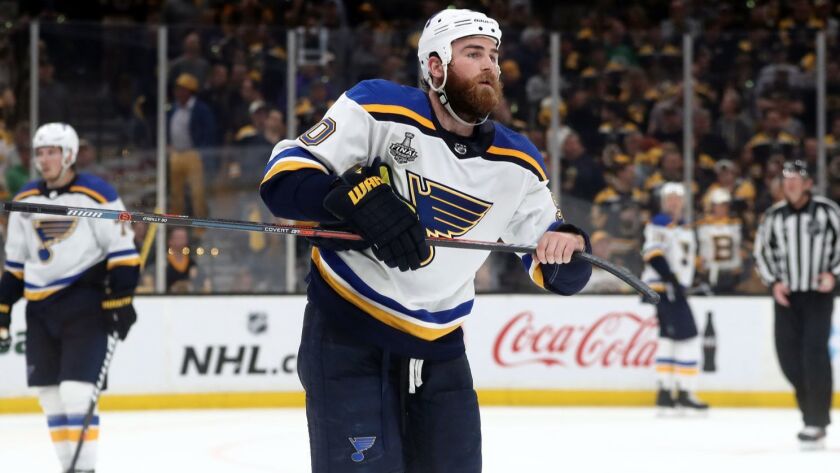 Reporting from st. louis —
When Ryan O' Reilly wants to get away from the noise and the buzz, he plays with his son. Brayden Schenn has another method.
"Put away the phone," Schenn said.
The St. Louis Blues are on the brink of franchise history with a chance to win the first Stanley Cup in their 52-year existence Sunday. They have a 3-2 lead in the best-of-seven series against the Boston Bruins and can lift the Cup on their own Enterprise Center ice. The mental obstacle is to not let their minds drift to the prize without making the sacrifices needed to claim it.
"But, obviously, as a kid, it's what you've been dreaming of," said O' Reilly, who understands what it means to the city. "It's incredible how many amazing teams that have been here and haven't won, and looking at it now, having that opportunity, seeing this group in here, seeing the city behind it, it's amazing.
"It's tough to put into words, just running into random people around the city and how excited they are: Season ticket-holders for 30-plus years, just their excitement. It's so much more beyond these guys in this room. It's the whole city that's been deprived of."
St. Louis got caught in the moment during Game 3, the team's first Final home game since 1970. The Blues let the game get away from them and took a 7-2 loss. The stakes are even higher, with the Cup in the building and an arena full of their fans.
St. Louis coach Craig Berube said his team "learned from that Game 3, so I expect us to be emotionally in check" Sunday. Schenn took a slightly different view when it comes to past as prologue.
"You don't worry about what happened in Game 3," Schenn said. "You think about what you did in Game 4 for you to be successful. I think [Sunday] night is no different. You've got to expect to win, expect to be aggressive. Expect their best game and we've got to match that."
Sign up for our daily sports newsletter »
The bottom half of the Blues' lineup is in flux with Ivan Barbashev suspended for Game 6. Robert Thomas, who hasn't played since he took a hit from Torey Krug in Game 1, took rushes on the third line Saturday. Berube said Thomas will be a game-time decision.
Jordan Nolan took rushes on the fourth line but he was likely a placeholder for the absent Alexander Steen. Even from the sidelines, this has a familiar feel for Nolan, who helped the Kings win their first Cup in 2012 to end a 45-year drought.
"A lot of buzz around the city," Nolan said of St. Louis. "I was only 22 when it happened" with the Kings "so I was kind of just happy to be in the moment, but sitting around and kind of taking everything in, it's pretty amazing with things happening here."
Teammate Vladimir Tarasenko already wrapped a bow, personally, when his wife, Yana, gave birth to a son on Friday night. It is the couple's third child.
"Obviously she held on until he got back," Patrick Maroon said. "Yana did a good job of holding it and making sure Vladimir was there. We're happy for him. It's awesome."
Boston is going through different kinds of labor pains in this Final, personified by Zdeno Chara's reportedly broken jaw. Chara spoke publicly for the first time and the discomfort was clear in his few words. He did not address whether his jaw is broken or how he is consuming food.
Chara, who played Game 5 with a mask and cage, said he has no limitations.
"I feel fine playing," Chara said. "Obviously it was a quick turnaround after that last game here. But I felt fine."
The Bruins have used Chara's toughness as a rallying point, despite losing Game 5 on a non-call of a trip by Tyler Bozak on Noel Acciari.
Matt Grzelcyk is not cleared medically from a concussion. Boston made one adjustment by moving Marcus Johansson to the No.1 power play unit, in place of Jake DeBrusk.
The numbers are on Boston's side, given that only three of the past 10 Cups have been won on the winning team's home ice. Two of those were by the Kings.
But this deep into a series, it's largely a psychological tug of wills. Boston coach Bruce Cassidy said the missed call in Game 5 won't drive them.
"Will we use that?" Cassidy said. "No. I think it's the situation is what motivates us. We lose, we go home. We want to win the Stanley Cup, we're going to have to win a game on the road. That's the way we look at it."
Twitter: @curtiszupke
---