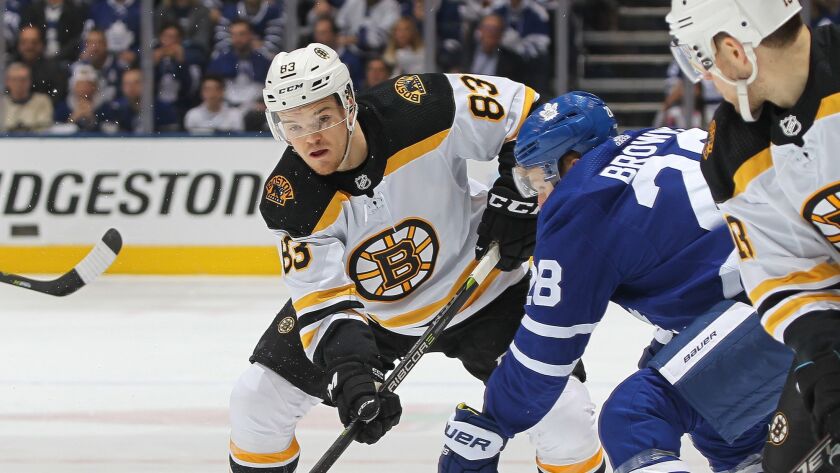 Reporting from St. Louis —
The Boston Bruins and St. Louis Blues will turn to depth at forward for Game 6 of the Stanley Cup Final on Sunday.
Down 3-2 in the series, Boston will insert Karson Kuhlman in place of Steven Kampfer, Bruins coach Bruce Cassidy said at the morning skate. That means Boston will return to the more traditional 12-forward, six-defensemen lineup as defenseman Matt Grzelcyk remains unavailable because of a concussion and veteran David Backes likely will be scratched again.
Kuhlman has not played since April 30. Cassidy said the forward had previously played with David Krejci in the playoffs and that he liked his game.
"He's good on the walls," Cassidy said. "He's quick, [has a] good forecheck, motor. The challenge for him will be like a lot of our guys — getting inside of this big, heavy D. But he is fast and he's responsible. What I've found with him throughout is if he sat for stretches of time, we didn't lose him. … He came back and he gave us the same energy, which is pretty impressive for a young guy."
For St. Louis, Robert Thomas is expected to return from a reported wrist injury. He skated for the second straight day Sunday.
"I'm good to go," Thomas said. "It feels great to be back out there with the guys, and I'm good to go for tonight."
Thomas has not played since Game 1 after taking a hit from Boston's Torey Krug. He would be thrust into a potential Stanley Cup-clinching game in front of a long-deprived fan base.
Sign up for our daily sports newsletter »
"From being upstairs, you just have a different feeling from being on the ice," Thomas said. "Being in the city, being around all the fans, it's crazy how much support they have. It's been a long time for them, and we want to bring it home for them."
That onus falls heavily on the Blues, and that hype has consumed the lead-in to Game 6. St. Louis also took 3-2 series leads on the Winnipeg Jets and San Jose Sharks and closed those out in Game 6.
"I think it's important that you don't get ahead of yourself," St. Louis coach Craig Berube said. "That's one thing we've talked about the last couple of days, and today is just focusing on the first period and going out and playing. I think that's the most important thing."
Boston has more postseason experience and mettle. Five players remain from their 2011 Cup-winning team. The Bruins came back from a 3-2 series deficit to beat the Vancouver Canucks that year, but they also fell behind 3-2 against the Chicago Blackhawks in 2013 and lost Game 6.
"We have to worry about the shift that's in front of you," Bruins center Patrice Bergeron said. "That's all you can really focus on, and give everything you got. We often say that those series are long series, and it's definitely not over."
Officiating was still a big undercurrent in the aftermath of a missed tripping call in Game 5 that led to St. Louis' game-winning goal. Berube, who complained after Game 3 that his team was being penalized too much, broached that topic again when asked about matching the brawn-based style of Boston and the importance of being disciplined.
"I'll bring it up again," Berube said. "We've been the least penalized team in the playoffs coming into this series. I think that we're a physical team, for sure. I'm not denying that. But we do it within the boundaries. I think we're a clean team, and we play a clean game."
The Blues have actually had two players — Oskar Sundqvist and Ivan Barbashev — suspended in these playoffs for illegal hits.
Twitter: @curtiszupke
---