Kings left embarrassed by loss to lowly Devils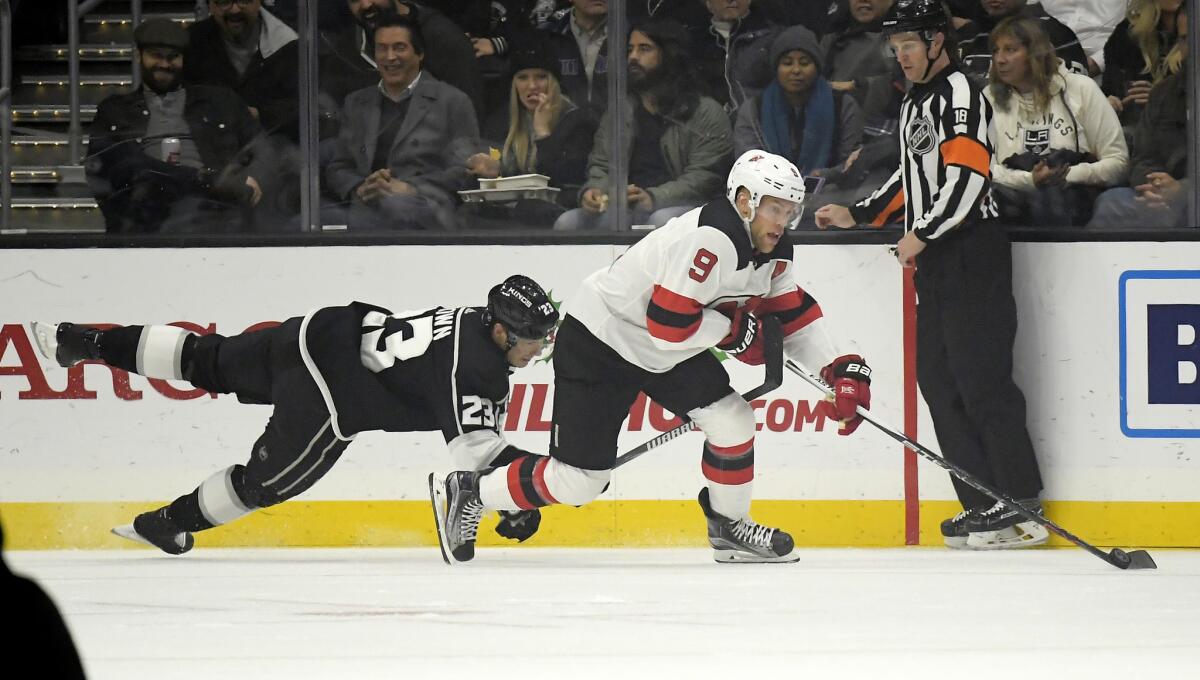 A show of hands, please, for those who predicted that the spell that goalie Keith Kinkaid held over the Kings would be broken by Brendan Leipsic and Kyle Clifford.
Leipsic is a journeyman who had never played the New Jersey Devils before Thursday. Clifford is a depth forward with no goals in 11 previous games against the Devils. They and Adrian Kempe beat Kinkaid, and it still wasn't enough to keep the Kings' ship from sinking and one of their leaders from venting.
"It's pathetic. It's embarrassing. It's frustrating," said Drew Doughty after a 6-3 loss at Staples Center. "It's one thing to lose games when guys are competing. You can live with that and you can live with doing good things but when we're not playing well and we're not competing, you can't live with it. And we haven't lived with it since it started happening."
Doughty liked how the Kings responded from 1-0 and 2-1 deficits. But they came out on the wrong end of odd bounces, notably Jake Muzzin's crossbar-post shot that earned a lengthy review, in a wide-open game that belied the past defensive pedigrees of the teams.
Tyler Toffoli was stopped on a late second-period breakaway by Kinkaid, who moved to 4-0 lifetime against the Kings. New Jersey got two goals by Kyle Palmieri and a late score by Nico Hischier to put it away.
"It gets harder with each and every loss," Anze Kopitar said. "You dig a bigger hole every night, and it's hard to get out of it. When things don't go right, everything's going wrong against you. But then again, it's up to us come out of that hole.'
The Kings were left with the potential of Leipsic. Moved up to the second line, with Jeff Carter and Matt Luff, his shot mentality got him his first goal as a King. Set up by an 80-foot cross-ice pass from Muzzin, Leipsic stopped at the right faceoff circle and his snap shot glanced off a defender's skate and fluttered past Kinkaid on the blocker side.
Kinkaid had stopped 109 of 110 shots against the Kings prior to Leipsic's goal, spread over five appearances. But it was Kinkaid's miscue that led to Clifford's goal late in the second period. Kinkaid quickly swept the puck from the slot and Clifford shot it into an open net to pull the Kings to 4-3.
Kempe put in Doughty's pass on an impressive rush play by the Kings earlier in the period. Doughty passed Rob Blake to become the franchise leader in assists with 334 and paid homage to Blake with a big hip check on Taylor Hall.
Afterward, a dour Doughty reiterated a common theme this season.
"I just don't see enough emotion from the entire group to get us out of this," Doughty said. "It's not going to take three or four guys every night. It's got to take the entire group. I know that no one's seeing the emotion out there … we're playing with a lack of emotion and that's the bottom line."
Jonathan Quick looked sharp at the outset and got help from Derek Forbort's block on Hischier's open-look shot on a Devils power play. But Quick couldn't stop the Kings' penalty kill from allowing its 23rd goal this season.
Asked about his level of frustration, Kopitar said, "Quite high."
While Leipsic played his second game with the Kings, Nikita Scherbak was not yet cleared to play because of his visa status.
Twitter: @curtiszupke
Get the latest on L.A.'s teams in the daily Sports Report newsletter.
You may occasionally receive promotional content from the Los Angeles Times.