What we learned from the Kings' 5-2 win over the Oilers
There probably shouldn't be too much joy exacted from a win against the Edmonton Oilers, but the mood was understandably lighter in the Kings' dressing room after a 5-2 win Sunday.
In a season of so much change, the Kings got by on two standbys: Dustin Brown scored his fifth career hat trick and Anze Kopitar assisted him twice and got the game-winning goal.
The Kings stopped the bleeding for one night, against a fellow bad team, but some things fell into place. Here's what we learned:
There were shades of old Kings hockey. At least in the opening 10 minutes and for stretches after that, the Kings were physical. They forechecked. They took zone time.
Drew Doughty set the tone early when he bumped Leon Draisaitl off the puck, and the rush the other way led to the first goal.
"I certainly think our intensity was high," Kopitar said. "It's the type of game we have to play."
The jump and emotional level caught the eye of Edmonton coach Ken Hitchcock.
"There was a lot of proud players that played down there," Hitchcock said. "All their best players, they all got rings, and those were the best players tonight. And we still went at those guys pretty hard, so that's a good sign."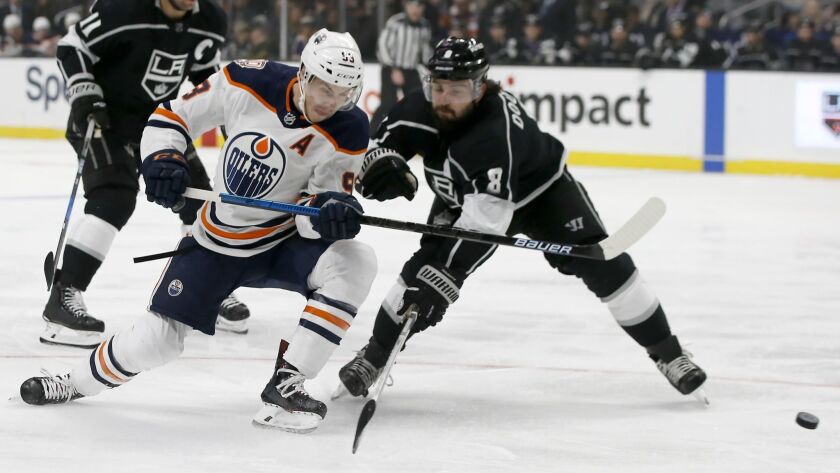 The Ilya Kovalchuk mystery grows deeper. Kovalchuk spent the third period stapled to the bench and played six minutes, 20 seconds total. He was already banished to the fourth line, with Nate Thompson and Michael Amadio, and to the second power-play unit.
Interim coach Willie Desjardins before the game said he hoped that Kovalchuk can get going. But that would seem to be difficult if he's not on the ice. The Kings signed Kovalchuk to a three-year, $18.75-million contract, and it's nothing short of stunning to see that investment sitting on the bench.
Desjardins said postgame that benching Kovalchuk had to do with matchups and "trying to keep guys away from [Connor] McDavid a little bit tonight than how they were playing."
"I just think other guys were going tonight," Desjardins said.
Luff is all you need. Funny wordplay aside, it's clear that the puck finds Matt Luff. He extended his goal-scoring streak to four games with an empty-net goal, the longest streak by a Kings rookie since Jimmy Carson's seven-game run in March 1987.
An undrafted free-agent signing, Luff said before the game that he's been able to enjoy this ride even though the team hasn't fared well.
"I'm a kid that, I like to have fun," Luff said. "I'm trying to find the good in everything right now and just staying positive. We're right on the cusp of finding our team game and I think tonight and that [upcoming] road trip will be huge for us."
Twitter: @curtiszupke
---
Get the latest on L.A.'s teams in the daily Sports Report newsletter.
You may occasionally receive promotional content from the Los Angeles Times.