Column: John Stevens brings a softer voice and small changes to Kings' head-coaching job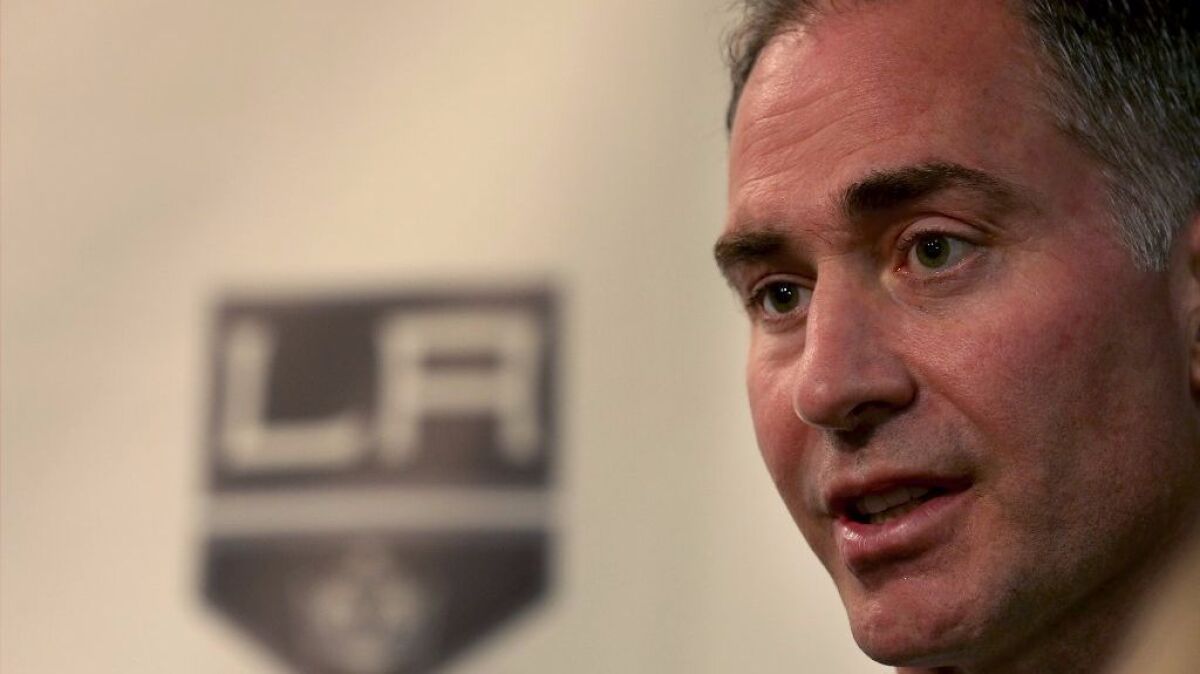 The Kings needed a different voice behind their bench after five-plus seasons of Darryl Sutter's gruff and relentless demands and they got one in soft-spoken John Stevens, who was introduced at a news conference Monday as the 27th coach in club history.
Stevens ends many of his sentences with his voice rising, as if he's asking a question instead of making a statement. Sutter issued orders. Players said after Sutter was fired they respected him until the end — which came in the form of the team's second non-playoff finish in three seasons — but it was clear they were no longer motivated by him and were ready for a change.
Stevens, 50, a native of the Atlantic Canadian province of New Brunswick, is quieter but no less a hockey lifer than Sutter. As an assistant coach and associate head coach, Stevens was responsible for implementing the defensive plans that were vital to the Kings' 2012 and 2014 Stanley Cup triumphs, a system that became their crutch as they let their offense stagnate.
Sutter had to go. But new general manager Rob Blake didn't go far for his replacement and didn't seriously interview anyone but Stevens. "Sometimes," Stevens said, "a little bit of a change can make a big difference."
There won't be a huge contrast between Sutter's team and the group Stevens will guide next season, and that's good in one respect. The Kings' defensive foundation must remain in place, and Stevens vowed Monday that it will. Stevens even sought advice from Sutter during his interview process and thanked Sutter for an on-the-job education.
"I don't want it misinterpreted that we're going to play different. I think we're just going to focus on areas where we need to be better," Stevens said.
Those areas are scoring, scoring, and scoring. The Kings ranked 25th in the NHL last season in goals scored, clinging to Sutter's physical game while league-wide speed and skill became prime weapons. Their speed wasn't deployed to maximum effect, and speed can mean moving the puck rapidly as much as moving legs quickly.
There will be some roster changes this summer because of the expansion draft and salary cap issues, but Stevens' resources aren't likely to change dramatically. Blake said he doesn't plan to buy out forward Marian Gaborik after a poor and injury-marred season and said the Slovakian winger underwent a surgical procedure that will keep him out "an extended period of time. He's not going to be healthy until into training camp, past that."
Three other players underwent procedures that will be disclosed Tuesday. Anze Kopitar, whose scoring declined dramatically last season while he adjusted to his new role as the team's captain, will keep the "C," Stevens said.
Stevens envisions a team that will continue to rely on a strong core, will promote young players to key positions, and will be assertive in the offensive zone. For that last bit of strategy he cited analytics, adding that Sutter was open to considering hockey's newest metrics. But Stevens didn't answer when asked whether he had told Sutter his ideas to improve the offense and, if so, what Sutter's response had been.
"Analytics tell us — and you have to pay attention to analytics today — we don't get enough in the middle of the ice and I think there needs to be even more of a focus on doing more in the middle of the ice, on the rush, in the zone, getting to the net," Stevens said. "I think part of our identity has to be that the L.A. Kings are a team that goes hard to the net, and quite honestly if we lead the league next year in coach's challenges for goalie interference, I'd be real happy about that."
Goal scoring is near and dear to the heart of Kings president Luc Robitaille, whose 668 goals made him the most prolific left wing in NHL history and earned him a spot in the hockey Hall of Fame. He supports Stevens' strategy changes.
"I look at scoring goals in a different way. It always comes down to scoring chances," Robitaille said. "That doesn't mean shots at the net. Usually the more prime scoring chances you have, sooner or later the goals will come. And I don't think we created enough scoring chances. We created enough shots, but not enough scoring chances to really be dangerous.
"The style is going to change into we're going to drive the puck in a different way. We used to drive it first in the corner, work, work, work, get it back, get it there. Now, we're going to look to drive it and take it to the net right away, so that's going to be a significant difference when you watch us play."
Stevens said he and Blake will discuss candidates for assistant coaching jobs focusing on the forwards, defense, and power play. "I think it's important to get different guys, guys that can cover different areas of the game," Stevens said. "If you had three of me, you probably wouldn't like it, right?"
He was joking, of course, in that new, softer voice that players will hear next season. Question is, will they respond?
Follow Helene Elliott on Twitter @helenenothelen
Get the latest on L.A.'s teams in the daily Sports Report newsletter.
You may occasionally receive promotional content from the Los Angeles Times.