Buzz picks up on a Manny Pacquiao-Floyd Mayweather Jr. fight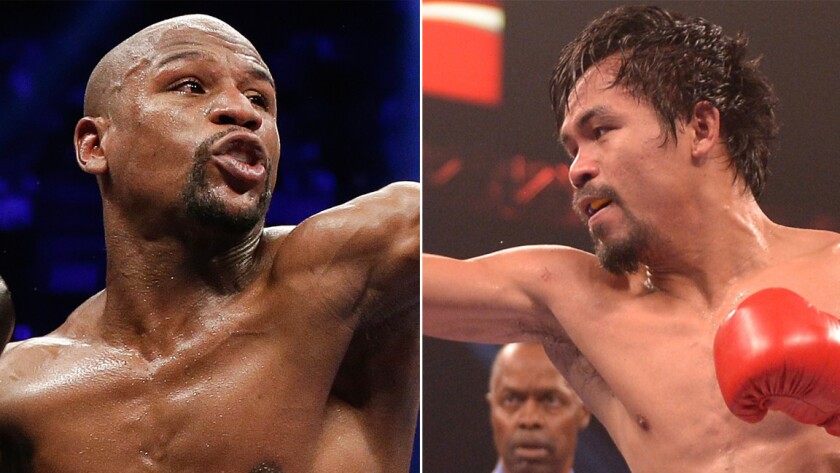 For years now, disagreements over money, drug testing and personal grudges have prevented the Manny Pacquiao-Floyd Mayweather Jr. fight from happening.
Ego is another reason why the top two boxers of the last decade can't find their way into the ring together.
Pacquiao (56-5-2, 38 knockouts) will step into the ring Saturday in a World Boxing Organization welterweight title bout against Chris Algieri (20-0, 8 KOs) in Macao. Pacquiao is a 9-1 favorite over Algieri, but overshadowing the bout are signs that a Pacquiao-Mayweather fight might occur in 2015.
The Pacquaio-Mayweather buzz has been heating up since September when, a few minutes after beating Marcos Maidana, Mayweather was asked about fighting Pacquiao.
"If the Pacquiao fight materializes, let's make it happen," Mayweather said.
And early last month, Floyd Mayweather Sr. told an interviewer, "I'm pretty sure he's gonna get Pacquiao. ... And it needs to happen. Just like [Muhammad] Ali and Joe Frazier, or Ali and George Foreman, something like that, man, it's one of those fights like that. The world wants to see it."
According to key aides for Pacquiao and Mayweather, CBS Corp. Chief Executive Leslie Moonves is helping to bring the two sides together and has the respect of Mayweather and Bob Arum, Pacquiao's promoter.
"The guy carrying the ball is Moonves," Arum said. "He and I have talked on a number of occasions and he has suggested we see if we can reach an understanding. I assume, without knowing for a fact, that he's talking to the Mayweather camp."
CBS is the parent company of Showtime, which has a six-fight deal with Mayweather (47-0, 26 KOs). In his first four bouts, Mayweather has earned purses greater than $30 million per fight.
Moonves, through a CBS spokesman, declined "out of respect for the privacy of the talks," to be interviewed about his involvement in Mayweather-Pacquiao talks. So did Mayweather and Stephen Espinoza, the Showtime vice president who runs its sports division.
"We can confirm that Floyd Mayweather definitely wants the Pacquiao fight," a Showtime spokesperson wrote to The Times in an email. "Everyone on our side — Floyd, CBS and Showtime — is advocating for the fight to happen."
Moonves has been a fixture at Showtime fights. He attended the Saul "Canelo" Alvarez-Erislandy Lara junior-middleweight fight in July in Las Vegas.
Arum has deep respect for the business acumen of Moonves.
"One of the leading television executives in the country. I have no idea if he can get [Pacquiao-Mayweather] done or not, though, because I cannot talk for Mayweather," Arum said.
Two boxing officials close to Mayweather, but not authorized to discuss his fight plans publicly, told The Times that Mayweather has never wanted to fight Pacquiao as much as he does now. One official said Mayweather has even mentioned the idea of ending his Showtime deal with consecutive fights against Pacquiao.
Officials from HBO, which will televise the Pacquiao-Algieri fight on pay per view, have discussed with Moonves the idea of a joint broadcast for a Pacquiao-Mayweather bout. HBO and Showtime teamed up for the 2002 Lennox Lewis-Mike Tyson heavyweight title fight.
Arum and Showtime were also partners on the 2011 Pacquiao fight against Shane Mosley.
Officials from both sides have confirmed that proposals have been exchanged this month for a possible fight.
Arum dismissed reports that he has turned down a $40-million guarantee for Pacquiao to fight Mayweather, with another 35% of the pay-per-view profit. Arum also said it was "erroneous" that he recently presented Moonves with a proposal for a 55%-45% purse split in Mayweather's favor.
Of course, Pacquiao still needs to beat Algieri.
Freddie Roach, Pacquiao's trainer, said, "I only hope that Manny doesn't look so good [against Algieri] that it scares Floyd off."
Mayweather and Alvarez set a boxing record with $150 million in revenue from 2.2 million pay-per-view buys for their September 2013 fight, which Mayweather won by majority decision. But Mayweather's two fights with Maidana this year failed to average 1 million buys. And if Mayweather fights the winner of the Dec. 13 Amir Khan-Devon Alexander bout, that fight would also be a hard sell.
A Mayweather-Pacquiao fight could surpass 3 million pay-per-view buys, analysts have said. However, many in boxing still believe that the fight will never happen.
If Mayweather, who'll turn 38 in February, wants to fight Pacquiao, Arum has several reasons to make him wait.
First, floating the idea boosts interest in Pacquiao-Algieri. Second, delaying the negotiation can allow Arum to schedule Miguel Cotto's middleweight title defense against Alvarez on Cinco de Mayo weekend in Las Vegas, the date Mayweather has fought for the last three years.
"Manny and everyone involved in boxing wants the fight to happen," Arum said. "It has to be a deal that's acceptable to both. … Manny believes his style is such that he beats Mayweather relatively easily … when I [promoted] Mayweather, he never wanted to fight a southpaw. And Manny's a fast southpaw who moves."
Yet, Pacquiao was knocked out by Juan Manuel Marquez in December 2012. And Mayweather was the 2013 fighter of the year, and doesn't seem to be slowing down, as he cruised to a unanimous decision over Maidana in September.
"I'm open to a deal," Arum said. "We've got to sit down with the other side and make a deal."
---
Get our high school sports newsletter
Prep Rally is devoted to the SoCal high school sports experience, bringing you scores, stories and a behind-the-scenes look at what makes prep sports so popular.
You may occasionally receive promotional content from the Los Angeles Times.