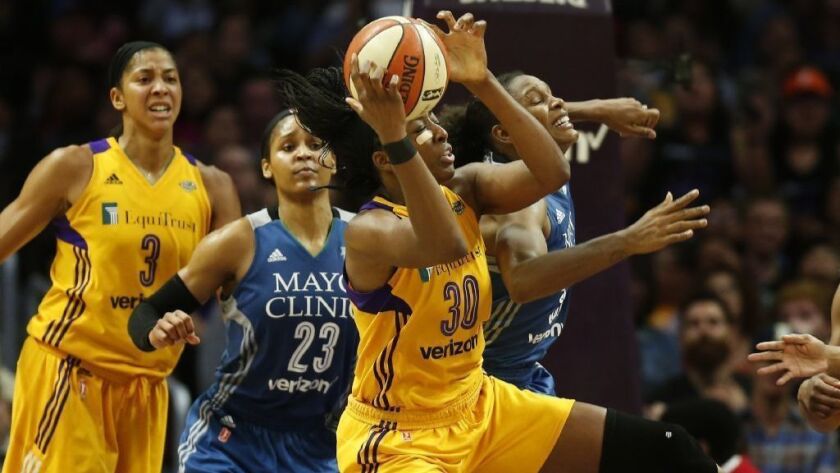 The Sparks are used to meeting the Minnesota Lynx in the playoffs. And they're used to it all coming down to one game.
Just not this early.
The teams met in the WNBA Finals in 2016 and 2017, as well as the 2015 Western Conference semifinals, with the Sparks winning the championship in 2016 and the Lynx winning it the other two years. This year, only one can advance past the first round of the playoffs, when they meet at Staples Center on Tuesday.
After years at the top of the league, the Sparks and Lynx are seeded sixth and seventh, this time, owing to the rise of teams including Seattle and Atlanta , the top seeds in this year's playoffs. Both L.A. and Minnesota face two rounds of single-elimination play just to reach a best-of-five semifinal.
Sparks forward Candace Parker said she understood the importance for greater parity in the league, but preferred her team be closer to the top of the standings.
"It's great for the fans, but for us as players on the L.A. Sparks, I don't think it's something we root for," Parker said. "We'd rather there be less good teams."
The competition in the latter stages of the playoffs has created a strong rivalry between the Sparks and Lynx, whose three previous playoff meetings all came down to the final game. Tuesday's encounter will be the 14th playoff game between the teams since 2015.
"Whether we're in Minnesota or whether we're in Staples, the atmosphere between the two of us is always something special," Sparks forward Nneka Ogwumike said. "The rivalry is very much alive and it will be even if we're the bottom two teams in the standings, which is pretty remarkable."
The teams' last meeting was Aug. 2, when the Sparks won in a 79-57 rout, starting a span of six Lynx defeats in nine games to end the season.
The Sparks' recent form has not been much better. Coach Brian Agler's team lost four of its final five games.
The Lynx stars, 2014 league MVP Maya Moore and 2017 MVP Sylvia Fowles, have struggled to recreate the offensive efficiency they showed last season. Meantime, the Sparks dealt with injuries to Sydney Wiese and Alana Beard, as well as an illness that kept 2016 league MVP Ogwumike out for a couple weeks and contributed to a run of five consecutive home losses. Ogwumike is questionable for Tuesday because of an illness.
The game could be the last of Lynx star Lindsay Whalen's career. The guard has earned three All-WNBA first-team selections in her 15-year career, and won four championships with the Lynx.
WNBA playoff schedule
FIRST ROUND
Tuesday, times p.m. PST
Dallas vs. Phoenix at Tempe, Ariz., 5:30
Minnesota at Sparks, 7:30
SECOND ROUND
Thursday
TBD at Washington, 3:30
TBD at Connecticut, 5:30
SEMIFINALS
Best of five, Aug. 26 through Sept. 4
(if necessary)
Seattle vs. TBD
Atlanta vs. TBD
FINALS
Best of five, through Sept. 16 (if necessary)
daniel.oboyle@latimes.com
---