Quarterback Jack Sears works with the first team as JT Daniels can only watch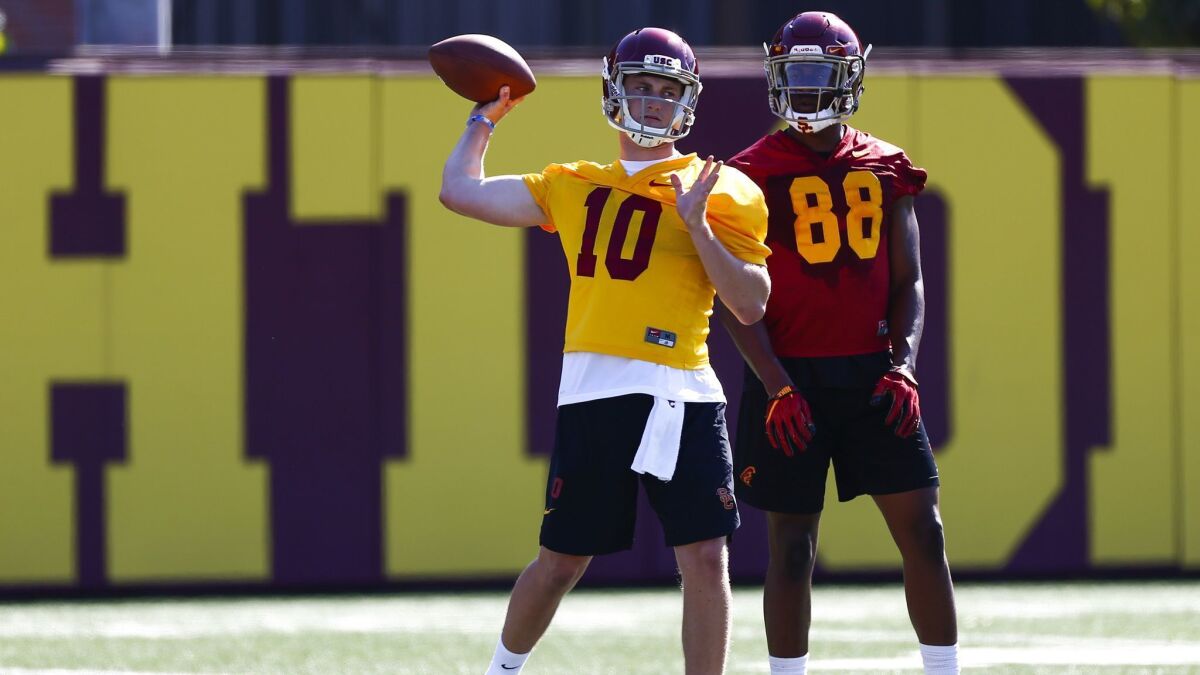 JT Daniels stood behind the line of scrimmage on USC's practice field, off to the side as Jack Sears lined up to take the snap.
Daniels' yellow jersey sagged with no pads underneath it. He held his helmet and stood with the backups as he watched Sears command the offense in a scrimmage Tuesday. After he suffered a concussion in USC's loss to Utah last week, Daniels' status for the Trojans' game against Arizona State on Saturday at the Coliseum is unknown.
Backup Matt Fink suffered broken ribs in the game, leaving third-string Sears the only scholarship quarterback healthy.
He has five practices to prepare to fill Daniels' shoes.
"Be yourself," Sears said, repeating advice he received from the coaches. "Just prepare, and go out there and play your game. Don't try and play anybody else's."
Sears has not gotten a full load of repetitions since training camp, when he competed with Daniels and Fink for the starting role. Quarterbacks coach Bryan Ellis reviewed film from the three weeks of training camp to identify Sears' strengths for the offense to exploit — like his speed and athleticism.
"It wasn't necessarily his fault that he was named the third-string guy," Ellis said. "We just happened to have some good quarterbacks on our roster."
Coach Clay Helton hinted to Sears the possibility of this moment when he told Sears of his third-string status after training camp. The two sat in Helton's office as Helton recalled having to use his fourth-string quarterback in a game.
"I said, 'Buddy, I know you're disappointed,' " Helton said. "'I expect you to be disappointed, 'cause I know what type of competitor you are. But I want you to be a great teammate, and I want you to prepare to be the starter each and every week."
Sears did.
Ellis estimated Sears took about 10% to 15% of the practice reps, but he made up for the deficit with mental reps watching film, studying plays at practice and discussing what he saw with his teammates afterward.
"Controlling what I can control," he said.
Sears learned of Daniels' and Fink's status Sunday, studied for a couple of midterms and began reviewing film. Helton receives a report from Daniels' doctors each morning detailing his progress. So far, Daniels has passed each benchmark, and Helton said Daniels would play Saturday if doctors deem him recovered. But he is day to day.
Sears felt confident after practice Tuesday, when he worked to build chemistry with the receivers. Tyler Vaughns said he spoke with Sears after plays to compare what they saw.
Helton said he has kept the game plan simple to accommodate Sears' inexperience, practicing plays the team is comfortable with, plays Daniels could easily execute if he is recovered by Saturday.
"We're not reinventing the wheel," Helton said.
One-on-one matchups
When Helton sat to watch film of USC's loss to Utah, he expected to see that players missed assignments.
Instead, he saw improvement in that area.
Losing one-on-one matchups dampened USC's efforts Saturday, a problem that pointed to flaws in the Trojans' technique. Helton said the team spent Monday scrutinizing the tape so players could recognize and address where they erred.
"Any time you lose a one-on-one matchup, something went wrong," Helton said.
Inconsistent offensive line
USC has struggled to establish a dependable run game, in part because of an inconsistent offensive line.
Offensive coordinator Tee Martin said the offensive line's performance wavered because certain defenses stretched the Trojans more, their coverage schemes exposing weaknesses.
Arizona State could be one of those teams. Helton said the Sun Devils defense impressed him with its ability to attack the quarterback.
"They're doing a good job of being aggressive rushing five and trying to fool you with the different pressures. … A good challenge for our offense," Helton said.
Etc.
Cornerback Olaijah Griffin (shoulder) was limited, and linebacker Cameron Smith (hamstring) and offensive guard Jacob Daniel (knee) were sidelined during practice. Running back Aca'Cedric Ware (shoulder) practiced but is still sore and cornerback Jonathan Lockett (hip) practiced.
---
Get our high school sports newsletter
Prep Rally is devoted to the SoCal high school sports experience, bringing you scores, stories and a behind-the-scenes look at what makes prep sports so popular.
You may occasionally receive promotional content from the Los Angeles Times.