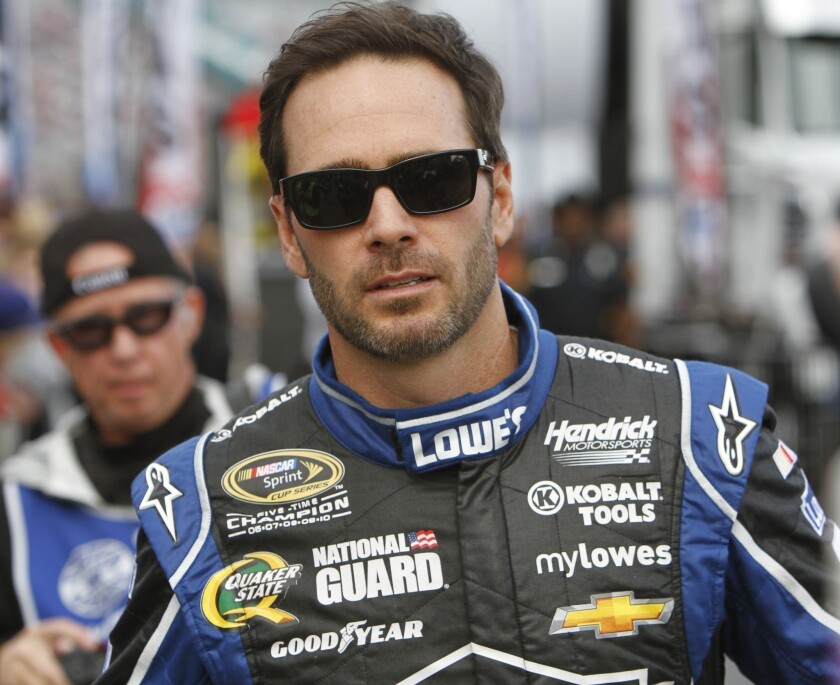 AVONDALE, Ariz. — If NASCAR's championship battle were a major golf tournament, the two title contenders would be about to play the 17th hole of the final round.
Only two races remain to decide NASCAR's Sprint Cup Series championship, with Jimmie Johnson holding a slim seven-point lead over Matt Kenseth.
The next race is Sunday at Phoenix International Raceway, followed by the season finale a week later at Homestead-Miami Speedway.
Regardless of what happens at Phoenix on the one-mile PIR oval, NASCAR's Chase for the Sprint Cup playoff is so close that the winner probably won't be decided until the next race in Florida.
But Phoenix still can have a big say in what happens, as Johnson knows too well.
More than once the five-time champion has all but sealed a Cup title with a win or a strong finish at Phoenix, where the El Cajon native has the most career Cup victories with four.
But a year ago the Hendrick Motorsports driver arrived with the same lead in the standings, seven points, and found catastrophe.
A blown tire on Johnson's No. 48 Chevrolet sent him into the wall and left him 20 points behind Brad Keselowski heading to Florida, where Keselowski then captured his first Cup championship.
That's why "I'm just not going to put my guard down," said Johnson, 38, who took the points lead with a dominating win last weekend at Texas, his sixth win of the year.
"Momentum is nice," Johnson said. "But I've been doing this long enough where I realize that momentum doesn't guarantee a thing. We'll race hard this weekend and then roll into Homestead and try to take care of business down there."
Kevin Harvick won the Phoenix race a year ago — his third win here — and he's third in the Cup standings this year.
But Harvick is 40 points behind Johnson, a deficit probably too large to overcome with only two races left. (A driver can earn up to 48 points in a single race.) That's why it's mainly down to Johnson and Kenseth, who drives the No. 20 Toyota for Joe Gibbs Racing.
Kenseth, 41, won the championship in 2003 for the team now called Roush Fenway Racing. He did so with only one win that season but a remarkably consistent 25 top-10 finishes overall.
It was the next year that NASCAR, looking to spice up the drama of its late-season races, created the 10-race Chase playoff, which follows 26 regular-season races.
But this year, after Kenseth moved to Gibbs, the Wisconsin driver has posted a career-high seven wins with crew chief Jason Ratcliff. Kenseth also is a former winner at Phoenix, albeit before the track was repaved and slightly reconfigured in 2011.
"I'm really looking forward to getting back to Phoenix," Kenseth said. "The short, flat tracks have been good to us this year," he added, with wins at Bristol (half-mile) and New Hampshire (one mile).
In addition to Sunday's AdvoCare 500, the weekend schedule includes a NASCAR Camping World Truck Series race Friday and NASCAR Nationwide and K&N; Pro Series West races Saturday.
Twitter: @PeltzLATimes
---