Lakers have a tough road ahead in free agency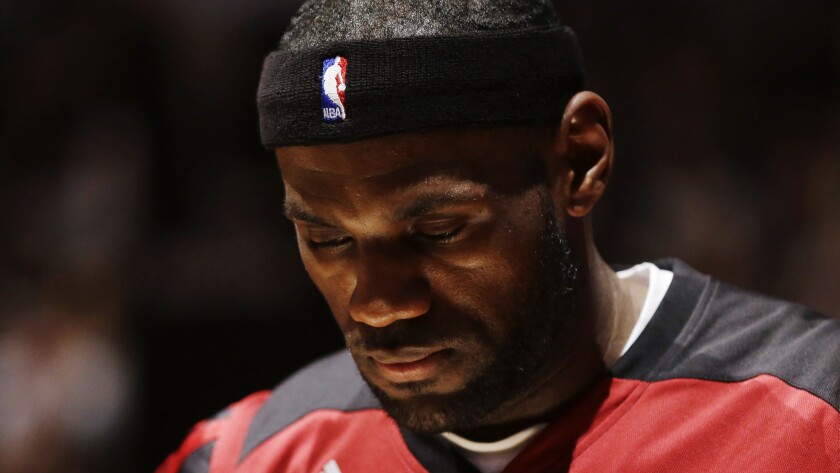 The Lakers got a player they wanted on draft day, the largely hailed selection of Julius Randle boosting their first foray of the off-season.
Now comes the really hard part.
Free agency begins Monday at 9:01 p.m. Pacific time, the beginning of an incredible period of turnover for a team that went 27-55 last season.
Pau Gasol will be a free agent after making $19 million last season, Jodie Meeks gets to test the market and Nick Young too.
Gasol has said numerous times that his main priority is playing for a title-contending team. He will meet with Oklahoma City, Chicago and Golden State and might also sit down with the Lakers, the team that has employed him since acquiring him from Memphis in February 2008.
The Lakers will also try to meet with LeBron James and Carmelo Anthony in their attempt to add one of them to a maximum-money deal … or both at a greatly reduced rate.
None of it will be easy.
James is considered a longshot to join the Lakers. Anthony is only slightly less of a longshot.
With James, Chris Bosh and Dwyane Wade opting out of their lucrative contracts in Miami to presumably stay there for less money, it appears the Heat will pursue Anthony to increase its core from three to four solid players.
But the Lakers hope they can somehow reverse their failed pursuit last season of Dwight Howard, who spurned them to take less money with Houston.
"We're still going to pitch that this is a championship franchise and that's going to be our goal," Lakers General Manager Mitch Kupchak said last week. "As long as Kobe [Bryant] is on this team, we have to believe that we can contend for a championship."
If the Lakers fail to land James or Anthony, they will not go on a spending spree for second-tier free agents such as Luol Deng and Kyle Lowry. The Lakers are keeping their eye on Kevin Love possibly becoming a free agent next summer and Kevin Durant the year after that.
To maintain their salary-cap flexibility, the Lakers will consider Deng and Lowry only if they take a sensible rate over a relatively short period — one or two years at the most.
More likely, the Lakers will target third-tier free agents such as Trevor Ariza, who is coming off a career year with Washington, and Chandler Parsons, a well-rounded player for Houston who has proven he can hit long-distance shots.
Ariza was with the Lakers when they won the 2009 championship but signed a free-agent deal with Houston shortly thereafter.
The Lakers have already committed more than $37 million of next season's projected $63-million salary cap to Bryant, Steve Nash, Robert Sacre and Randle, whom they took with the seventh overall pick in Thursday's draft. For salary-cap purposes, Randle won't officially sign with the Lakers until they have figured out which free agents they have signed.
The Lakers also have two point guards with nonguaranteed contracts — Kendall Marshall and second-round draft pick Jordan Clarkson of Missouri — making it unclear whether they will try to re-sign Jordan Farmar or make a run at Steve Blake, who ended last season with Golden State after a draft-day trade from the Lakers.
Jordan Hill, Wesley Johnson and MarShon Brooks aren't expected back, and Chris Kaman will have to take a pay cut from the $3 million he made last season.
The Lakers hope to re-sign Ryan Kelly after he had a few good games as a rookie. They would also consider bringing back Kent Bazemore at a reasonable rate.
---
All things Lakers, all the time.
Get all the Lakers news you need in Dan Woike's weekly newsletter.
You may occasionally receive promotional content from the Los Angeles Times.