Jim Buss talks about D'Angelo Russell, Julius Randle and the Lakers' struggles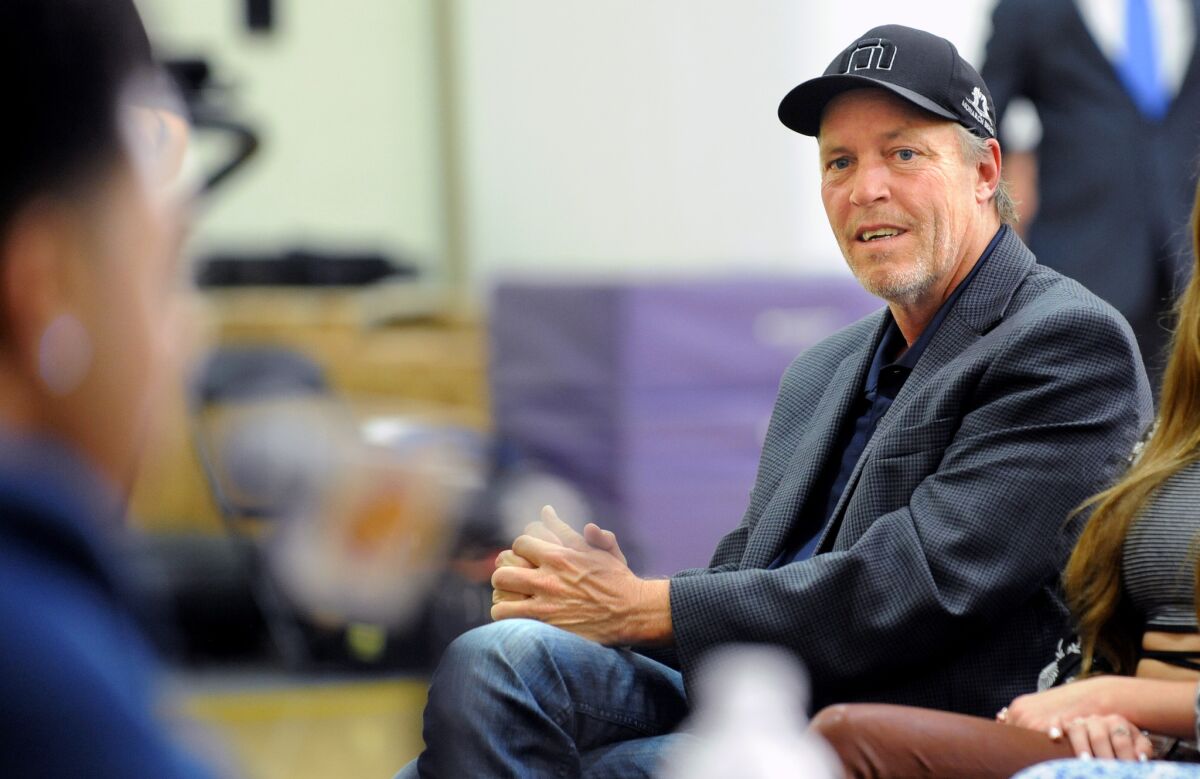 Lakers part-owner Jim Buss says he's anxious for the new season to begin, and one of the reasons is the team's top draft pick, D'Angelo Russell.
"I can't wait for the season, one of the reasons I can't wait, first of all, I love basketball, second is to watch this kid develop," Buss told The Times during a wide-ranging interview that also touched on Julius Randle, the summer league and why he feels he's an easy target to blame for the franchise's recent struggles.
The Lakers selected Russell with the second overall pick in June's 2015 NBA draft, passing on Duke center Jahlil Okafor and Latvian forward/center Kristaps Porzingis.
"It was a long, long process that we decided to go with Russell. He's just very impressive. We saw an upside of being a potential superstar in the league," said Buss, the Lakers' executive vice president of basketball operations. "Okafor is going to be a fantastic player also. Porzingis [will be] a great player."
The Lakers looked at more than 80 players at the team's practice facility in El Segundo, preparing for the draft -- ultimately selecting Russell, Larry Nance Jr. (27th overall) and Anthony Brown (34th).
"We sit down with our scouts. We have countless workouts. Russell came in two different times, we saw him play all year long," Buss said. "Basically, my job, with [General Manager] Mitch [Kupchak], is to piece together all the information that we've gathered.
"We probably met, this would just be a guess, 30 times on [the No. 2 pick]."
RELATED: Lakers' Jim Buss says it's not his decision when Kobe Bryant retires
After the draft, the Lakers' summer league squad struggled in Las Vegas, dropping four of five games.
Russell wasn't especially impressive, averaging 11.8 points and 3.2 assists a game with 5.2 turnovers while shooting 37.7% from the field and 11.8% from three-point range.
How much stock does Buss put into summer league play?
"None," he laughed. "Basically none. Summer league is the first time they get to meet, there's guys trying out. There's limited time.
"What we're trying to do in summer league is not to see how good Russell is, but to find that 14th or 15th guy [for the regular-season roster]."
Summer league was also a source of frustration for second-year forward Randle, who was limited to five-minute stretches on the court, after missing almost his entire rookie season with a broken leg suffered on opening night.
"He was very frustrated. You could see that he was overplaying. He was trying to cram 10 minutes into five," Buss said. "That's OK, all we were looking for was that his leg was OK, that he can handle the minutes."
Randle averaged 11.5 points a game but shot just 39.5% from the field.
"I felt bad for him because he was trying to do too much," Buss said.
He said he and other Lakers officials have watched Randle work his way back into form at the team's practice facility.
"He's been in almost every day all summer long; we've seen him relaxed, letting the game come to him," Buss said.
He said that, including Russell and Randle, he's hoping about eight players emerge as core members of the Lakers' future.
What makes up a core player?
"I don't have a checklist, but I'd say a perfect example would be a Jordan Clarkson," Buss said of the second-year guard. "Watching him develop into [what we hoped he would be] ... his work ethic, his style of play, his team, his personality, the way he is with teammates, what he wants in life.
"Is he focused on being a superstar for himself or is he being a team superstar for the Lakers? There's a lot of different things, but there's no checklist. I've done it for so long, it's a feel."
Buss officially became the Lakers' top basketball decision-maker after the death of his father, Jerry Buss, in February 2013.
That doesn't make him a newcomer to the team. He originally mentored under Kupchak's predecessor, Jerry West.
"I've been here for 20 years doing this with Jerry West. We've won championships. I've had the lows, I've had the highs," Buss said. "We lost my father, he was a strong vote but he taught me so long. We're not doing anything different than we were doing before. His voice of reason is missing, but he has taught me all the way through how to have that voice of reason."
Buss has been questioned by media and fans, especially with the team winning just 48 games in total over the last two seasons.
Does he notice the detractors?
"Of course, I read it," he said. "Basically I'm not a person that is looking for recognition. I work extremely hard. I worked extremely hard for these championships.
"When we're winning championships, I don't care who gets the credit because we're winning championships. That's the whole point."
Buss said he believes that approach has made him more of a lightning rod for criticism.
"If I had to do something over, I would have made it a little bit more known that I was involved in all these decisions," he said. "I get credit for the Andrew Bynum draft [in 2005], but I was extremely instrumental anywhere from Phil Jackson coaching the team to Pau Gasol [acquired via the trade of] Kwame Brown.
"I could care less if Mitch gets all the credit for it, he's the GM. He's the center point. When it came to blame, you'd think it'd be the same kind of thing but people look at me as kind of a privileged kid."
He continued: "Nobody knows how hard I've worked this entire time. ... My personality is to not to take credit for my work. It doesn't bother me because it's self-satisfaction that I know I've done a good job, I know I work hard, and that's all I needed to know."
Email Eric Pincus at eric.pincus@gmail.com and follow him on Twitter @EricPincus
---
All things Lakers, all the time.
Get all the Lakers news you need in Dan Woike's weekly newsletter.
You may occasionally receive promotional content from the Los Angeles Times.