Lakers are no longer in the running to sign LaMarcus Aldridge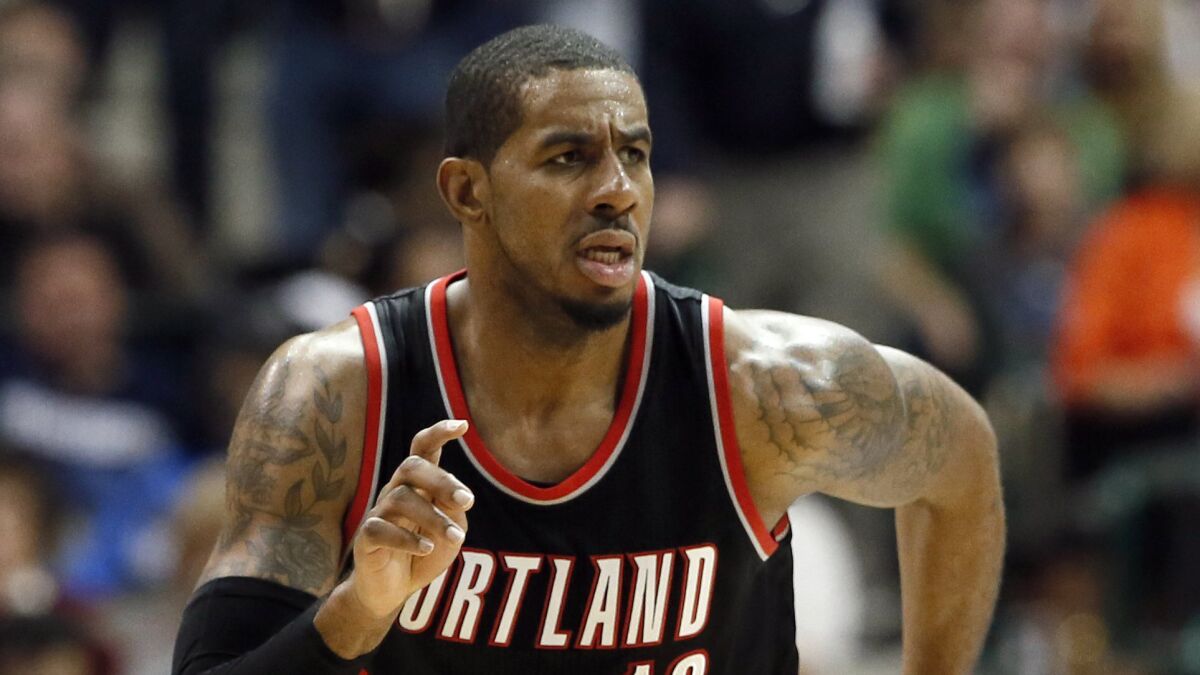 LaMarcus Aldridge will not be signing with the Lakers this off-season.
According to sources, Aldridge wasn't happy with the presentation the Lakers gave during their late Tuesday night meeting and has crossed the team off his list of potential free-agent destinations.
There were mainly two words used to describe Aldridge's late-night meeting with the Lakers — "engaged" but also "noncommittal."
The four-time All-Star later met with San Antonio on Wednesday morning, not long after the Spurs reportedly traded Tiago Splitter to Atlanta to free up cap space for Aldridge.
The Spurs have plenty to offer, including a substantially better roster than the Lakers and more recent post-season success, but the Lakers pitched Aldridge on the branding opportunities in Los Angeles and the future spending power of the franchise.
They have $23 million to spend toward next season, but that increases greatly in a year when Kobe Bryant is off their books and the NBA's new TV deal shifts the salary cap upward by at least $20 million.
The Lakers completed their business on the road Wednesday, wrapping up a meeting with Greg Monroe in Washington, D.C., before heading home for a night-time meeting with DeAndre Jordan.
After meeting with Aldridge, the Lakers then took a red-eye flight to the East Coast to sit down with Monroe and his agent, David Falk.
The meeting was less formal with the former Detroit Pistons forward-center, mainly because there were fewer executives in attendance, not to mention a lack of Kobe Bryant and James Worthy.
A person in the room described it as a good exchange of ideas, but there was not a max contract offer. Monroe is also fielding visits from other teams, including presumed front-runner New York.
Monroe, 25, is a little undersized to be a full-time center and is not a shot-blocker, averaging 0.5 a game last season, though he is a reliable scorer and solid rebounder.
The Lakers are considered long shots to sign Jordan, possibly the best rebounder-shot blocker in the NBA. He met with Dallas on Tuesday night and considered his choice between the Mavericks and Clippers to be a toss of the coin, according to a person familiar with his thinking.
The Lakers also had an eye on Kevin Love, but the free-agent forward said he would return to Cleveland in a first-person piece for The Players' Tribune.
He wrote that he wanted to return to the NBA Finals after watching Game 1 on the sideline while recovering from a dislocated shoulder, saying "I never wanted to play in a game more than that one."
Love's first season in Cleveland did not live up to expectations, and he and LeBron James had trouble jelling on the court at times.
All things Lakers, all the time.
Get all the Lakers news you need in Dan Woike's weekly newsletter.
You may occasionally receive promotional content from the Los Angeles Times.