Emmanuel Mudiay works out for Lakers' Mitch Kupchak, Byron Scott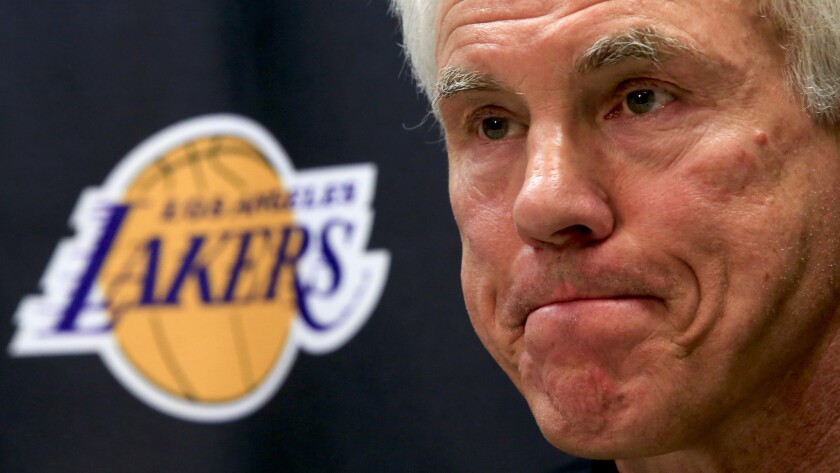 The door opened to the Lakers' pre-draft workout on Saturday and there was Emmanuel Mudiay going through shooting drills with the Lakers' assistant coaches, sweat dripping down his face, a look of determination each time he shot the basketball.
Mudiay was trying to impress upon the Lakers in his first workout for an NBA team that he would be the right choice for them to use their No. 2 pick on in the draft on June 25.
He grew up a Kobe Bryant fan, saying he has some of the same character traits as Bryant that could serve the Lakers well if he is selected by them.
"Kobe, I admire his determination," Mudiay said after his workout. "That's what made me a fan of his. He's got a dog in him and that's kind of how I approach the game. You got to be a dog."
Mudiay is a 6-5 point guard who didn't attend college, eschewing his commitment to play at SMU.
He took his talents to China to play for the Guangdong Southern Tigers, saying it was for financial reasons, to help his mother, and to further his development as a basketball player by facing older, more experienced players.
An ankle injury limited Mudiay to just 12 games, but he averaged 18 points on 47.8% shooting, 34.2% on three-pointers, 6.3 rebounds and 5.3 assists.
"At first it was for my mother. She was struggling at the time, so I wanted to help her immediately, financial-wise," Mudiay said about his decision to turn professional. "After that, it also played a big factor in that I was going to be playing against older men and more physical men. I was going to go to college for seven, eight months so I was like why not play professional with grown men and they can teach me a lot and be more comfortable with the professional stuff?"
With Lakers Coach Byron Scott and General Manager Mitch Kupchak watching his workout, Mudiay said he wasn't "nervous but anxious" to show his stuff.
"I was just ready to get out here and do what I had to do," Mudiay said. "As the workout kept going, I got comfortable."
When he saw the Lakers' championship banners on the wall and the trophies in the upstairs window, Mudiay, 19, said he had one thought.
"It made me want to get some," he said, laughing. "I'd love to be a part of something like this. I just want to win and get as many championships I can. That's the main thing."
The Lakers, who will have perhaps two workouts Monday, are in position to draft a player of Mudiay's caliber because they had a franchise-worst 21-61 record this past season.
"I know the coaches want to change that immediately," said Mudiay, whose next workout is in New York this week. "And that's what I'm about."
The Lakers were impressed with the development of rookie point guard Jordan Clarkson, but Mudiay is a talent that many draft experts pick to go in the top four.
And, Mudiay maintained, he has the same drive as Bryant.
"I'm competitive, just as much as he is competitive," Mudiay said. "He wants to win, I want to win. That's the idea."
Twitter: @BA_Turner
---
All things Lakers, all the time.
Get all the Lakers news you need in Dan Woike's weekly newsletter.
You may occasionally receive promotional content from the Los Angeles Times.