Column: Hall of Fame decision means Reds' ceremony for Pete Rose may have farewell feel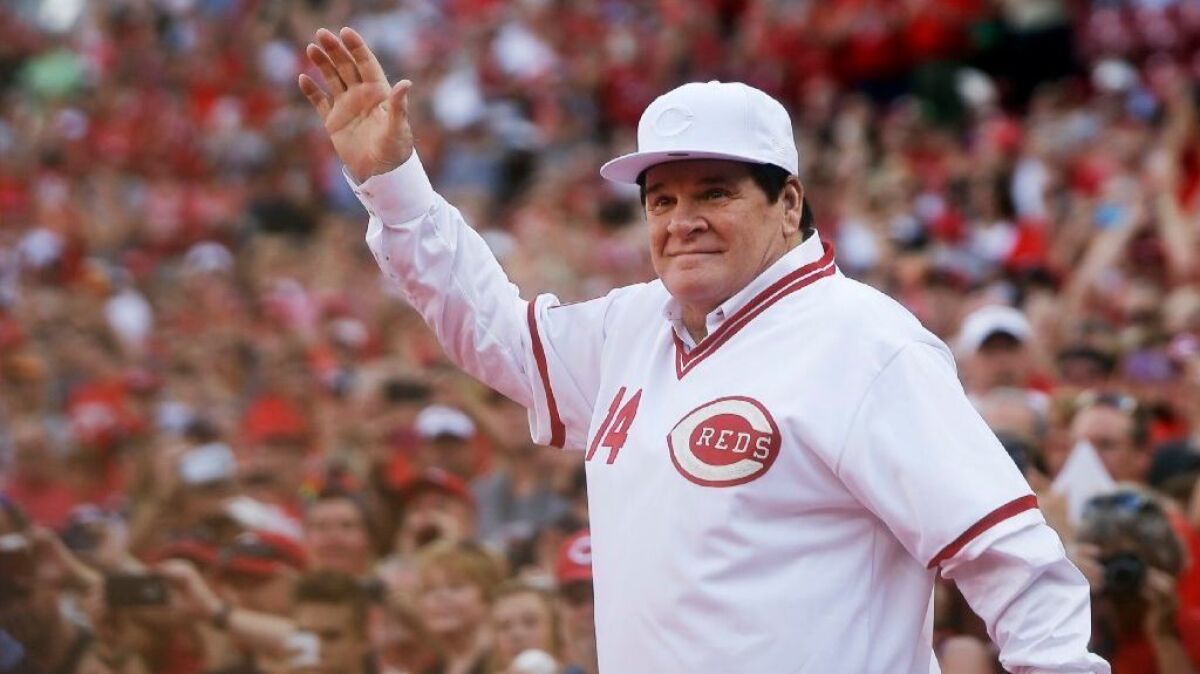 This could be a big red sunset, a farewell party for one of the greatest characters baseball has known.
It's not billed that way, of course. The Cincinnati Reds will dedicate a statue of Pete Rose outside their ballpark Saturday. Charlie Hustle will be forever in bronze, depicted in a headfirst slide.
The Reds are throwing a block party to commemorate the occasion. If you've got a ticket to the game, you can witness a special ceremony for Rose inside the stadium, before the Reds play the Dodgers.
Rose is 76. Baseball threw him out in 1989 and he has pounded on the door for decades, pleading to be let back in — back into the good graces of the game and into the Hall of Fame.
Bud Selig ignored him. When Rob Manfred succeeded Selig as MLB commissioner, Rose got to make his case. Rose also got his answer: No.
Your lifetime ban for betting on baseball still holds, Manfred ruled. You still cannot work in baseball, he said, but the Hall of Fame can deal with you however it wants.
So Rose got to make his case to the Hall: put me on the ballot, and I'll live with the results.
In December — in a decision not made public before now — Rose got his answer: No.
No reinstatement. No chance at the Hall of Fame.
And no loss of love from the hometown. Cincinnati never turned its back on Rose.
"If he lived to be 1,000, he would be as popular on his 1,000th birthday as he was when he played," said Hall of Fame announcer Marty Brennaman, who has broadcast Reds games since 1974.
"It's a phenomenon unto itself. He was a part of arguably one of the top two or three teams in the history of baseball, and the fact is that he was born and raised in that town.
"That's the most provincial city I have ever lived in. If you were born there and you were one of them from the get-go, you can do no wrong. He's a poster boy for that."
Rose, baseball's all-time hits leader, was the spark plug for the Big Red Machine, the Reds' World Series championship teams of 1975-76. No National League team has repeated as champion since then.
Rose played his last game in 1986. Scooter Gennett was not born until 1990. No matter, Gennett still loves Rose.
Gennett, the Reds' instant folk hero for his four-homer game this month, also was born in Cincinnati. He remembered meeting Rose at an autograph signing.
"I was probably 6 or 7," Gennett said. "He was a great guy. Just a very normal guy. Down to Earth."
Gennett said he cannot wait to meet Rose for the second time in his life, at this weekend's festivities.
And the Hall of Fame?
"I just know that he is the hit king," Gennett said, "and played the game unlike anybody I have ever seen.
"Just to see the energy and the heart that he played with is something you just don't see a whole lot. With all the hits, and all the amazing things he has done for the game, it doesn't really make sense that he's not in the Hall."
Brenneman said he used to believe Rose should be banished forever, from every ballpark and from Cooperstown too. Now he sees the vote totals climb higher for Barry Bonds, for Roger Clemens, for other players linked to steroid use.
He wonders why the line should remain drawn at Rose, even if the prohibition on gambling appears on a poster, in large letters, for every player to see, every day.
"It's the same tired old story: that's the one rule in baseball that's on the wall of every clubhouse," Brennaman said. "Won't deny that. That's accurate.
"But I think there is a time that comes when you have to re-look at the whole situation and say, 'We look stupid not having inside this building the guy who had the most hits in baseball.'"
There are Rose artifacts on display in the Hall of Fame.
"You certainly can't tell the history of baseball without including Pete Rose," Hall of Fame president Jeff Idelson said.
It was not until 1991, two years after Rose agreed to a lifetime ban, that the Hall of Fame instituted a rule precluding banned players from standing for election.
Although Manfred wrote in 2015 that "the considerations that should drive a decision on whether an individual should be allowed to work in baseball are not the same as those that should drive a decision on Hall of Fame eligibility," the Hall of Fame's board of directors rejected any distinction.
"We feel it would be incongruous to be putting someone on a ballot that is otherwise banned from the game," Idelson said.
Ray Genco, the attorney for Rose, said he hoped the focus this weekend could be on the celebration of Rose, not whether the Hall of Fame might ever let him stand for election.
"Weekends like this show that special relationship fans have with Pete," Genco said.
"We've engaged with the Hall of Fame and members of the board. At this point, they haven't changed their rule, but I will continue to work for them to change the 'Pete Rose rule,' which would allow the baseball writers to vote on Pete."
Manfred has been lenient in letting Rose appear at ballpark ceremonies. Rose took the field when Cincinnati hosted the All-Star game two years ago. The Reds retired his number last year, and they inducted him into the team Hall of Fame. They are dedicating the statue this weekend.
The Reds have no more significant honors left to bestow upon him. Perhaps there is a ceremonial first pitch or two in his future. But he is nearing his ninth decade, and it is unlikely he would be voted into the Hall of Fame — by the writers or by a veterans' committee — even if he made it onto a ballot.
His legacy appears complete, for better and for worse. There is still a celebration to be had this weekend.
So let the sun shine, the band play and the children shout. Let there be joy in Cincinnati, even if the mighty Rose has struck out.
Follow Bill Shaikin on Twitter @BillShaikin
---
Get our high school sports newsletter
Prep Rally is devoted to the SoCal high school sports experience, bringing you scores, stories and a behind-the-scenes look at what makes prep sports so popular.
You may occasionally receive promotional content from the Los Angeles Times.