College football spotlight: Bring on more Big 12 bedlam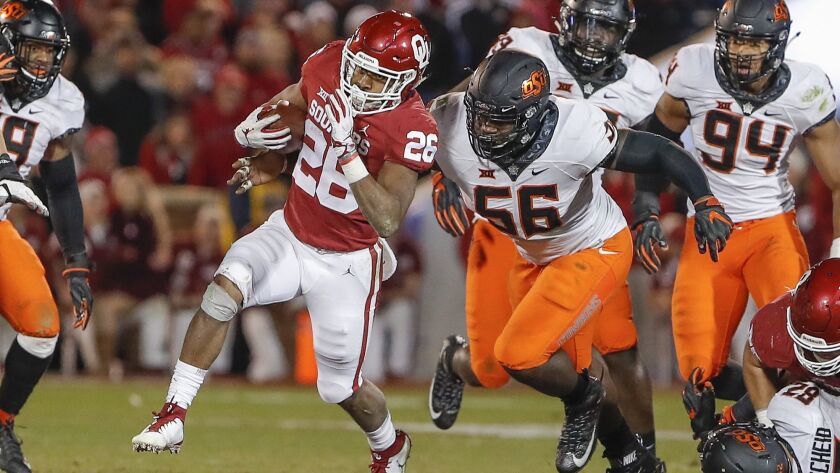 There's no shortage of scintillating scenarios for the end game in the division-challenged Big 12 Conference.
Texas, Iowa State or Texas Tech might figure out how to put a stick in someone's bicycle spokes. But until then, we'll delight in how No. 6 Oklahoma and No. 9 West Virginia somehow remain on course to go head to head twice in two weeks — once in the final game of the regular season Nov. 23 at Morgantown, W.V., then in the conference championship game Dec. 1 in Arlington, Texas.
After that, let the College Football Playoff committee figure things out.
Oklahoma (9-1, 6-1) came into its annual Bedlam battle against Oklahoma State as a 20½-point favorite, leading the series 79-18-7, and boasting a 14-game win streak in November. The Sooners showed some gumption in surviving a 62-52 win over the Cowboys last season.
This time, they barely escaped with a 48-47 win on a failed two-point, go-for-the-win attempt. Rather than kick the PAT and perhaps go into overtime, OSU had quarterback Taylor Cornelius roll right and fire a pass for Tylan Wallace that fell short with 1:03 to play.
Cornelius, who piled up a career-best 501 yards passing against Oklahoma's still-suspect defense, connected with Wallace on a 24-yard TD moments earlier on a fourth-and-12 play. Wallace had 10 catches for 220 yards and two scores.
Oklahoma State coach Mike Gundy, whose offense piled up 640 yards, defended the call.
"As the game was going back and forth, on the road, struggling stopping them — probably the best thing," he said. "Had a shot at it, just didn't make a good throw."
Said Oklahoma coach Lincoln Riley: "Were we at our best tonight? No."
Neither was West Virginia (8-1, 6-1).
The Mountaineers punted in three of their first four possessions and were held scoreless in the first quarter for the first time this season, down 3-0, wrestling with Texas Christian's defense.
Changing gears with quicker snaps, Will Grier directed a 40-point run over a seven-minute stretch between the second and third quarters for a 47-10 win. The Horned Frogs (4-6, 2-5) couldn't prevent coach Gary Patterson from absorbing the largest loss margin in his 19-year career.
"We've played together really well this year," West Virginia head coach Dana Holgorsen said. "There's been spurts of that over the course of every game except one. This team feeds off of each other."
"Morale's good. Confidence is good. Work ethic is good."
Will Grier (25 of 39 for 343 yards and three TDs) connected on only one score with favorite target David Sills, a four-yard completion in the fourth quarter when the contest was decided. Three of West Virginia's touchdowns came on the ground.
The Mountaineers go to Oklahoma State next. The Sooners are home against Kansas. Bring on more bedlam.
TAKING AIM IN AMES
The ejection of running back David Montgomery during No. 22 Iowa State's 28-14 win against Baylor will compromise his availability next weekend against No. 19 Texas.
Montgomery, the Big 12's second-leading rusher, will have to sit out the first half as punishment for fighting with Baylor defensive end Greg Roberts in the third quarter. Montgomery picked up a yard, then got up and ran over to a ruckus on the other side of the field. He ran into Roberts and words turned into arms swinging before security came on the field to calm things down.
Two plays earlier, Baylor safety Chris Miller was flagged for a late hit on Montgomery as he ran out of bounds.
Montgomery used his Twitter account to say he "should have not reacted the way I did and I sincerely apologize for that!!! But I will defend my brothers no matter what and i stand on that!"
Baylor sophomore quarterback Charlie Brewer, who threw for 288 yards and two touchdowns, also was ejected for a second unsportsmanlike penalty with 5:51 left in the game.
CHECK IN ON MUSCHAMP
South Carolina coach Will Muschamp called a come-from-ahead 35-31 defeat at No. 15 Florida "a hard, tough loss … it's gut-wrenching."
Allow Florida to soften the blow.
Muschamp has lost two in a row in Gainesville against the program he once coached. But Florida still has one more payment of $787,500 to deposit in his account later this month and finally complete a $6.3-million buyout when the Gators sent him away after the 2014 season. Muschamp makes $4.2 million a year from the Gamecocks (5-4, 4-4).
WIND BENEATH THEIR WINGS
The Air Force Academy reports that its 22-year-old white falcon mascot named Aurora is expected to make a full recovery from injuries she suffered at West Point, N.Y., during a prank pulled by Army students before the annual game last weekend.
Aurora did not attend Air Force's home game against New Mexico on Saturday, but is expected back Nov. 22 against Colorado State.
Air Force also confirmed that after sophomore tailback Kadin Remsberg ran for a career-best 99 yards in a 42-24 win, he took a knee and asked for his girlfriend's hand in marriage. She said yes.
"A near-perfect day, I would say," said Remsberg, who had a 54-yard touchdown run.
JERSEY BOYS
On its senior day, No. 3 Notre Dame channeled some history against Florida State by having the team wear 1977 "Green Jersey Game" replica uniforms. Joe Montana and the No. 11 Irish donned them in a 49-19 rout of No. 5 USC in South Bend, Ind., 41 years ago …
Nebraska wore alternate solid red uniforms with retro large, white numbers to mark the 100th anniversary of the end of World War I during its 54-35 win over Illinois. …
On Veterans Day weekend, No. 21 Iowa wore specially designed helmets during its 14-10 loss to Northwestern. On one side was the No. 24, in memory of Navy veteran and 1939 Heisman winner Nile Kinnick, whose name is attached to the Hawkeyes' home stadium. On the other side was the Hawkeyes logo in American flag colors. …
BY THE NUMBERS
No. 12 Central Florida's 35-24 home win over Navy not only extends its longest-in-the-nation winning streak to 22 games, but the Knights (9-0, 6-0 American Athletic Conference) also have scored 30 or more points in 22 consecutive games, tied for the third-longest streak in the Associated Press poll era (since 1936). The two longer streaks: South Florida (24, from 2015-17) and Oregon (23, 2011-12). …
No. 1 Alabama matched the school record with its 24th consecutive home victory by stopping No. 16 Mississippi State 24-0. The mark was set from 1971-74 at Legion Field and Bryant-Denny Stadium. …
After the first 0-6 start in his history, Nebraska has achieved a program first by exceeding 450 yards in total offense for seven straight games. The Cornhuskers (3-7, 2-5 Big Ten) have four straight conference games with 30 or more points for the first time since 2001 after their 54-35 win over visiting Illinois. …
Virginia Tech (4-5, 3-3), which started the season ranked No. 20 and won its first two games by a combined 86-20, needs victories in its final two games against Miami and rival Virginia to be bowl eligible after absorbing a 52-22 loss against Pittsburgh. …
In Southern Methodist's 62-50 win over Connecticut, the teams combined for 1,174 yards of offense, 680 on the ground. UConn (1-9, 0-6 American Athletic) has given up 49 or more points eight times this season and hasn't beaten an FBS team since October of last year. …
Anthony Lawrence threw for 556 yards and a record-tying seven touchdowns, Michael Bandy set a school record with 324 receiving yards, and San Diego rallied to beat Davidson 56-52 as the Wildcats set an FCS rushing record with 789 yards.
NO SMALL FEAT
Amherst College (8-1 in the New England Small College Athletic Conference) posted a 45-14 win over visiting Williams College to clinch the 133rd edition of "The Biggest Little Game in America." …
Mount Union's 49-7 Ohio Athletic Conference victory against visiting Marietta, with all its points scored before halftime, improved the Raiders' winning streak to 25, best in all NCAA divisions. Mount Union (10-0) has 27 undefeated regular seasons with the Division III playoffs starting next week.
The Associated Press contributed to this report.
---
Get the latest on L.A.'s teams in the daily Sports Report newsletter.
You may occasionally receive promotional content from the Los Angeles Times.